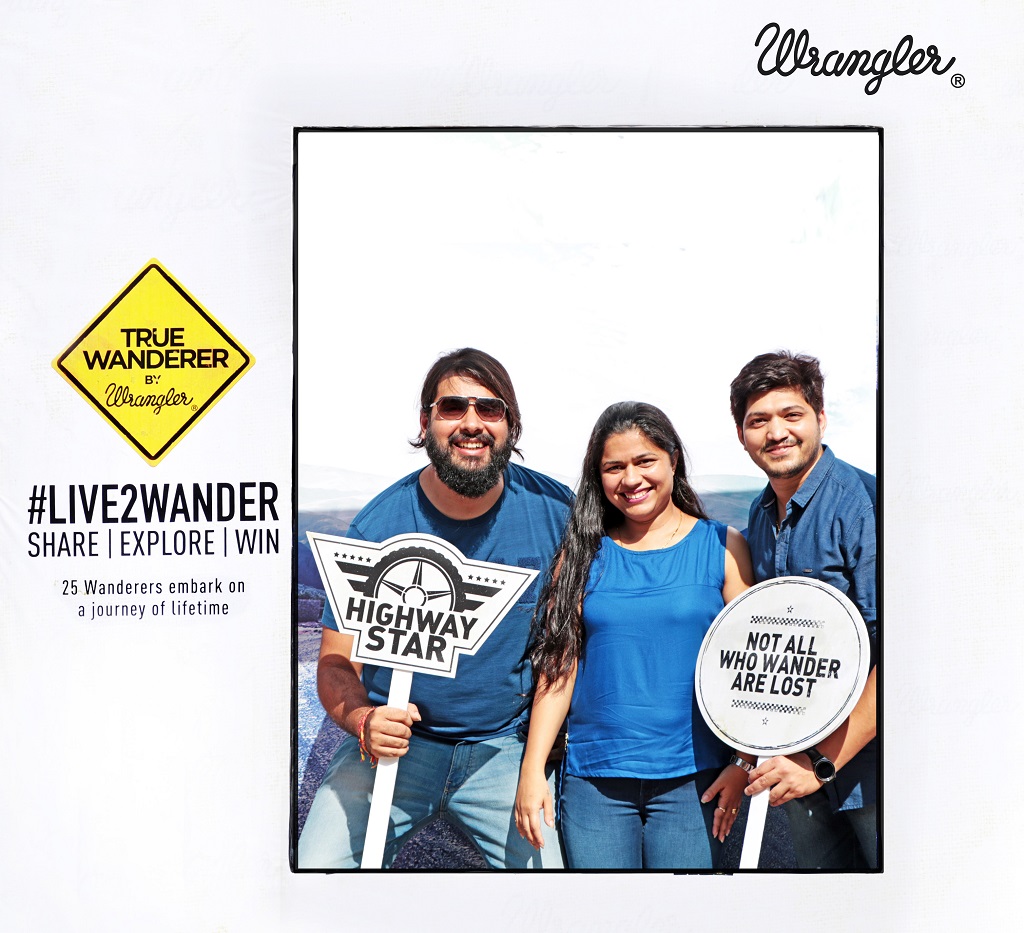 Wrangler, the American denim brand, is back with its nationwide search for the True Wanderer. After five successful seasons, True Wanderer comes to you in a brand-new avatar – bigger, bolder and more exciting than ever before. And this time, no matter what your ride, everyone's invited.
After five successful seasons of True Wanderer, Wrangler is calling on all adventure and travel enthusiasts. Wrangler has concluded its nationwide search for the top 25 True Wanderers and is sponsoring their trip in India. Kitted out in the best of Wrangler's Ride Ready range of apparel and flagged off from an exclusive Wrangler store in their city, the True Wanderer finalists will go on a 5-day road trip wearing only products by Wrangler. They can choose to travel by car, bike, foot or any mode of transportation of their choice. While on their journey, they will need to complete travel-related challenges set by Wrangler. Each rider will complete and showcase these challenges in their Wander Diary on wrangler-ap.com/in along with photos and videos.
The Mumbai finalists – Prathamesh Sable and Dhruv Dholakia were flagged off from an exclusive Wrangler store in the city. When speaking of his passion for travel, Prathamesh Sable says,"From mountains to sea, you know your true direction in life.Getting there is an issue. But as they say, don't waste your time worrying about the 'how'.Just focus on the vision and allow a resolute purpose to guide you! Be modest to yourself and always treat the experience as serendipity."
When asked to share his #Live2Wander moment, Dhruv Dholakia says "A crazy idea came to my head. To motorcycle across all 29 states of India. So I left my career and home to see the country. It took 16 months but felt like a whole new life. Follow my blog on Facebook 'ON A BULLET YATRA'."
Based on votes and the scores of an elite judging panel, the winner of True Wanderer 2017 will win the grand prize of an all-expenses-paid trip to Australia. The runners-up will win trips to Bali and Sikkim.
About Wrangler
The heritage of Wrangler goes back literally 70 years when the brand first made an appearance. Wrangler was the first modern five-pocket jeans to be test-fitted and endorsed by real-life cowboys. Since then, Wrangler continues to inspire freedom, independence, and self-reliance in its wearers.
The brand in India has come a long way, evolving to meet the needs of the 'urban cowboy' with a range of fashion apparel that is contemporary, fashionable yet rugged.
A part of VF Corporation – the world's largest apparel company, Wrangler has found a loyal consumer base in the Indian youth that swears by this unique fashion brand. This stylish denim brand is available at exclusive standalone stores, leading apparel stores and major department stores.