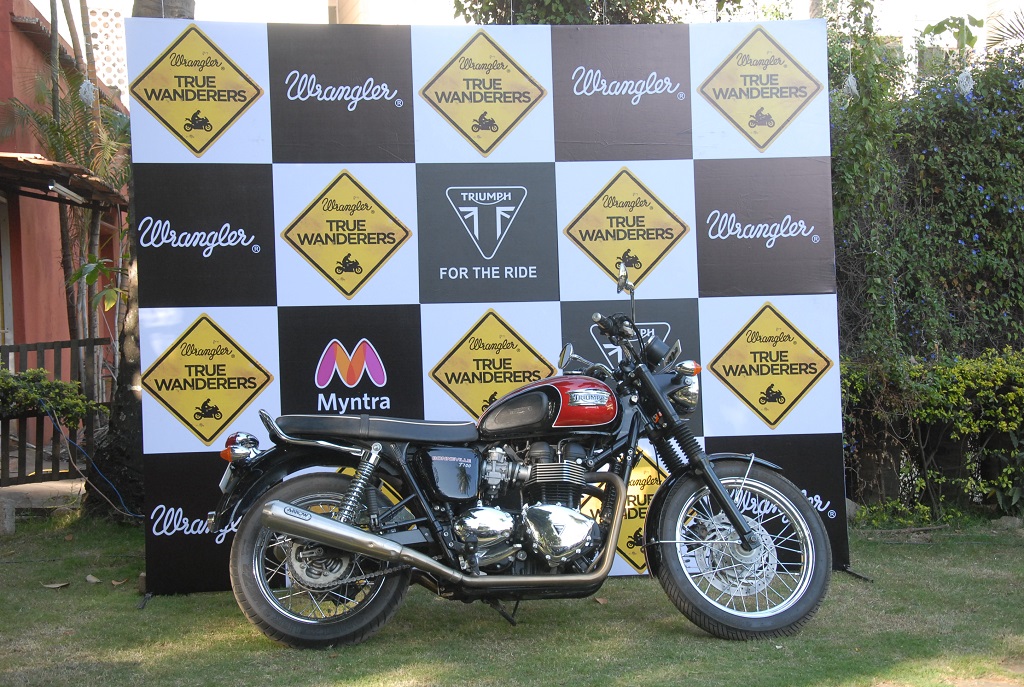 New Delhi, 22nd December 2015:  After a week-long dream ride, Wrangler's top ten True Wanderers successfully completed the adrenaline fuelled journey filled with mean paths and terrains across India. But the journey did not end yet. Wrangler announced the True Wanderer 4.0 winner, Tariq Aziz Khan from Kolkatta and runners up Saquib Ahmad from Bangalore and Sachin Sadashivan Nair from Mumbai. The winner and the ultimate True Wanderer took home a Triumph Bonneville motorcycle.
Wrangler True Wanderer Tariq Aziz Khan is a bike enthusiast and extremely fond of motorcycle touring. He loves to capture the beauty of the country in his photography and this can be seen through his blog on www.truewanderers.in. His spirit for adventure and passion to explore the free spirit on the open road certainly caught the jury's eye.
A panel of biking experts declared the winner based on the quality of content generated and the experiences shared by Tariq Aziz Khan on his blog as well as number of votes he got on his blog. Wrangler believes that, on his 7 day long journey Tariq Aziz Khan certainly had a lot of interesting stories to tell through his experiences, blogs and amazing pictures updated on www.truewanderers.in, hence undoubtedly is the perfect True Wanderer.
Speaking on the occasion, Mr. Vimal Sumbly, Managing Director, Triumph Motorcycles India and member of the jury panel, said, "I congratulate Tariq for being adjudged the true wanderer this season. It was an enriching experience to be a part of the jury panel. I am extremely happy to see the contents and photographs that the participants have shared and the passion and hard work that have gone into it to make True Wanderer 4.0 a grand success. I am sure Tariq would enjoy riding his new Bonneville to the fullest."
About True Wanderers 4.0
Top Ten True Wanderers selected from thousands of entries received, were flagged off from a Wrangler store in their city and went on a week-long journey in May 2014. The 10 riders were styled in Wrangler's Sun Shield Tees and Silver Shield denims for True Wanderers 4.0.
The True Wanderers shared their experiences through photos, videos and blogs about each day's event and constantly uploaded their road trip experiences on www.truewanderers.in.  The riders rode in their respective zones and decided their route plan in consultation with a panel of biking experts from xBHP, a popular biking community.
About Wrangler:
The heritage of Wrangler goes back literally a hundred years to 1904 when its original manufacturers – the Blue Bell Company was founded. Since then, Wrangler continues to inspire freedom, independence and self-reliance in its wearers. Wrangler was the first modern day five pocket jeans to be test-fitted and endorsed by real-life cowboy rodeos. The brand in India has come a long way, from a cowboy image it has today truly evolved to an "Urban Cowboy" image which is contemporary, fashionable yet rugged.
A part of VF Corporation -the world's largest apparel company, Wrangler has found a loyal consumer base in the Indian youth that swear by this unique fashion brand. This high-fashion denim brand is available at exclusive standalone stores, leading apparel stores and major department stores.
About Triumph Motorcycles:
First established in 1902, Triumph Motorcycles celebrated 110 years of motorcycle manufacturing in 2012. For more than two decades, Triumph Motorcycles has been based in Hinckley, Leicestershire, and has produced iconic bikes, which perfectly blend design, character, charisma and performance. Building around 50,000 bikes per year, Triumph is the largest British motorcycle manufacturer, and has more than 740 dealers across the world.
At the heart of Triumph's philosophy is a commitment to developing truly unique motorcycles that offer a blend of distinctive design, intuitive handling and performance. The innovation and engineering passion that gave birth to the iconic Bonneville of the 60's has today created a broad range of bikes suited to all motorcycle riders, including the striking 2.3 litre Rocket III, the legendary Speed Triple and the super-sports Daytona 675.
Triumph currently employs around 2,000 personnel worldwide and has subsidiary operations in the UK, America, France, Germany, Spain, Italy, Japan, Sweden, Benelux, Brazil, and now India, as well as a network of independent distributors. Triumph has manufacturing facilities in Hinckley, Leicestershire and Thailand plus assembly facilities in Brazil, and India.