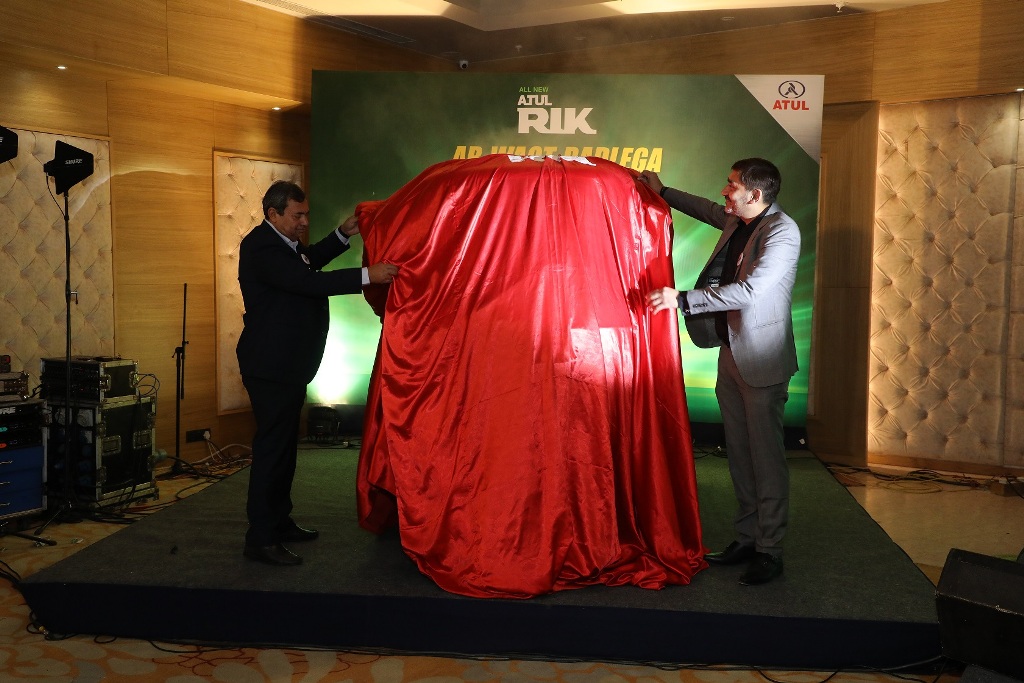 New RIK CNG promises the customers the best in class product with the 5 pillars of the "YeS factor" – Style-Safety-Space-Savings-Strength
Ahmedabad, Mar 10, 2021: Atul Auto Ltd, one of India's fastest growing 3-wheeler manufacturer today announced the launch of the new RIK CNG Passenger for the Gujarat market.  RIK platform was conceived after an extensive research keeping in mind the customer requirements both for the domestic and International markets. Atul RIK will be available in 3 fuel variants- CNG, LPG & Petrol.
The new Atul RIK CNG combines both Style and Economics. It comes with features like International styled beige dashboard, semi digital Instrument cluster, step less entry, and first ever L.E.D tail lamps. When it comes to (RoI) Return on Investment, company has taken care of RIK customers by offering "Atulya Vishwas" scheme which makes it the most attractive value creator in its space. In addition to Atulya Vishwas, the RIK CNG/LPG variant comes with a 36 months (unlimited km) super warranty. RIK Platform
Gujarat has always been a strong foot hold for the company, having a network reach of 120+ touch points; This matches location to location, the extensive CNG fuel network of Gujarat. Post April 2021, the company shall start supplies of RIK -PAN India and in the international markets.
Commenting on this development, Niraj Chandra, Director, Atul Auto Ltd. said "Small CNG auto rickshaw segment was waiting for a stylish and trendy product since many years. The style conscious customers prefer technology and style over traditional looks. We have introduced the RIK with a 360 degree approach, ensuring end to end solutions for the customers. By introducing RIK, we are sure to gain a good market share in 0.35T 3 wheeler industry."
Mr. Jitendra Adhia, President Finance, Atul Auto Ltd. said "Atul Auto Ltd (AAL) will strongly back RIK CNG/LPG at all locations with Khushbu Auto Finance (KAFL), the NBFC associate concern of AAL along with other retail finance partners."
Mr. Pushkar Sinha, Vice President, Sales & Marketing, Atul Auto Ltd. said." The small & midsize segment alternative fuel is already showing strong growth indicators fuelled by rising diesel prices, pollution concerns and the opening up of Metros and suburban railways. Gujarat is our forte and we are targeting minimum 25% market share".