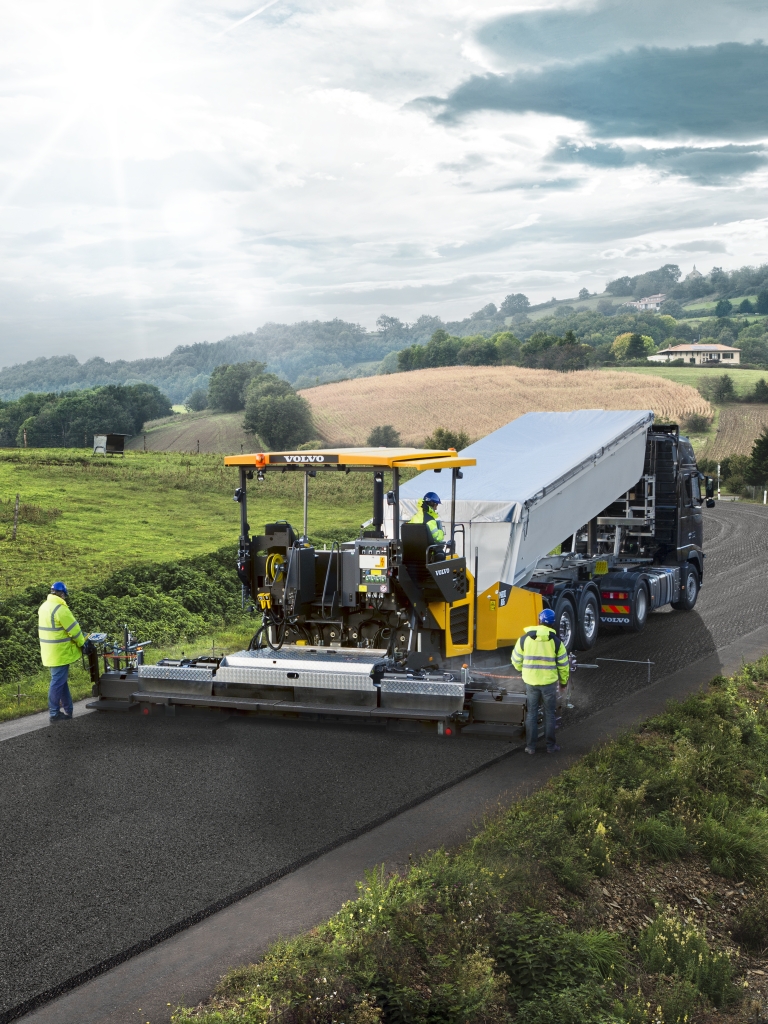 Volvo CE is launching its newest paver into India, the mid-sized P6820C ABG. The unit offers a winning combination of power, production capacity, and precision for excellent paving quality, with perfectly smooth mats.
The new Volvo P6820C tracked paver – equipped for high performance – is an all-around paving solution. Powered by Volvo's D6E COM IIIA/EPA Tier 3 engine, the paver is considerably more powerful than its predecessor, while providing lower fuel consumption and less noise. As the Indian government continues to develop its road building program, contractors will find Volvo's new paver an ideal solution to help meet increasingly ambitious construction schedules.
Dimitrov Krishnan, vice president and head of Volvo CE India, said infrastructure development remains a key focus in the country and highlighted increasing market demand for mid-sized road paving equipment that does not compromise on quality.
"We are seeing more interest in equipment at the lower end of the scale as construction of smaller roads in more rural areas gathers pace. This reflects a maturing of the road network in India with many major routes now well into development, requiring work on the byways which will feed the arterial roads," he said. "The new mid-sized P6820C perfectly addresses this issue, offering an ideal combination of productivity and flexibility."
The P6820C is fitted with an emission-compliant engine. Fuel consumption is further reduced when the operator uses smart power mode, which lowers engine RPM to match power and demand — resulting in fuel savings of up to 30%. Reduced noise levels can also be attributed to sound lowering components and a robust frame. These features combined with smart power can dramatically decrease noise levels, compared with the competition.
Precise paving
The P6820C, with the Volvo Variomatic screed, offers a high degree of flexibility when frequently changing paving widths, up to twice the basic screed width — from 2.5 to 5 or from 3 to 6 meters. By adding extensions, it can pave up to nine meter widths. With a Volvo fixed screed, the P6820C is proven to be effective when paving up to 700 tonnes per hour at 9 meters width. This level of throughput makes the paver versatile enough for a range of applications, including municipal and main roads, highways and waste storage areas.
It can also handle a range of materials, from wearing course and binder course to base course and frost protection layers. Independent hydrostatic drives, for both bar conveyors and augers, ensure the paving material is delivered evenly to both sides of the screed. The optimum head of material is maintained in the auger channel by adjusting the height, the speed and the direction of the augers. This larger volume of material and high throughput provide optimum quality regardless of width, thickness or paving speed.
Wired for productivity
The operator environment is ergonomically designed with an adjustable seat and affords the operator an all-around view that allows for more productivity. From the operator's platform, a direct view into the hopper, the auger channel and the work area provides the conditions for achieving high-quality paving. The swiveling, tilting, extendable control panel features the newest Electronic Paver Management II system (EPM II), which controls all functions and guides the operator, step by step, through working functions. The easy-to-read back lit controls on the panel permit working around the clock.
The EPM II also monitors fuel consumption and manages service intervals to alert the operator when routine maintenance is due. A settings manager reduces set-up times by allowing operators to save settings in the system for use when the machine operates in similar conditions in the future. For security, all electronic control panels, including the EPM II, can be removed and stored in a lockable compartment.
Wide contact area crawler tracks combined with good weight distribution allow effective transfer of engine power to the ground. The rubber pad-clad crawler units are maintenance free and feature individual electronically controlled drives for each track. A system monitors track movement and controls motor response — ensuring both straight line and fixed radius work are accurate. Smooth and precise control of the electro-hydraulic steering is gained via an easy-to-use dial on the control panel.
Maintenance of the P6820C track paver has been simplified, with improved service access from the operator's platform to service points, via large opening compartments. An optional central lubrication system automates lube maintenance. A canopy that is quick and easy to fold down allows easy transport, too.
Volvo pavers are available with Care Kits, to guarantee longer life and better performance of wear parts, and customer service agreements (CSAs), which bundle service and maintenance offerings into comprehensive packages that cater to a variety of customer needs. And as with all Volvo products, the P6820C tracked paver is backed by Volvo CE's extensive service network in India.
Specifications
| | | |
| --- | --- | --- |
| Model | | P6820C ABG |
| Basic paving width | m | 2.5 or 3.0 |
| Max paving width | m | 9.0 |
| Max mat thickness | mm | 300 |
| Max paving output* | t/h | 700 |
| Engine | | Volvo D6E, Tier 3 |
| Rated power | kW (hp) | 142 (193) |
*depending on the mat thickness, the paving width and paving speed and can vary according to paving conditions of the jobsite.