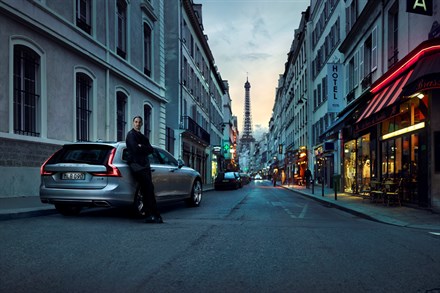 Volvo Cars is teaming up with footballing icon Zlatan Ibrahimović again for the European launch campaign of the V90 premium estate in advance of the European Championships football tournament. The campaign went live tonight on national TV stations and on social media platforms.
The new campaign shows the former Paris Saint-Germain striker, a long-time Volvo driver and fan, looking back at his rise from humble beginnings in one of Sweden's toughest neighborhoods in Malmö to international sporting stardom.
Zlatan, who is currently preparing for the European Championships, feels a close affinity with the Swedish car brand.
"I'm happy to be working with Volvo Cars again. I've seen the new cars, I've driven and tested them. And I think they're fantastic. Just like me, Volvo have gone their own way and dared to think differently. The previous campaign we did was good, but this time it's Made by Zlatan," said Zlatan Ibrahimović.
"The campaign is a celebration of the independent mind, of the power that lies in the ability to think differently. There are many similarities between Zlatan's and Volvo's journeys. We haven't gotten to where we are now by doing the same as everyone else," said Anders Gustafsson, Senior Vice President, Europe, Middle East and Africa at Volvo Car Group.
Volvo Cars and Zlatan worked together in a memorable 2014 marketing campaign featuring the enigmatic footballer reciting the Swedish national anthem and hunting in remote Swedish forests.
Building on Volvo Cars' indisputable heritage in the estate segment, the new V90 takes the premium estate a clear step forward in terms of aesthetics, materials and finish, while living up to the ultimately practical nature of any true estate. The Volvo V90 boasts a high level of standard equipment, ranging from Large Animal Detection to the second generation of Pilot Assist, a semi-autonomous drive feature.
The new V90 campaign, which goes live May 30th at 8:15pm CET on national TV stations and social media platforms, features a new and unique score by Hans Zimmer, the world-renowned and Academy Award-winning composer behind the scores of films such as Gladiator, Pirates of the Caribbean, Inception and Interstellar.
"I've always been a fan of Swedish icons such as Abba and Zlatan, so doing this project with Volvo Cars and Zlatan made me experience the best of Sweden. Working together has been truly rewarding," said Hans Zimmer.