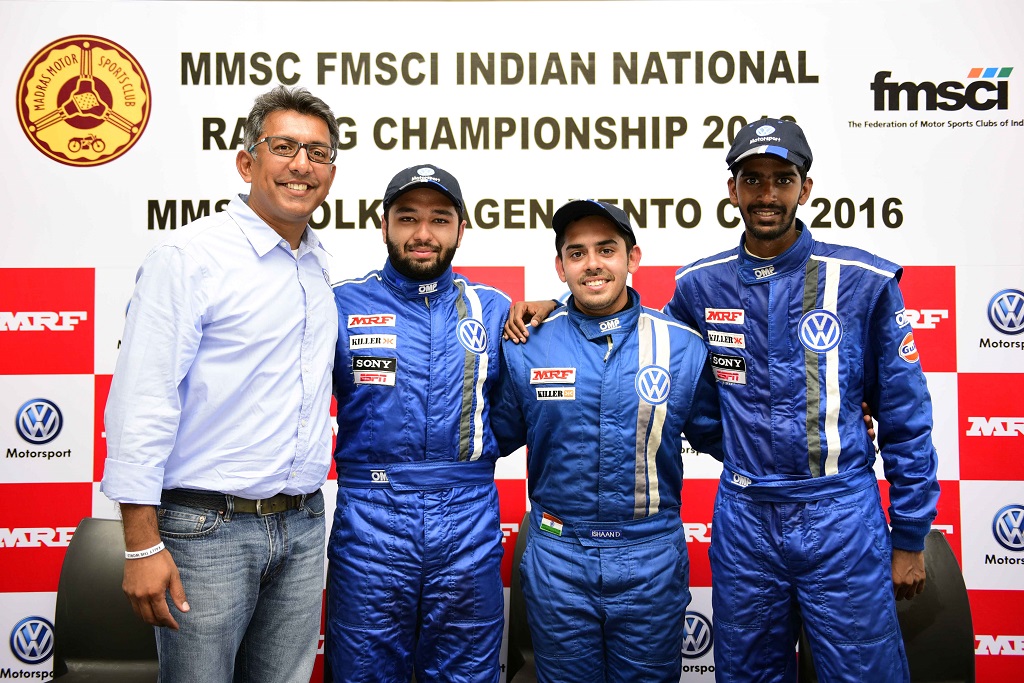 Madras Motor Race Track hosting MMSC Vento Cup for the 2nd time this season on 20th and 21st August
With the top three drivers within 18 points of each other, the upcoming round is expected to turn out to be one of the most crucial ones of the season
Volkswagen Motorsport India is all set to revisit the Madras Motor Race Track (MMRT) for the second time this season from 19th to 21st August for the Round 3 of the MMSC Volkswagen Vento Cup 2016. The upcoming race weekend promises to be full of excitement with the possibility of the top three racers fighting each other to emerge as the leader on the points table at the end of the weekend; before they head out for the final round in October. The entire grid of drivers has gained relevant track experience from their last outing here in July and now it will boil down to pure racing skill to showcase their talent on the track.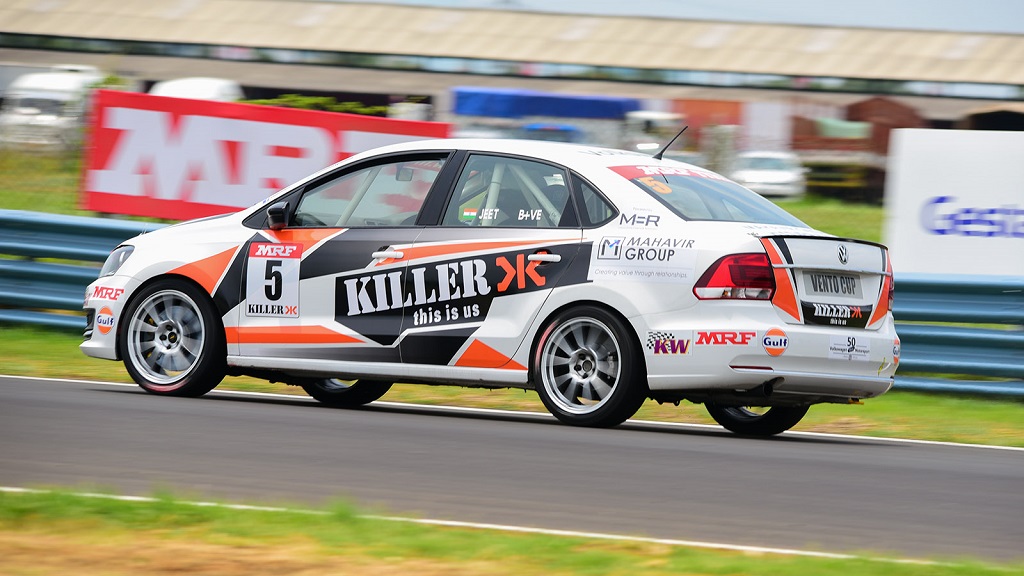 The weekend is expected to witness high temperatures creating challenging conditions for the drivers to race in. On the other hand, the freshly resurfaced tarmac at the MMRT, which has now settled in properly, is expected to provide better grip and allow the drivers to push really hard and go faster than the last time around.
Commenting on the upcoming race weekend, Sirish Vissa, Head Volkswagen Motorsport India said, "Having passed the mid-way mark in the Vento Cup 2016 season, it is time for the drivers to showcase their learnings so far and improve further. The fight for the top honours is going to be intense from here on as we enter the crucial phase of the season." He further adds, "With the track having settled in after the resurfacing, we are expecting some good lap times from our race-prepped Vento Cup cars, especially since we have done a lot of testing and development of this year's car at this very circuit."
Quotes from the Vento Cup leaders for the upcoming Round of the Volkswagen Vento Cup –
Ishaan Dodhiwala (Current Vento Cup 2016 leader):
"During the last round here at MMRT, I spent quite a lot of time learning the track. Now it is time for me to put in my 100% I feel that I am more prepared this time around as compared to the last round. Of course, I am looking forward to some clean races this weekend while being able to click quicker lap times and win some races." Karminder Pal Singh (Current second place in Vento Cup 2016): "With only 12 points behind Ishaan, it is important for me to finish ahead of him as much as possible to climb up in the standings. Qualifying will be very important – a good position on the grid will definitely help me in getting the upper hand from the start as compared to the last round where I struggled a bit throughout the weekend. I have analysed the mistakes I made then and I'm hoping to correct them in the upcoming round." Keith Desouza (Currently third place in Vento Cup 2016): "I believe I have an advantage over the others from Vento Cup since I am driving in multiple series and thus getting more track time. I have heard that the track surface is improving on grip levels – this is good news for all of us. The plan is to try for getting on pole positon and fighting for a win here. I would like to aim for at least a couple of podium finishes over the race weekend."
Jeet Jhabakh (Current Junior Drivers leader):
"The Vento Cup experience has been quite exciting for me; the last two rounds have worked in my favour when it comes to points for the Junior Drivers. However, I have not been able to get a podium finish and this would be my goal at least once for the 2016 season. There is still a lot more for me to learn – I have consistently finished races on either the 4th, 5th or 6th position despite starting further back on the grid. I look forward to converting my good drives into a podium finish in the upcoming round."
MMSC Volkswagen Vento Cup 2016 Points Table after Round 2:
| | | | |
| --- | --- | --- | --- |
| Sr. No. | Car Number | Name | Total Points |
| 1 | 8 | Ishaan Dodhiwala | 240 |
| 2 | 16 | Karminder Pal Singh | 228 |
| 3 | 11 | Keith Desouza | 222 |
| 4 | 18 | Niranjan Todkari | 182 |
| 5 | 5 | Jeet Jhabakh | 156 |
| 6 | 7 | Aditya Pawar | 142 |
| 7 | 9 | Sree Venkata Teja | 116 |
| 8 | 6 | Hatim Shabbir | 108 |
| 9 | 3 | Amit Mete | 106 |
| 10 | 10 | Arfath Mohammed | 102 |
| 11 | 17 | Arunshowry Vallabhaneni | 90 |
| 12 | 20 | Pradeep Rao | 86 |
| 13 | 1 | Rashad Khan | 74 |
| 14 | 12 | Gowdham Raj | 32 |
| 15 | 4 | Rajeev Srivastava | 26 |
| 16 | 14 | Eswar Bolisetti | 20 |
MMSC Volkswagen Vento Cup 2016 – Junior Drivers Points Table after Round 2:
| | | | |
| --- | --- | --- | --- |
| Sr. No. | Car Number | Name | Total Points |
| 1 | 5 | Jeet Jhabakh | 300 |
| 2 | 9 | Sree Venkata Teja | 202 |
| 3 | 6 | Hatim Shabbir | 200 |
| 4 | 17 | Arunshowry Vallabhaneni | 180 |
| 5 | 10 | Arfath Mohammed | 178 |
| 6 | 1 | Rashad Khan | 156 |
| 7 | 14 | Eswar Bolisetti | 60 |