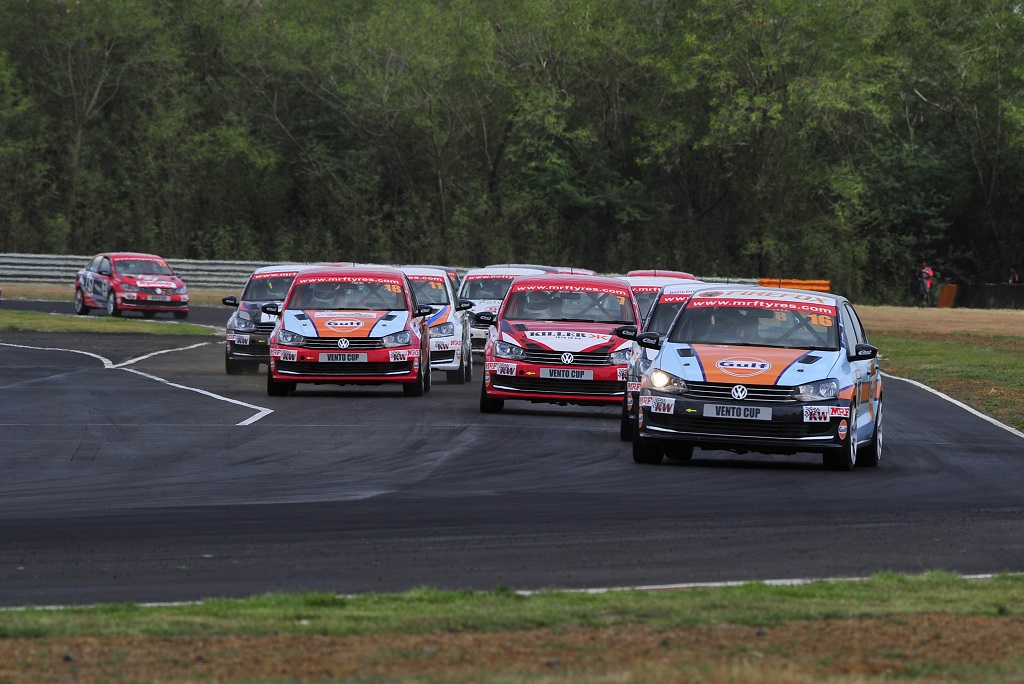 With only 34-point separating Ishaan Dodhiwala (408 Points) and Karminder Pal Singh (374 point) in the current points tally, intense battle for title expected to ensue
Goan driver Keith Desouza (324 points) expected to fight Karminder for the second place
Debutant Jeet Jhabakh leads significantly in the Junior Drivers category ensuring a sponsored seat for the next season of Volkswagen Motorsport India's one make series
After successfully concluding three exhilarating rounds of the Vento Cup 2016, Volkswagen Motorsport India is all set to host the season finale at the Buddh International Circuit (BIC) in Greater Noida. The last round is scheduled to be organized alongside FIM Asia Road Racing Championship (ARRC) from 30th September to 02ndOctober in.
With memories of nerve racking action from the previous rounds of the season, Round 4 promises a weekend full of talented young drivers showcasing their race craft to fight for top honours. In the race for Vento Cup 2016 title are Ishaan and Karminder with just 34 points separating the two. Not far away is Keith who will be putting in everything to get back in the game for at least the second position in the final standings. Niranjan Todkari, currently sitting in fourth position, is also expected to fight hard for the overall third position.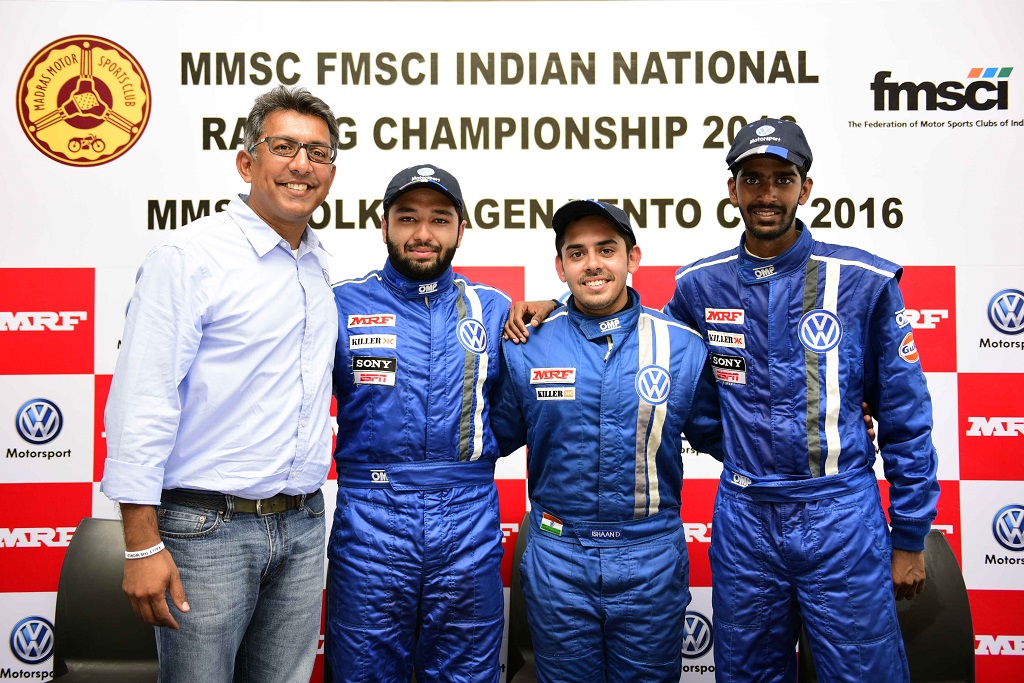 The Formula One track will be new to many drivers. To overcome the challenge of quickly adapting to the conditions and getting familiarized with the track, Volkswagen Motorsport India will arrange for a testing session on 28th September 2016. The Overall Winner of the Vento Cup 2016 will be awarded a fully sponsored season in the MRF 1600 series while the Junior Champion will receive a sponsored season in 2017 Volkswagen Motorsport India one-make racing series.
Sharing his excitement on the final round of the Vento Cup, Sirish Vissa, Head of Volkswagen Motorsport India said, "We at Volkswagen Motorsport India have seen the drivers evolve remarkably through this season and this is evident by the number of fresh faces finishing on the podium. They will now have to implement the learnings they have gathered in the final round of the Vento Cup 2016." He went on to add, "Some of the drivers have already experienced this track which should give them an edge over the others but I am also confident of the new drivers being nimble enough to take the fight to the finish!"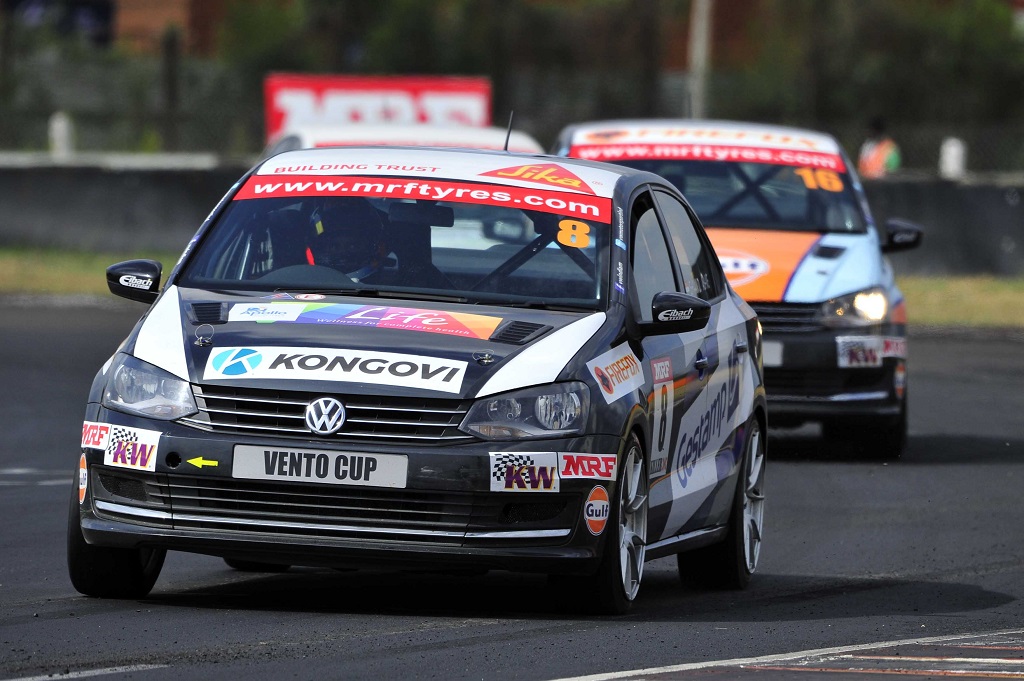 Quotes from the Vento Cup leaders for the upcoming round of the Volkswagen Vento Cup 2016 –
Ishaan Dodhiwala (Current Vento Cup 2016 leader):
"It feels good to come back to BIC for the final round and the fact that I have raced here before gives me confidence to take on the pressures that come with the season finale. This is the time to put in my 100% and translate this lead into an overall victory."
Karminder Pal Singh (Current second place in Vento Cup 2016):
"Even though I am 34 points behind Ishaan, I am hopeful of making a strong comeback in the final round. It is important for me to stay consistent and keep a steady pace. Qualifying will be very important – a good position on the grid will definitely help me in getting an upper hand in the final round. And of course, Delhi is my home ground and it is always been a special track to win at!"
Keith Desouza (Currently third place in Vento Cup 2016):
"I am quite happy about how I am placed in the championship right now and feel confident heading into the final round. Although I will be driving for the first time at BIC, the basics of racing remain the same and I hope to score a win for myself."
Jeet Jhabakh (Current Junior Drivers leader) –
"I have thoroughly enjoyed my racing experience in the Vento Cup 2016 so far. I have definitely learnt a lot about racing professionally and hope to use that in the upcoming races. The plan still remains the same – maintain consistency and try to secure a podium finish."
MMSC Volkswagen Vento Cup 2016 Points Table after Round 3:
| | | | |
| --- | --- | --- | --- |
| Sr. No. | Car Number | Name | Total Points |
| 1 | 8 | Ishaan Dodhiwala | 408 |
| 2 | 16 | Karminder Pal Singh | 376 |
| 3 | 11 | Keith Desouza | 324 |
| 4 | 18 | Niranjan Todkari | 300 |
| 5 | 5 | Jeet Jhabakh | 220 |
| 6 | 7 | Aditya Pawar | 214 |
| 7 | 3 | Amit Mete | 192 |
| 8 | 6 | Hatim Shabbir | 178 |
| 9 | 9 | Sree Venkata Teja | 170 |
| 10 | 10 | Arfath Mohammed | 170 |
| 11 | 12 | Gowdham Raj | 164 |
| 12 | 17 | Arunshowry Vallabhaneni | 162 |
| 13 | 20 | Pradeep Rao | 156 |
| 14 | 1 | Rashad Khan | 146 |
| 15 | 19 | Abhishek Vakil | 32 |
| 16 | 14 | Eswar Bolisetti | 26 |
| 17 | 4 | Rajeev Srivastava | 20 |
MMSC Volkswagen Vento Cup 2016 – Junior Drivers Points Table after Round 3:
| | | | |
| --- | --- | --- | --- |
| Sr. No. | Car Number | Name | Total Points |
| 1 | 5 | Jeet Jhabakh | 420 |
| 2 | 6 | Hatim Shabbir | 310 |
| 3 | 17 | Arunshowry Vallabhaneni | 300 |
| 4 | 10 | Arfath Mohammed | 300 |
| 5 | 9 | Sree Venkata Teja | 296 |
| 6 | 1 | Rashad Khan | 262 |
| 7 | 14 | Eswar Bolisetti | 60 |