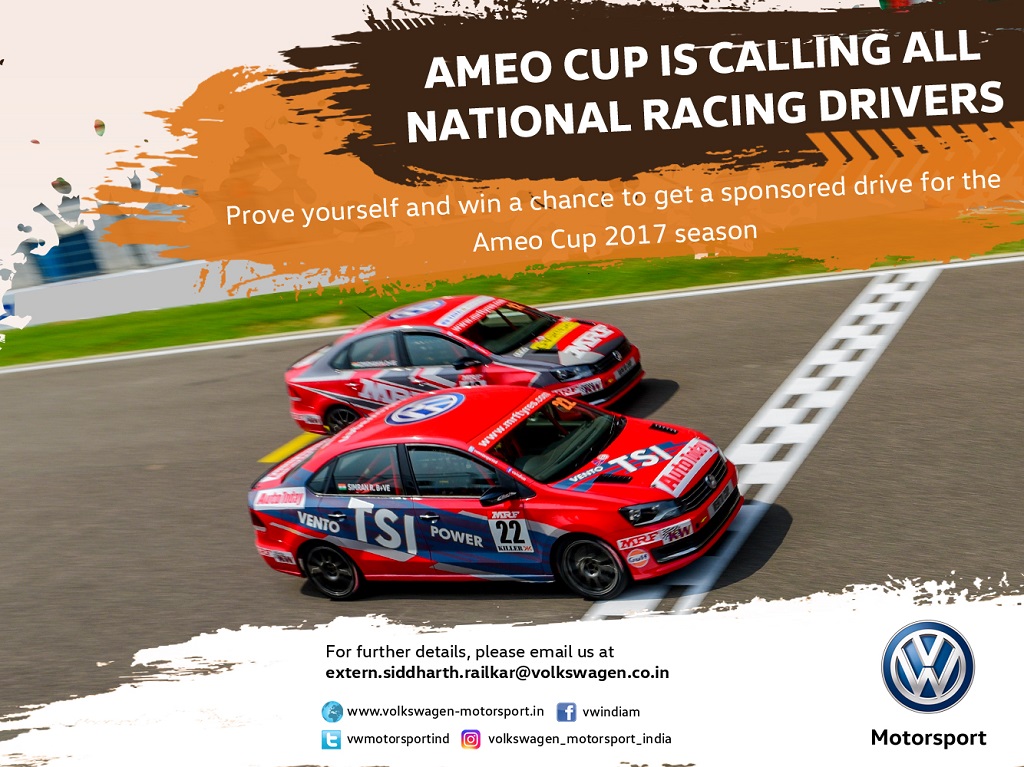 A special race weekend in the outgoing Vento Cup race cars will be organised from 27th to 29th January 2017 during the MRF MMSC FMSCI National Racing Championship 2017
Winner of the race weekend to get a fully sponsored wild card entry to the Volkswagen Ameo Cup 2017 season
A total of 16 seats are up for grabs for the entire three-race weekend that will be held at the Buddh International Circuit in Greater Noida
Pune, December 28, 2016: Volkswagen Motorsport India is all gearing up for the Ameo Cup that will hit the Indian racing circuits later in 2017. While 15 drivers have already been shortlisted through Drivers Selection process held earlier this month in Pune, Volkswagen Motorsport India is now offering a unique opportunity to experienced Indian racers to get a wild card entry into the premium one-make series.
A special race weekend has been drawn out by Volkswagen Motorsport India that will be organised during the first round of MRF MMSC FMSCI National Racing Championship 2017 at the Buddh International Circuit in Greater Noida from 27th to 29th January 2017. Entries for this race weekend are open from today and experienced racing drivers are invited to fill up the 16 spots on the grid on a first come first serve basis. The racing drivers will get a full-fledged race weekend with free practice sessions, qualifying session and three races in the outgoing Vento Cup race-spec cars. These cars are powered by 1.4-litre TSI engines mated with 6-speed DSG transmission that produce 180 PS peak power and come equipped with top-spec safety standards.
The participants will get points basis their finishes in each of the races and the driver with highest points at the end of the weekend will get a fully sponsored entry to the upcoming Volkswagen Ameo Cup 2017 that is scheduled to start later in the next year. That would not be all; the second and third finisher would get 40% and 20% sponsorship respectively of the entry fee for the Ameo Cup 2017.
Mr. Sirish Vissa, Head of Volkswagen Motorsport India commented, "Through our one-make series, we have been offering budding racers a great platform that is truly of international standards. Right from the beginning, Volkswagen Motorsport India has sponsored its champions a further season in higher spec racing series. This year, we take our efforts of sponsoring young talent in a new direction." He further added, "We are offering this unique opportunity to the drivers who have previously raced but haven't been able to make it to the selection round in Pune. They can now enter this race weekend and stand a chance to get a free seat or partially sponsored seat in the exciting new series that we will start next year."
The upcoming race weekend in January will also serve as the one that retires the highly successful Vento Cup race cars that debuted in 2015.
Essential details for the race weekend:
Dates: 27 – 29 January 2017
Venue: BIC, Greater Noida
Interested drivers can apply by writing an email to extern.siddharth.railkar@volkswagen.co.in
Total 16 race-spec Vento Cup cars to form the grid for the weekend
Only drivers with prior racing experience are allowed to participate
Participation fees would be ₨ 2.5 lakhs and a refundable safety deposit of ₨ 1 lakh
The weekend would consist of three races and drivers will be awarded points basis following finishing positions:
| | |
| --- | --- |
| Position | Points |
| 1 | 10 |
| 2 | 8 |
| 3 | 6 |
| 4 | 5 |
| 5 | 4 |
| 6 | 3 |
| 7 | 2 |
| 8 | 1 |
The driver with the maximum points would get a sponsored entry (only participation fees of ₨ 8.5 lakh) to the Volkswagen Ameo Cup 2017 Season
The second and third position drivers would get sponsorship worth 40% (₨ 3.4 lakhs) and20% (₨1.7 lakhs) to participate in the 2017 Ameo Cup