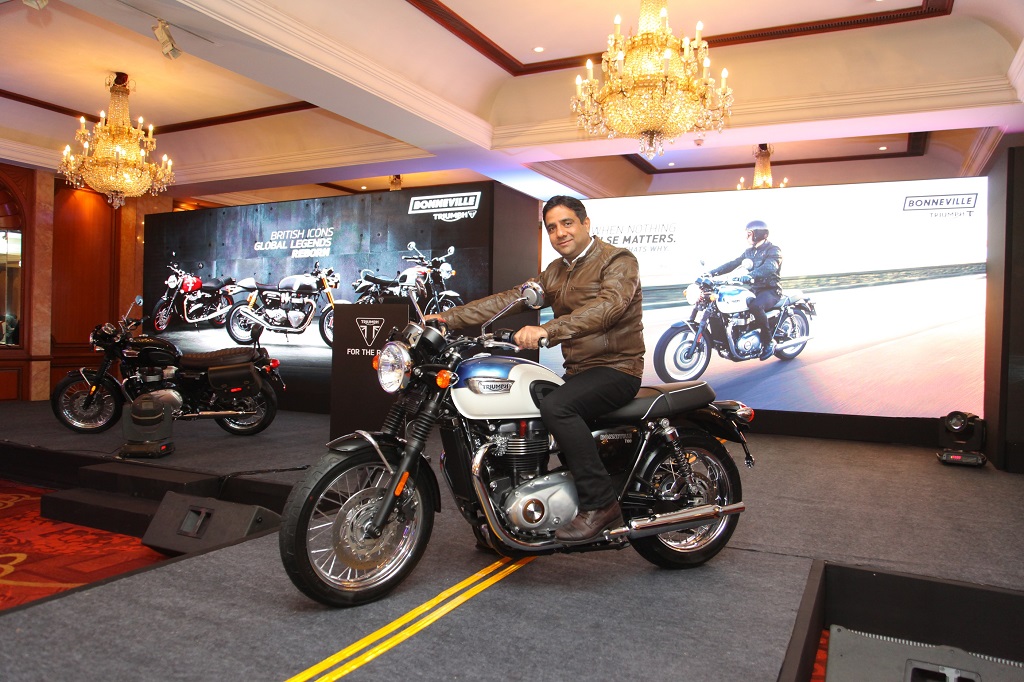 An original for everyone now available in India at Rs. 7.78 Lacs ex-showroom Delhi
The exciting new entry point for the internationally acclaimed Bonneville family has arrived in the classically styled form of the T100. Now even more accessible and lighter than the T120, the all-new Bonneville T100 makes owning an original icon easier than ever before
Inspired by the legendary '59 Bonneville, and styled to incorporate more of the iconic design, silhouette and character of the original, the T100 has all the timeless style and signature touches of a genuine motorcycle icon
Combining the highest standard of detail and finish with the quality, performance, capability and comfort of the next generation Bonnevilles. Powered by the critically acclaimed 900cc Bonneville engine with more torque, better fuel economy and a rich, deeper exhaust note
The T100 is the latest addition- to the contemporary new Bonneville range, each one built to enhance the iconic Bonneville character and to satisfy today's demand for bikes that combine timeless style with modern capabilities.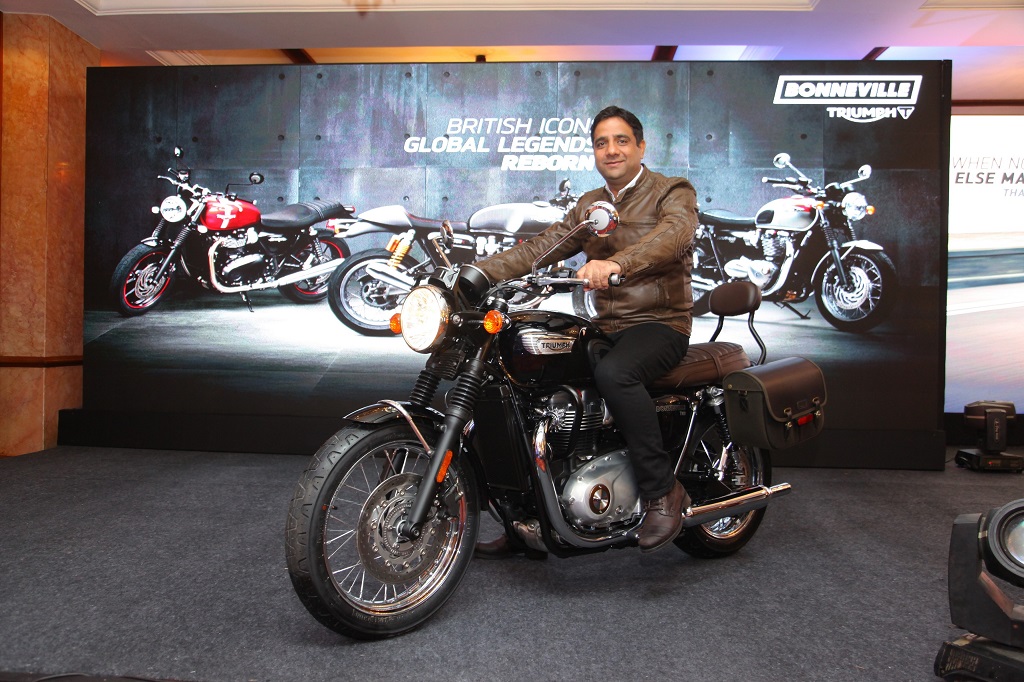 The all-new 900cc powered T100 is lighter than the T120, easy to manage and with over 150 accessories available, it is ready to personalise.
The all-new iconic Triumph Bonneville T100 ( Images ) is priced at Rs. 7.78 lacs ex-showroom Delhi.
Mr Vimal Sumbly, Managing Director, Triumph Motorcycles India Pvt. Ltd. commented, "India is a large and growing market for classic motorcycles. With our range of new, exciting and accessible modern classics like the all new Triumph Bonneville T100, we would further strengthen our market position in the above 500cc, plus 5 lakh segment in India."
"Our Bonneville range is unmatched in terms of performance and classic appeal. With a name famously inspired by the Triumph speed record on the Bonneville Salt Flats, the Triumph Bonneville is 'The original British superbike'. It is arguably the most famous name in motorcycling in the world. The all new T100 is all set to take forward this iconic legacy."
"Triumph Motorcycles has set new standards within the modern classics in India. In the last 3 years of our India operations, over 1,250 customers have become proud owners of Triumph's classic- range of motorcycles. With the launch of the all new Triumph Bonneville T100, we continue to add market-leading models for riders  in India, and take pride in offering the widest range of luxury motorcycles to the discerning Indian rider."
Inspired styling
Inspired by the legendary '59 Bonneville and styled to incorporate more of the iconic design, silhouette and character of the original, the T100 has its own distinctive character, enhanced by the premium finishes and signature touches of a genuine motorcycle icon.
Sharing the distinctive Bonneville silhouette and many of the stunning features of the T120, the new T100 is a timeless icon, beautifully evolved. From the sculpted lines of the 14.5 litre signature fuel tank, to the intricately detailed Bonneville engine plate and stylish feature-packed twin clocks, the new T100's set a new standard for quality and finish.
The Bonneville T100 features a wealth of classically inspired detailing and stunning chrome finishes including high-value brushed aluminium covers, classic bolt-on Triumph badges unique to this model, and deep chrome mirrors, mudguard stays, handlebars and headlight bezel.
Contributing to the classic Bonneville profile on the T100 is the detailed comfort seat and pillion seat finished in contrast piping with deeper foam for heightened comfort.
Distinctive colour schemes
The Bonneville T100 comes in three classically inspired (colour) schemes:
Aegean Blue and Fusion White with hand painted coach lines
Intense Orange and New England White with hand painted coach lines
Jet Black
 Real Accessibility
One of the key areas of development for the T100 model is the new chassis and suspension set-up which significantly enhances comfort levels for the rider giving a better overall riding experience whether for long distance journeys, every day use or with a pillion.
The T100 features a unique longer rear suspension unit and cartridge front forks which work together to offer the rider an engaging yet easy-going riding experience.
The T100 is lighter than the new T120 and also has a shorter wheelbase, rake and trail. This combined with a low seat height and relaxed riding position makes it more accessible and easier to ride than ever before.
To further enhance the superior handling of the T100, the bike is fitted with custom developed Pirelli Phantom Sportscomp tyres as standard, designed especially by Pirelli for the Bonneville family with stiffness and profile changes to the front tyre, and deeper tread on the rear for secure handling and improved durability.
 Real Capability
The high standard of detailing, quality and finish is matched by modern capabilities which include a host of rider-focused technology for maximum control and safety.
Including:
Ride-by-Wire                             Delivering enhanced rideability, feel, safety and control, from a single throttle body.
ABS                                         The latest generation anti-lock braking system – introducing a new level of safety and control yet remaining unobtrusive and with minimal visual impact.
Switchable Traction Control        Switchable traction control via the instrument menu helps to maximise rider safety and comfort.
Torque Assist Clutch                 Designed to reduce clutch lever effort for the rider, bringing a lighter touch and feel to the clutch and making it easier to ride, and for longer.
LED Rear Light                          Incorporated into the classic design, it creates a distinctive light pattern with enhanced power efficiency and excellent visibility.
Engine Immobiliser                    Thatcham approved immobiliser incorporated into new key with high value Triumph badge.
USB Charging Socket                Mounted underneath the seat for convenient charging of essential devices.
Stylish Twin Clocks                   Feature packed clocks (speedo and rev counter) cleverly incorporating a digital menu system for fingertip control while riding.
With:
Gear position indicator
Odometer
Two trip settings
Service indicator
Range to empty
Fuel level
Average and current fuel consumption
Clock
Traction control settings
From the extensive optional accessory range, cruise control and heated grips are available.
Thrilling performance
Offering all the quality, performance, capability and comfort expected of the modern Bonneville family, the T100 is powered by the critically acclaimed Bonneville 900cc, 'high torque' 8 valve, parallel twin engine that offers more torque, better fuel economy and a rich, deeper exhaust note.
Specifically tuned to achieve much higher torque much lower down, it produces a peak torque figure of 80Nm at 3200 rpm – an increase of 18% on the outgoing Bonneville T100 for a more thrilling and engaging ride.
With enhanced throttle response from Triumph's ride-by-wire fuel injection and a slick new five-speed gearbox the T100 models are engineered to deliver a 270° firing interval for a smooth, linear power delivery. A cutting-edge liquid cooling system, carefully integrated into the distinctive character of the Bonneville, reduces fuel emissions and significantly improves fuel efficiency by up to 29%. This, combined with a new extended service interval of 10,000 miles (16,000km) dramatically reduces the overall cost of ownership.
The T100's distinctive twin pea-shooter silencers are crafted in a classic style and come with the Bonneville's ingenious twin skin design for a superb finish and clean line, delivering a unique rich exhaust note for the unmistakeable sound of a British Twin.
More choice
A complete range of over 150 high quality accessories makes it easy for riders to really make their Bonneville T100 their own. For increased comfort and practicality, accessories include heated grips, a centre stand and grab rail and cruise control. For the long distance rider, there is a stunning range of premium luggage options to choose from including tank bags and leather and leather canvas mix panniers.