9726, 9720, 9696,9858 Riders from across the country trained to further enhance their riding skills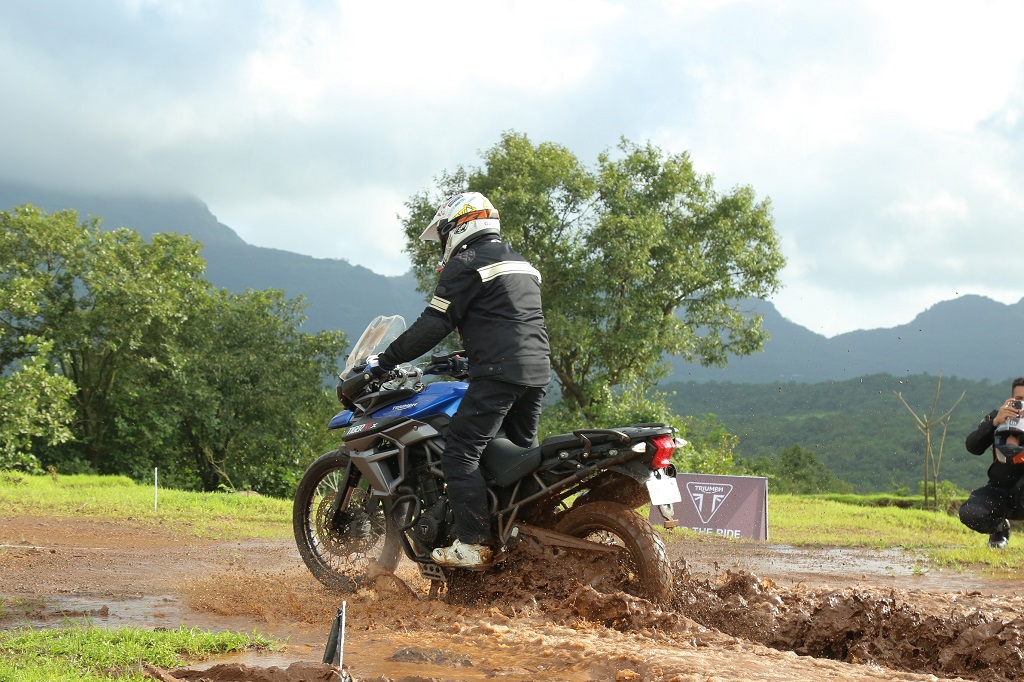 23rd August 2017, Pune: In yet another initiative as a leader in adventure biking Triumph Motorcycles India, the iconic British motorcycles organized another edition of its much-appreciated adventure motorcycling training program – Triumph Tiger Trails in Aamby Valley in Maharashtra. The participants received professional guidance on finer nuances of adventure biking and tips to drive safely and skilfully under challenging circumstances from acclaimed rider and trainer Mr Vijay Parmar.
Triumph motorcycles has decided to up the ante in the field of adventure biking by offering real-time training sessions for all riders and enthusiasts .
Speaking about the programme, Mr. Vimal Sumbly, Managing Director, Triumph Motorcycles India Pvt Ltd. commented "The Triumph Tiger family has been pivotal in building the adventure riding category and culture in India. With over 800 customers in the country Triumph does not just deliver great motorcycles, we also create an ecosystem in which the rider is equipped with the skill sets to ride deftly and safely. Our initiatives like the Triumph Tiger Trails and our Tiger Training Academies stand testimony to this.  As the leader in this category, the remarkable Tiger series with its state-of-the-art features and rider focused technology is suited for both on and off road riding, ensuring superb stability and control. It is a bike that allows riders to tailor their desired adventure, to go anywhere and everywhere from the daily commute to the corners of the earth."
Triumph is the first brand to introduce a diverse range of 5 SKUs within the adventure segment portfolio consists of 5 models – Tiger 800 XR, XRx, XCx, XCa and the recently introduced Tiger Explorer XCx, this leads to giving option of riding within each price point.  Featuring a host of rider-focused technology such as the standard fitment of Triumph Traction Control and switchable ABS, the Tiger series boasts an incredible level of equipment designed to maximise comfort and convenience on even the longest of journeys be it in terms of – technology, readability, manoeuvrability, ease of handling and being the most awarded adventure motorcycle brand.
Veteran rider, adventure enthusiast and Triumph Tiger Academy chief trainer Mr. Vijay Parmar, feels this event is one-of-its-kind. – "Triumph Motorcycles is the first brand in India, that has taken the adventure motorcycling segment to the next level. Triumph is doing a commendable job by engaging with the customers and enthusiasts by making them experience the best potential of the tiger range of motorcycles. As a brand, they are always vocal about road safety and ensuring riders ride responsibly at all times. I am extremely happy to be associated with the brand and observe a great riding culture spread across its riders."
Triumph Motorcycles is the overall leader within the adventure motorcycles segment here in India with over 800 motorcycles being sold. The brand has invested in development of riding skills through numerous carefully crafted rider training programs across the country.
Notes to Editors
About Triumph
First established in 1902, Triumph Motorcycles celebrated 110 years of motorcycle manufacture in 2012. For more than two decades, Triumph Motorcycles has been based in Hinckley, Leicestershire, and has produced iconic bikes that perfectly blend authentic design, character, charisma and performance
Building around 60,000 bikes per year, Triumph is the largest British motorcycle manufacturer and has over 750 dealers across the world
At the heart of Triumph's philosophy is a commitment and passion to develop truly unique motorcycles that offer a blend of distinctive design, intuitive handling and performance to enjoy the perfect ride
This focus, innovation and engineering passion has today created a broad range of bikes suited to all motorcycle riders, including the striking 2.3 litre Rocket III, the unmistakable Speed Triple, the Daytona 200 and TT winning SuperSports Daytona 675R, class defining Tiger 800, transcontinental Tiger Explorer and the iconic Triumph Bonneville family
Triumph currently employs around 2000 personnel worldwide and has subsidiary operations in the UK, America, France, Germany, Spain, Italy, Japan, Sweden, Benelux, Brazil, India and Thailand as well as a network of independent distributors. Triumph has manufacturing facilities in Hinckley, Leicestershire, and Thailand plus CKD facilities in Brazil and India
Triumph Brand Ethos
Never motivated by fads or gimmicks. We apply our obsessive attention to detail to every single part, material, technology and test we run. Because we know that the more we can put into the development of our bikes, the more you will get out of them. We aim to create bikes that are so intuitive and engaging that they bring the very best out of every rider who rides them. We are chasing the same think you are. The perfect ride!
Key Highlights, Triumph Motorcycles India
Triumph Motorcycles India is a subsidiary of the iconic British motorcycle manufacturer Triumph Motorcycles, one of the oldest British Motorcycle Brands established in 1902
Fastest growing luxury & lifestyle brand in India
4000 Customers; Multiple class-defining models; 36 major auto awards
14 state-of-the art dealerships at strategic locations
CKD Assembly Facility at Manesar, Haryana
Rider groups started in all dealer cities (Riders Association of Triumph) in line with Triumph Motorcycles' brand ethos – For the Ride
Key Highlights, For the Ride – Consumer
Tie up with India's leading financial service provider HDFC & the world's leading lubricant manufacturer, Castrol to ensure top notch quality
Global branding across every store in India, with build your own bike concept and full stock of riding gear, accessories and clothing
24 X 7 Customer service helpline – 1800 300 000 51
2 years unlimited mileage warranty on all the Motorcycles
Engaging social media presence on Facebook and Twitter