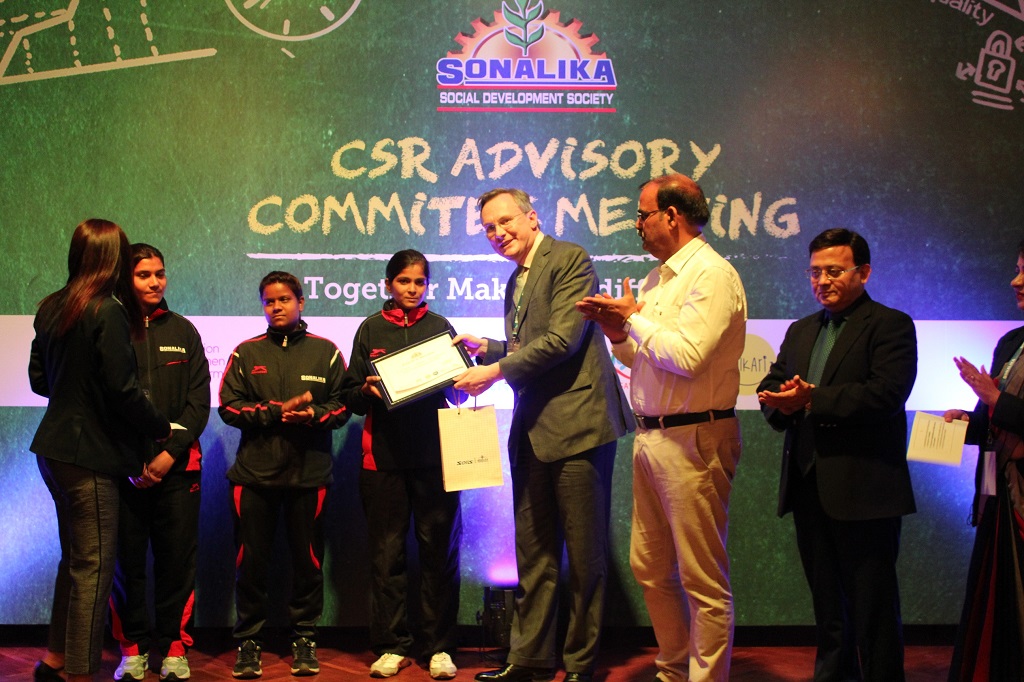 ~ Dignitaries from Government and Public Platforms to Attend the Event ~
~ Sonalika ITL Signed an MOU with UNIC ~
Mumbai, May 23, 2016: Sonalika Social Development Society, the CSR wing of Sonalika ITL organized a CSR Advisory Meet themed "Together Making a Difference" recently at the Taj Mahal Hotel, New Delhi. Ambassadors, President of RWA, Rotarians, Vendors, Bureaucrats, along with UNIC, National Information Officer for India & Bhutan attended the forum addressing and advising on social development issues.
The CSR Advisory Committee comprises of members from varied backgrounds advising on ongoing and upcoming CSR projects in the sphere of Women & empowerment, Water and sanitation, Youth & Child development & Environment.
Mr. Deepak Mittal, M.D.  Sonalika ITL says, "We believe it is not just a duty, but a privilege to serve the society because people have given us unwavering support from past 2 decades. Sonalika ITL has been continuously working for the betterment of the society, and because of this meet we were able to analyze scope of improvement in our CSR initiatives. Through this committee, we endeavor to work more efficiently for benefiting society at grass root level on various grounds like Women Empowerment, Water & Sanitation, Youth & Child Development and Environment. Furthermore, by signing the MOU with UNIC for India and Bhutan, we aim to increase visibility of Sustainable Development Goals by spreading awareness through a series of outreach events in society. "
Sonalika ITL showcased their CSR initiatives till date in this meet that were critically analyzed by the members of their advisory committee for enhancing the impact of their upcoming CSR plans. HE, Vladimir Maric, Ambassador of Serbia , HE Dr. Sabit Subasic, Ambassador of Bosnia and Herzegovina, HE Andrés Barbé González  Ambassador of Chile to India, Mr. Ajay Choudhury, IPS, OSD to LG, Mr. Ankur Garg, PA to MoCA are few of them.
By the end of this meet, Sonalika ITL signed an MOU with UNIC in the presence of Mr. Rajiv Chandran, National Information Officer, UNIC for India and Bhutan. This MOU is signed in pursuance of UN Secretary-General's campaign to increase visibility of the Sustainable Development Goals. Sonalika ITL will contribute in this cause by spreading awareness through a series of outreach events in the period of next 5 years 2016 – 2021.
Also, Sonalika ITL felicitated the Johri Girls, who were trained for rifle shooting under the women empowering initiative "Udaan" and were recruited by the Indian Army and BSF. Other than this, many more beneficiaries were present at the event, who shared how Sonalika ITL benefitted them. 
With the strong belief in the progress of people, environment and society at large, Sonalika ITL plans to further strengthen and expand its activities for social welfare.