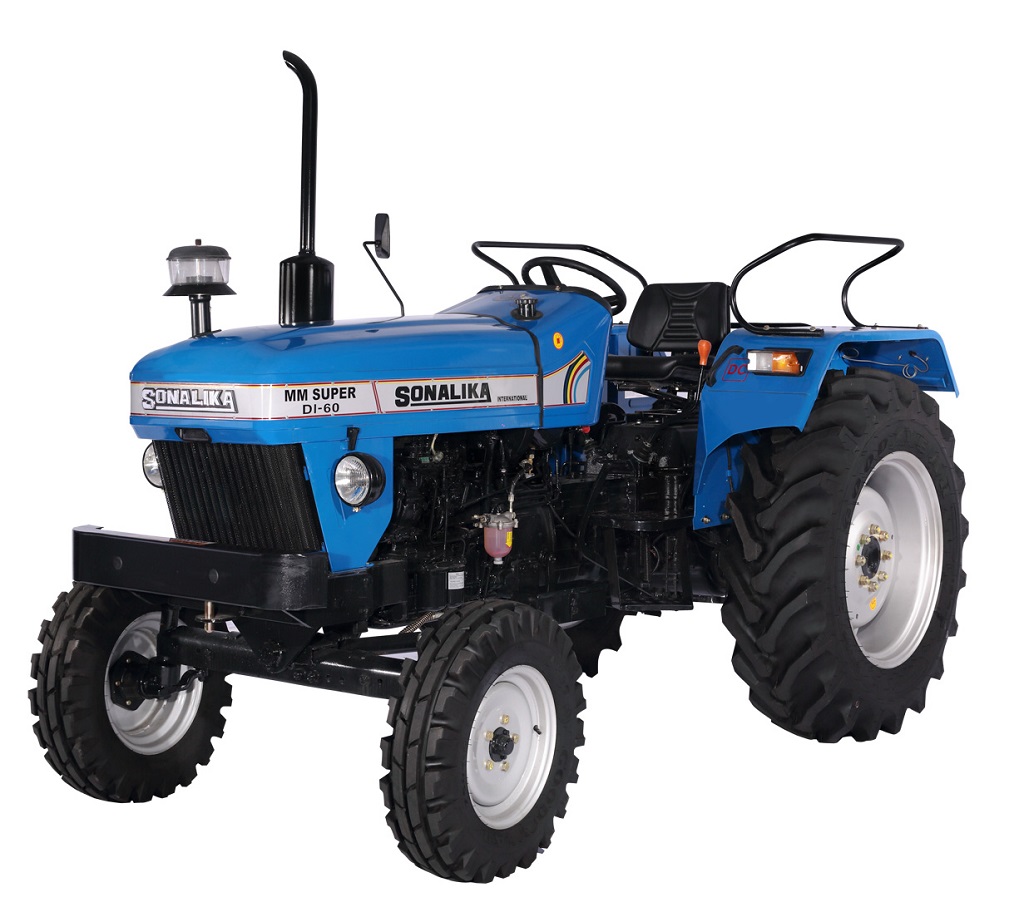 Potato Special Tractor range introduced by Sonalika ITL
Sonalika ITL, has introduced a new range of tractors specifically designed for potato farming. Following its customer centric approach, this series by Sonalika offers enhanced ease of operation and time efficiency to potato farmers. This special range is available in 4 models, namely, DI 745 III , DI 745 III Rx  in 47 HP Category, DI 60 MM Super  and DI 60 MM Super Rx in 55 HP Category. Currently, these tractors will be available in major potato growing belt of Uttar Pradesh, West Bengal, Punjab, Haryana, Gujarat and Maharashtra.
This newly launched range of tractors has been customized keeping in mind the problems faced by the potato farmers using regular farm tractors for planting, interculture and digging operations. To cut short the wastage caused by crushing of the potatoes due to the non-adjustable rear wheel alignment of the tractor, track width of these models are being adjusted in accordance to the potato farming implements. Series also provide short turning radius so as to provide ease of maneuverability between the tracks of potato farming which makes it most apt for such farming needs. The hydraulics of these tractors are designed to work on any well-drained soil, essential for Potato farming and its improved lifting capacity provides ease for doing such type of farming.
"We at Sonalika have always believed that our customers and their unique needs are of prime importance. Having understood this fact that farmers across different regions of India growing different crops have different needs, we have come up with these special crop centric tractors. Our new Potato Special range will prove to be a great asset to farmers across the regions. This range will cater to the evolving needs related to potato farming. These tractors demonstrate the commitment of Sonalika to enable farmers to improve their yield and productivity. The machines are designed in keeping with today's demand of rugged and unbreakable performance of the machine which can work for longer duration. " Said Mr. Raman Mittal, Executive Director, Sonalika International Tractors Ltd.;
He added, "Laying greater emphasis on improvement, innovation and effective execution of our offerings, we are closely monitoring the quality of our products and gearing our strategies that are both customer and market focused. Each of our product is ergonomically designed to give best performance in most strenuous conditions. "
With customer centric approach, Sonalika has always focused on empowering farmers by providing complete agricultural solutions that will enhance their agricultural productivity. Each of the product by Sonalika is ergonomically designed to give best performance in most strenuous conditions. Sonalika ITL, since its inception in 1996, has made its presence amongst top 3 players in India and also stands as market leaders in many countries with in a very short span of time. Sonalika ITL has established one of the world's largest integrated tractor manufacturing plant equipped with world class technologies. The new plant will provide complete agricultural solution to cater to the need of global & domestic markets while matching international quality standards.