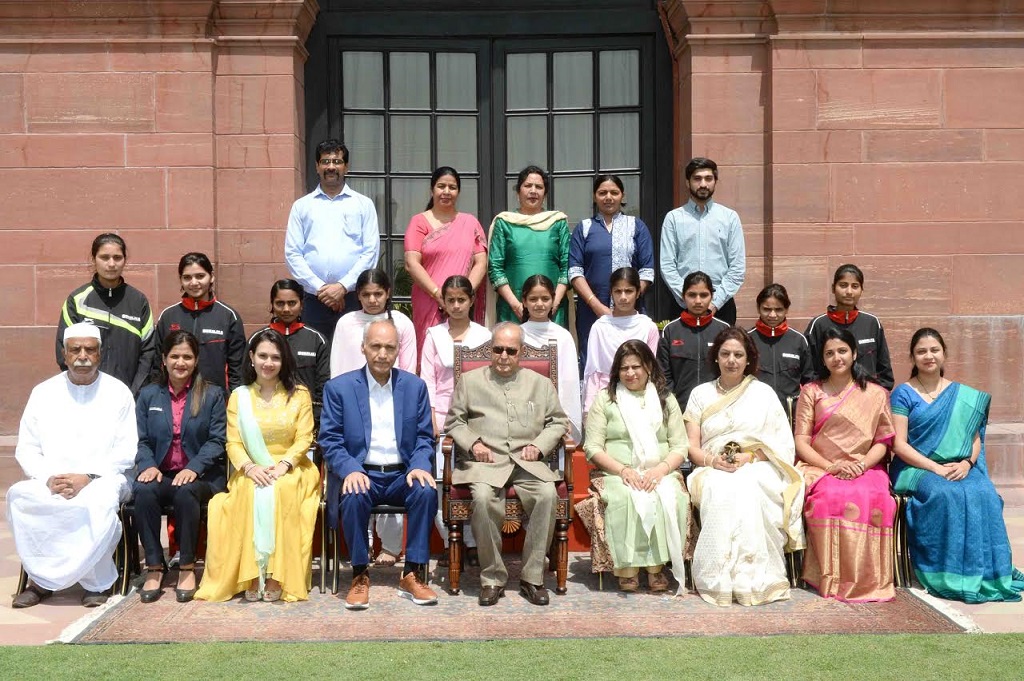 New Delhi, 14 June 2017: The Hon'ble President of India, Pranab Mukherjee recognized the efforts of Sonalika International tractors for their dedication and generosity towards work on gender equality. During their recent visit to Rashtrapati Bhawan, the selected girls from Johri (UP) who are trained by Sonalika ITL in rifle shooting were acknowledged and appreciated for their courage by the President of India. They were also felicitated on other valuable CSR efforts made by the company, which are being carried out for the betterment of society. Sonalika ITL also presented the painting made by the beneficiary school children depicting gender equality to the President.
Sonalika ITL through its initiative Udaan, has trained girls from UP (Johri) and Punjab in rifle shooting and have organized for their employment in Indian Army and BSF services. The initiative is in collaboration with Rifle Association of Johri (U.P.), the Border Security Force (BSF) and the Central Industrial Security Force (CISF). On this occasion, the selected girls from this project, who have joined Indian army also shared their experiences of being benefited by this project.
Commenting on same, Mr. Deepak Mittal, Managing Director of the company; "It gave us an immense pleasure when our efforts are acknowledged by Hon'ble President of India. Sonalika ITL since its inception has been working for the betterment of society and after being recognized by President of India we feel much more motivated in our work. Furthermore, it was a memorable moment for the talented young girls of Johri (UP) and Punjab for who are highly motivated to meet their dreams. Their journey will be inspirational for all to follow."
With the strong belief in the progress of people, environment and society at large, Sonalika ITL has carried out many CSR initiatives. Company plans to further strengthen and expand its activities for social welfare.
About Sonalika International Tractors Ltd.
Sonalika International tractors Ltd. is the youngest and the 3rd largest tractor maker in India. Its world's number one integrated tractor manufacturing plant at Hoshiarpur has a capacity to produce 3 lakh units per annum. The company produces technologically superior tractors in a range from 20HP to 120HP and is recognized in both domestic as well as international markets as a formidable player. The company has earned the trust of over 7 lakhs customers in more than 80 countries in just 2 decades which is a remarkable feat. Sonalika ITL has been recently felicitated by The Economic Times publication as 'The Iconic Brand of India'.