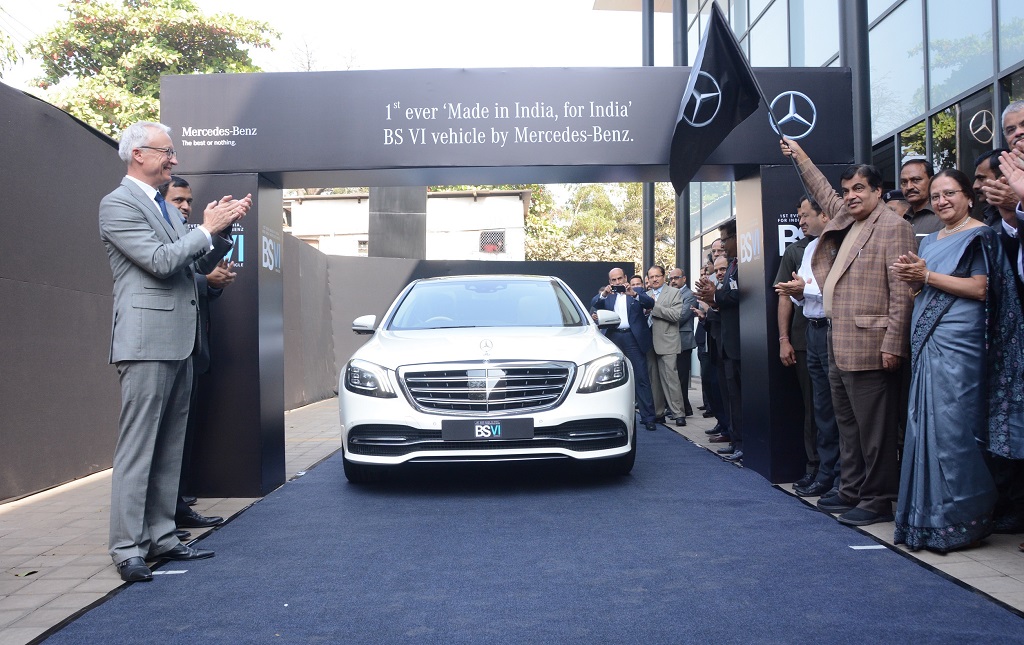 Mercedes-Benz India fulfils its promise of launching the first BSVI vehicles two years ahead of the impending regulations
Mercedes-Benz BS VI vehicles are also compatible with BS IV fuel
The upcoming S 350d and Mercedes-Maybach S 560 also gets ARAI certificate as 'Indian Crash Norm Compliant' vehicles
BS VI tests conducted on both these vehicle included:
o   Stringent emission testing (including Particulate numbers)
o   Engine power test | On-board-diagnosis test
o   Real world driving emission (RDE) data collection
These are the 'First BS VI vehicles' with the lowest ever emission for an Made in India, Internal Combustion Engine
With the implementation of BS VI the regulatory thresholds for diesel and petrol cars are almost at an equal level
The PM limit in the BS-VI Diesel engine is lower by 82% than that of BS-IV Diesel
Drastic reduction in the NOx emissions level by 68% with the introduction of BS VI leading to reduction in gap between petrol and diesel emissions.
The BS VI petrol engine will be featured in the Mercedes-Maybach S 560 and the diesel engine in the New S-Class to be launched later in 2018
Pune: India's largest luxury car brand Mercedes-Benz, today achieved a historic milestone in the Indian automotive industry, by being the first automobile brand in India to launch the first ever BS VI compliant vehicles, 'Made in India, for India'. The Certificate of Compliance to the CMVR (Central Motor Vehicles Rule) for Mercedes-Benz India was presented by ARAI Director, Smt. Rashmi Urdhwareshe to Mr. Roland Folger, MD & CEO, in the honorable presence of Shri Nitin Gadkari Ji, Minister of Road Transport Highways & Shipping and Water Resource, River Development, & Ganga Rejuvenation and Shri Abhay Damle Ji, Joint Secretary, Ministry of Road Transport Highways and other dignitaries.
Shri Nitin Gadkari Ji, Minister of Road Transport Highways & Shipping and Water Resource, River Development, & Ganga Rejuvenation commented, "To mitigate the rising pollution in Delhi and adjoining areas, the Government is trying to advance BS VI grade fuel availability in Delhi NCT by April, 2018 and shift to BS VI norms by April, 2020 across the country. This will drastically reduce pollution and help us advance to better technologies used globally. I want to congratulate Mercedes-Benz for their efforts towards not only making safe vehicles but also for a greener vehicle, by introducing the first BS VI vehicle in India much ahead of the regulations."
Smt. Rashmi Urdhwareshe, Director, ARAI stated, "It is our endeavor to support the Government and the auto industry in terms of developing and testing the vehicles and promote cleaner technology. In line with this, we are happy to present the Certificate of Compliance to CMVR, to Mercedes-Benz India for both their BS VI compliant petrol and diesel vehicles. We conducted stringent and extensive tests on both the vehicles, which includes particulate numbers, engine power test, on-board-diagnosis test and Real world driving emission (RDE) data collection. The results of the test are in compliance to prescribed CMVR rules followed by ARAI. BS VI test protocol and facilities are significantly different than BS IV and ARAI is fully equipped to handle upcoming development and certification work for all vehicle models and engines."
Roland Folger, Managing Director & CEO, Mercedes-Benz India stated, "We are glad to fulfil our commitment to the customers and to the Government's vision of 'Make in India', by introducing the first ever 'Made in India, for India' BS VI compliant vehicles. Mercedes-Benz vehicles are world-class products and they comply with the most stringent emission standards, and the ARAI certified new BS VI vehicles reiterate this high benchmark. The introduction of India's first BS VI vehicles for the Indian market is a significant milestone and we strongly believe that this will pave the way for other manufacturers to introduce their BS VI vehicles in India. This, we believe would also be beneficial for the end customer as they could use the latest technology available."
"Mercedes-Benz has introduced BS-VI vehicles in India almost 2 years in advance of the regulations. We strongly believe that early introduction of BS-VI vehicles will further accelerate the adoption of cleaner vehicles in the market and thereby achieving the Government's clean air initiative." Mr. Folger elaborated.
Benefits of BS VI standards:
BS-VI standards are far-reaching in scope and incorporate substantial changes to existing Bharat Stage IV emission standards. Of particular note is the tightening of Particulate Matter (PM) & NOx mass emission limits. In a BS VI vehicle the NOx limit reduction is upto 68% and PM limit reduction is achieved at 82% in BS-VI, compared to that in BS-IV.
Stringent tests related to BS-VI emission norms:
The Mercedes-Benz S 350 d has undergone stringent emission test related to BS VI emission at ARAI, Pune and has been certified as BS VI compliant. Following are some of the tests done at ARAI for the certification of the BS VI engines:
Tail pipe emission test in laboratory – limits lowered to 68 to 82% as  against BS-IV
Engine power test – BS-VI fuel based test
On board diagnostic (OBD) test – Stringent OBD test
RDE (Real Driving emission) – On road emission performance test
Key highlights of BS VI engine in the Mercedes-Benz S 350 d:
S 350d vehicle comes with a state-of-art engine and exhaust after treatment technology, such as refined engine, EGR, DPF, SCR etc. These technological measures lead to reduce the emissions significantly and meet the BS-VI regulations with huge margins. The S 350 d features the most powerful diesel car in Mercedes-Benz history.
The new six-cylinder Diesel engine is designed to comply with future emissions legislation (RDE – Real Driving Emissions). All the components of relevance for efficient emissions reduction are installed directly on the engine. The integrated technology approach combining the new stepped-bowl combustion process, dynamic multi-way exhaust-gas recirculation and near-engine exhaust-gas after treatment, for the first time combined with variable valve-lift control, makes further reduced consumption with low emissions possible.
Although the output has increased noticeably compared to the preceding model, the new engine consumes up to six percent less fuel. The special traits of the top-of-the-line engine in the diesel family include the stepped-bowl combustion process, two-stage turbocharging and, for the first time, the use of CAMTRONIC variable valve-lift control. Its design features a combination of aluminium engine block and steel pistons as well as further improved NANOSLIDE® coating of the cylinder walls.