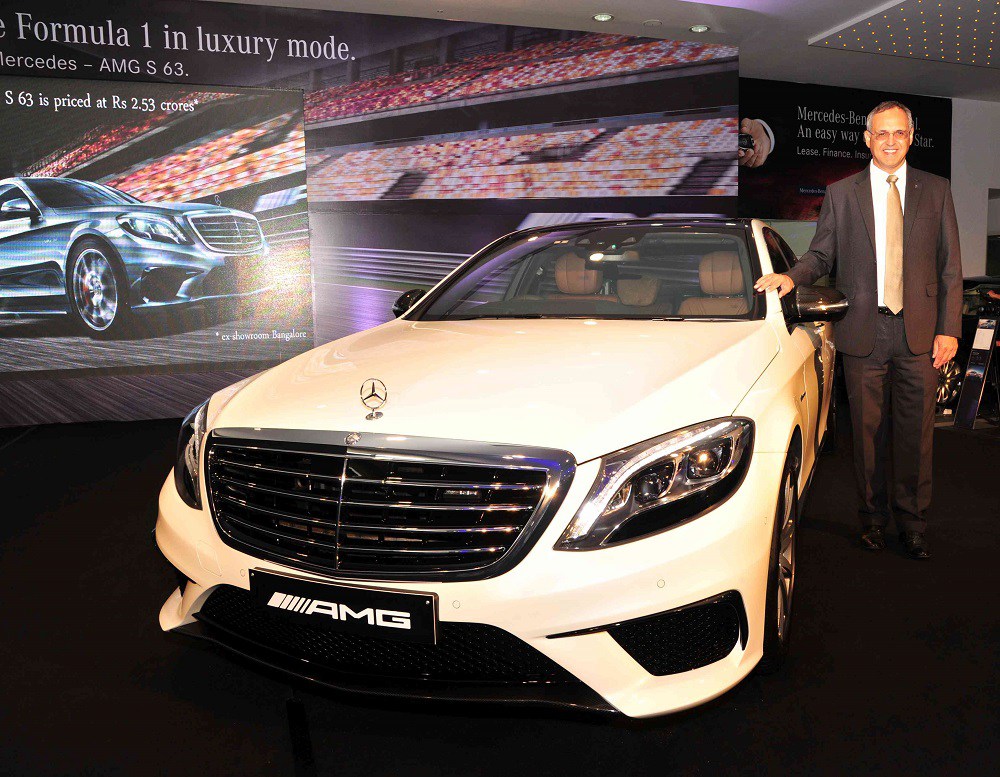 Lightweight construction and absolute performance are among the key strengths of this new flagship model from Mercedes-AMG
AMG 5.5-litre V8 biturbo engine delivers 430 kW (585 hp) and 900 Nm of torque, 0-100 kmph in 4.4 seconds
AMG sports suspension based on MAGIC BODY CONTROL enhances driving enjoyment and comfort
Unique advantages of Mercedes-AMG S 63 Sedan: Head-Up Display, Night View Assist Plus, Seat Comfort Package, COMAND Online, AMG sports exhaust system
1540 watts of total output of optionally available Burmester high-end 3D surround sound
The Mercedes-AMG S 63 is yet another exciting addition to the powerful AMG portfolio in India; the ninth AMG offering in India
The fully customized Mercedes-AMG S 63 Sedan is priced at Rs. 2.53 crores (ex-showroom Bangalore)
Pursuing its aggressive product strategy, Mercedes-Benz today launched its flagship Mercedes-AMG S 63 which combines driving performance with ultimate luxury. The Mercedes-AMG S 63 sets new standards in terms of driving dynamics, lightweight construction, efficiency and bespoke craftsmanship. The new Mercedes-AMG S 63, highlighting Mercedes-Benz's expertise in the automotive high-end segment, was launched for the Indian market by Eberhard Kern, Managing Director & CEO, Mercedes-Benz India.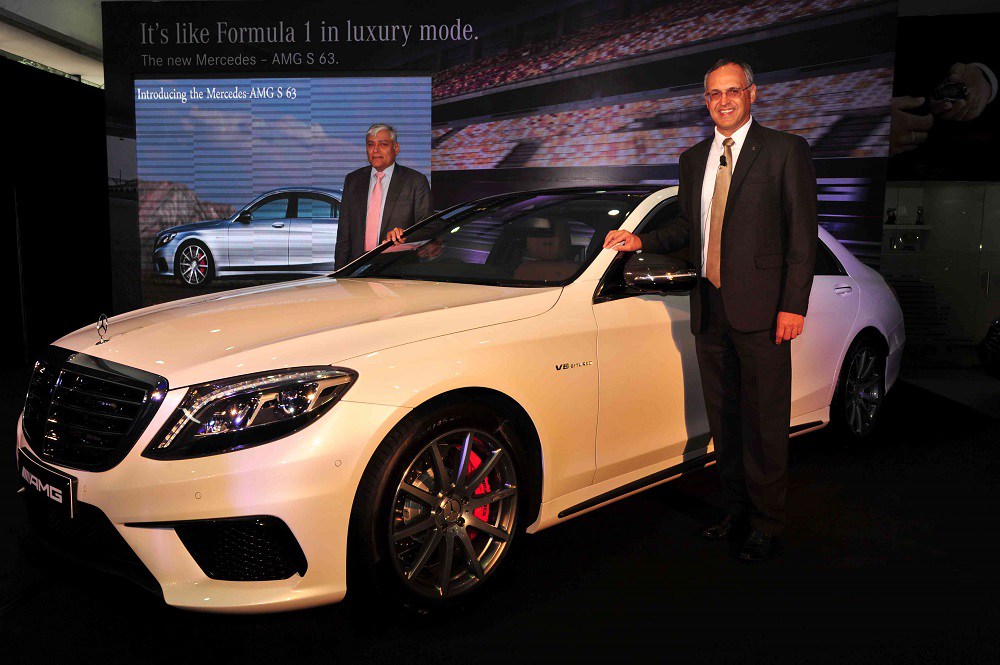 Eberhard Kern, Managing Director & CEO, Mercedes-Benz India commented, "The Mercedes-AMG S 63 leads the way confidently when it comes to perfection, high-class appeal and top-end quality. The new AMG V8 flagship model in the S-Class is a unique package that has no match in the competitive segment. Path breaking technology like MAGIC BODY CONTROL and a gamut of high-end features makes the Mercedes-AMG S 63 one of the most desirable luxury sedans in our range. This luxury sedan drives performance with the best of luxury like no other car in our portfolio. The launch of a high-end exclusive sedan like Mercedes-AMG S 63, is a fine instance of our successful 'top of the pyramid' product strategy."
Continuing the aggressive product drive for the Indian market, Mercedes-Benz has now introduced as many as ten new products in the Indian market in 2015. This strong product drive underscores Mercedes-Benz's customer focused approach which entails in offering the latest products to its patrons and enthusiasts from the global portfolio. The 'Top of Pyramid' model line-up plays a key role in creating customer fascination and an unparalleled modern luxury experience.
"This is our tenth launch of the year and we have been able to create a lot of excitement for the brand in a market that is gradually showing signs of improvement. This is true for the Mercedes-AMG brand in particular which is increasingly becoming popular across markets in India. This is the ninth AMG model we are adding to our portfolio and we already have five AMG Performance Centres, two of them in the south. We have seen a strong growth rate at the top-end segment of the luxury car industry and Mercedes-AMG continues to lead the segment strongly. We are confident of our strong growth momentum in the Indian market." Mr. Kern added.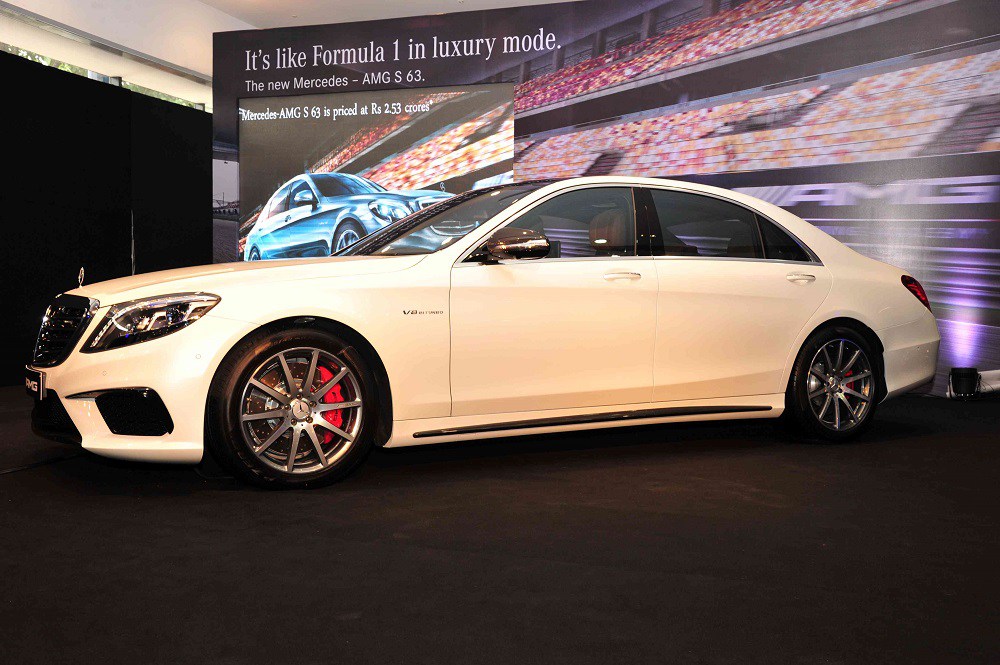 Mercedes-AMG: Mercedes-Benz leads the performance segment in the luxury auto segment significantly with a wide range of AMG performance cars, which includes as many as nine products. The Mercedes-AMG range includes powerful SUVs, sedans and also roadsters. The SUV range comprises the AMG G 63 (now also offered in Crazy Colour Edition), the AMG GL 63, the AMG ML 63 and the AMG GLA 45. The AMG sedans comprises of the AMG E 63, the AMG S 63 Coupé and the AMG S 63. The AMG roadster comprises the AMG SLK 55. The Mercedes-AMG brand has been increasingly becoming popular in India with new customer groups joining the brand. Mercedes-Benz has inaugurated five exclusive AMG Performance Centres in Mumbai, Delhi, Bengaluru, Hyderabad and Pune and has been able to reach out to more customers seeking performance drive. 
Product Information: Mercedes-AMG S 63
Exterior design elements: A combination of performance and luxury
Status and dynamism, performance and elegance, exclusivity and superiority – the Mercedes-AMG S 63 visually reaffirms the car's special status in Mercedes-Benz's model portfolio. This stunningly beautiful sedan embodies AMG's "Driving Performance" with its exterior design. The overall impression is created by a combination of the sensuous lines that are a hallmark of Mercedes-Benz classic architecture and a flowing silhouette with typical AMG design features.
Interiors: A combination of luxurious ambience and sporty functionality
A feel-good atmosphere combined with a luxurious ambience and the sporty functionality of a genuine AMG high-performance model – describes the interiors of the Mercedes-AMG S 63. A true pleasure for the senses; the lovingly designed interior fascinates with its very high-grade materials, first-class quality and carefully chosen colour schemes. The occupants benefit from the improved interior dimensions, anew control logic and new highlights in terms of ergonomics, operating convenience and safety.
AMG seats developed exclusively for the Mercedes-AMG S 63 ensure an outstanding long-distance comfort. Electric adjustment, driver and co-driver memory function, panoramic sunroof and 7 colours ambient lights are standard features. Another feature reserved for AMG is the high-quality analogue clock in an exclusive design between the air vents: this for the first time features three-dimensional, milled metal hands and metal appliqués on the dial. The AMG sports steering wheel in nappa leather with a heavily contoured rim, an insert with AMG lettering, perforated leather in the grip area and aluminium shift paddles allows perfect vehicle control.
Suspension: MAGIC BODY CONTROL
The Mercedes-AMG S 63 with rear-wheel drive features the AMG sports suspension based on MAGIC BODY CONTROL. The new S-Class is the first car in the world able to recognise road surface undulations in advance. If ROAD SURFACE SCAN detects such undulations with the help of the stereo camera, MAGIC BODY CONTROL adjusts the suspension in advance to suit the situation. Both suspension modes – "Comfort" and "Sport" – are also available here. The AMG-specific elastokinematics ensure more directness when driving dynamically.
The electromechanical AMG speed-sensitive sports steering with variable steering ratio is the perfect complement: this greatly enhances vehicle handling and agility while maintaining driving safety at high speeds. In "Comfort" suspension mode, the AMG speed-sensitive sports steering enhances comfort by providing more steering assistance. If the "Sport" suspension setting is selected, on the other hand, the driver feels a more sportily stiff level of steering assistance – which tends to result in better road feel. The pre-programmed curves for power assistance enhance feedback and steering precision.
AMG SPEEDSHIFT MCT 7-speed sports transmission
The AMG SPEEDSHIFT MCT 7-speed sports transmission combines huge emotional appeal and maximum driving pleasure with outstanding economy. The sports transmission is exclusive to Mercedes-AMG and combines the sporty, direct and agile responsiveness of a manual transmission with the maximum comfort of an automatic transmission. The AMG sports transmission also impresses with its low weight of just 80 kilograms. This is made possible by the use of lightweight magnesium for the transmission housing. Vibrations are effectively eliminated by a new, two-stage torsional damper, with ensuing benefits in perceived passenger comfort.
Power and Output:
In terms of maximum output and fuel consumption, the AMG 5.5-litre V8 biturbo engine remains the most efficient series-produced V8 engine of all. With an output of 430 kW [585 hp] and a torque of 900 Nm, the AMG eight-cylinder unit outperforms all comparable engines.
Customisation using 'designo'
Mercedes-AMG S 63 can be customised using the newly launched 'designo' platform. Customers have the choice of selecting from hundreds of combinations of exterior colours, interior upholstery and design trim elements. Exciting performance and comfort features can also be added in the Mercedes-AMG S 63 as per the customer choice and wish.