Made in India Safar Jumbo aims to ride the e commerce and home delivery boom in India, with its high performance, load carrying capacity and very low running cost.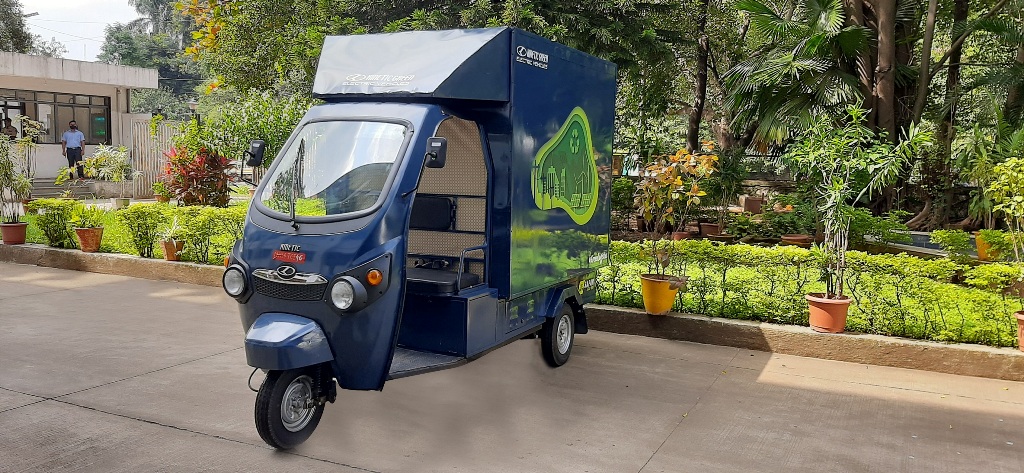 Pune, 27th October 2020: Kinetic Green Energy and Power Solutions Limited, India's leading manufacturer of electric vehicles, today launched India's first high performance electric cargo three wheeler, Kinetic Safar Jumbo. Safar Jumbo is a ground breaking electric vehicle, which is designed ground up at Kinetic's DSIR recognized EV R&D lab, packed with advanced technology features and boasts of 100% indigenous parts.
This vehicle has been specially designed as the most cost efficient and convenient solution for last mile delivery needs in urban India. The new Kinetic Safar Jumbo, which falls under L5 category, has a GVW of over 1 ton, with a specially developed cargo box with close to 150 sq ft cubit capacity and a payload of 500 k g. This makes is greatly suitable for requirements of many segments, starting with the needs of the growing e-commerce segment for home delivery of various kinds of orders including groceries. Further, the vehicle is suitable for distribution of gas cylinders and water, for waste collection and management, delivery of FMCG goods from whole sellers to retailers home delivery of white goods, and special applications like "sabzi or meals on wheels" etc.
As the vehicle is 100% electric, it is totally emission and noise free, thus the delivery operations can be designed to be silent and green. Further, since the vehicle requires no fuel, its running cost is as low as 50 paise per km as against over Rs 3 per km for the diesel engine based cargo three wheelers.
At a top speed of 55 kmph and gradeability of 10 degrees, the vehicle is suitable for all cities in India, big or small, and has been designed keeping Indian road conditions in mind. The indigenously designed vehicle is packed with modern technology and hi-tech features which include full steel body for durability and safety, strong CED coated steel chassis, digital cluster, dynamic SOC, CAN based controller with interactive Kinetic Konnect APP and GPS, independent rear suspension giving better stability, hydraulic brakes and a unique gear box designed by Kinetic Engineering, group company that is an expert in transmission systems.
Safar Jumbo is well equipped with advanced Lithium ion battery pack designed to give a range of 120 km on a single charge. The vehicle will also be available on Swappable Battery Platform. The electric loader that is a ground up new EV innovation developed in India with a strong local supply chain will qualify for the FAME II subsidy offered by the government to customers and will come with best in class warranty of 3 years.
Speaking on the association Ms. Sulajja Firodia Motwani, Founder and CEO, Kinetic Green Energy and Power Solutions Ltd. said, "We are extremely proud to bring this game changer E3W to Indian market. Its high performance and large load carrying capacity makes it a strong contender to lead the home delivery revolution in India! Over the last few years and especially in post COVID "new normal", we have seen a massive growth in e-commerce segment in India, for home delivery of all sorts of products and groceries. Our Safar Jumbo is specially designed to meet the needs of the e commerce companies and their logistics partners, offering them a sustainable last mile delivery solution at a phenomenal cost of 50 paise per km, which will bring down their delivery cost. Our innovative Safar Jumbo is getting excellent response from these customers and we are already running pilots with several companies. We will start commercial supplies of Safar Jumbo from November and expect to deliver over 5,000 vehicles in the next 6-7 months. We will slowly roll out variants of the vehicle for different applications like gas cylinder distribution, waste collection etc and hope that we can contribute to making India green in a big way! Our group company, Kinetic Mobility, will also offer the e-cargo fleet to select customers on "lease" basis to help seed the concept and we are sure that once customers experience the benefits of e-mobility, it will catch on like wild fire!"
With Kinetic Green's strong dealership network of around 175 dealers across India, vehicle will be rolled out to all dealerships over next few weeks. Kinetic Green has its state-of-the-art manufacturing facility at Ahmednagar in Maharashtra, with an assembly capacity of 6,000 electric 3-wheelers per month.  A name synonymous with trust and reliability, Kinetic Green vehicles have intrinsic features such as zero carbon emissions, no noise, no vibrations, elegant looks and intelligent ergonomics. The company is also planning to introduce high-speed passenger variant on same technology platform in the coming months.