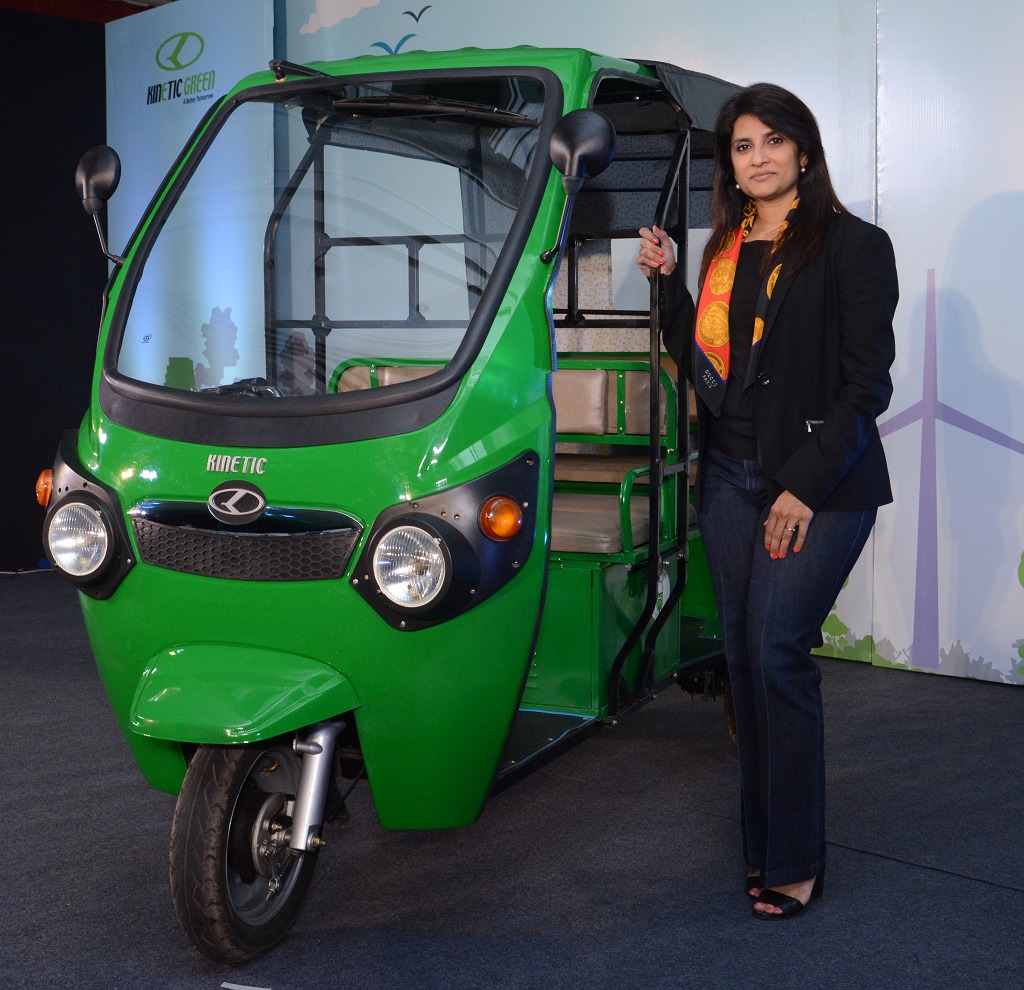 Bags Order For 27,000 Kinetic Safar Worth Rs. 400 Crores From Up Government
New Delhi  , January 21, 2016.  Pune based Kinetic Green Energy and Power Solutions Limited, a venture of Kinetic group specialized in Green transport solutions today introduced its indigenously designed battery operated e-Three Wheeler named 'Kinetic Safar'.
'Kinetic Safar' is positioned as an eco- friendly social innovation to promote pollution free yet affordable public transport in the country. Safar is designed to ensure reduction in carbon footprint with zero emission and sound and provide a cost effective solution for last mile connectivity as well as shared public transport in cities across India.
Kinetic Safar, a pioneering effort by Kinetic Green, has been approved by  Automotive Research Association of India (ARAI) and meets all government safety norms as per Central Motor Vehicle Rules(CMVR). Safar boasts of unique safety and performance features including an all steel body for durability and ruggedness, unique dual headlamp for night vision, powerful brakes for safety, dash board with battery indicator and speedometer. In line with CMVR guidelines, Safar has maximum speed of 25 Km per hour and can carry four passengers plus the driver comfortably.
Unlike other e Rickshaws in the market, which are imported and assembled Chinese kits, Safar is capable of climbing flyovers due to its unique gear box system. This feature has been specifically certified by ARAI under the AIS standard for gradability. In addition, Safar provides all weather riding to its driver and passengers thanks to its cabin along with glass windshield with electric wiper motor and roof.
Kinetic Green has tied up with leading and reputed Battery manufacturer, Exide, to provide the rugged lead acid battery system and ensures that the batteries are backed with warranty, service and recycling network all over the country.  In comparison to other e Rickshaws, Safar also scores in terms of engineering quality, an exclusive dealer network, and a service as well as warranty back up.
 " Kinetic Green's launch of e-Three Wheeler 'Kinetic Safar' is a sincere effort to provide pollution free yet affordable mode of public transport in the country. It is yet another social innovation from the makers of legendary products like Kinetic Luna, worlds most affordable two wheeler, and Kinetic Honda, which gave wings to women.  Our e auto, Safar, is a ground up development to bring advanced green transport technology at an affordable price of merely Rs. 1.28 lakhs! The buyer of Safar is expected to recover his investment in 8-9 months and the riders enjoy an affordable ride at Rs.10 per ride. I am confident that Safar will revolutionize last mile transport and create employment for lakhs of unemployed youth or poor. We are pleased to contribute in Government of India's initiative of reduction of pollution, improve health of our citizens and offer smart transport solutions." said Sulajja Firodia Motwani, Founder and CEO of Kinetic Green Energy and Power Solutions while launching the  e-three wheeler in Delhi.
The company also announced that it has bagged India's largest ever institutional order for electric vehicles from UP Government. This order won on the basis of competitive bidding is for providing 27,000 Kinetic Safar vehicles amounting to  Rs. 400 Crores of which delivery to be completed within 12 months.  This e Rickshaw Yojana of Government of Uttar Pradesh is a social welfare initiative aimed at providing free e Rickshaws to the existing manual rickshaw pullers in the state in order to provide them a more dignified means of livelihood and towards poverty reduction. The Company has successfully completed delivery of the first 300 units of Kinetic Safar to UP Government and plans to enhance deliveries to 3,000 units per month.
The electric three wheeler Safar is currently being manufactured at Kinetic Green's state of the art facility at Ahmednagar in Maharashtra with a capacity of 4,000 vehicles per month. Seeing the increasing demand of Battery operated Vehicles, Kinetic Green plans to expand its manufacturing facilities in Ahmednagar and also start another assembly unit in North India on the basis of the "asset Light" principle and being close to customer.
Kinetic Green also has a complete range of buggies from 2 seater golf carts which are making style statements at the golf courses to 4 & 6 seaters that provide silent and green ride at resorts & corporate campuses and the 14 seater e buses that makes the tourism industry that more responsible and eco friendly. The company has signed a MOU with Maharashtra State Tourism Department for operating its e buses at the Sanjay Gandhi National Park. MTDC aims to ban entry of all polluting private vehicles in this Asia's largest national park and replace them with Kinetic's e transport to provide silent, green ride to visitors and to preserve the flora and fauna.
Future innovations and product plans of Kinetic Green include Safar Cargo, an e-cart for low cost and green urban load distribution aimed at home deliveries and e commerce. Company also intends to commercialize a high speed e-auto for large cities called Soleckshaw (a model developed by Group company Kinetic engineering, under NMITLI program of CSIR), and develop E autos with Lithium ion battery to include rapid charging and battery swapping.
The company is developing a strong dealer network for sale of the battery operated vehicles. The company with extensive network of service centers and distributors in the country will provide excellent service and charging back up to the new vehicles.
About Kinetic Green Energy and Power Solutions Limited
In continuation to our concept of leading the way with innovative and progressive company, Kinetic has entered the Battery operated vehicle domain, to give "A Better Tomorrow".
Kinetic's Battery operated vehicles are designed for the future, they are Smart, sophisticated, classy styled and most importantly sensitive to future requirements.
Their intrinsic features like zero carbon emission, no noise, no vibration, elegant looks & intelligent ergonomics, earn them a favor with modern sensibilities
About Kinetic Group
 Over the years, Kinetic synonymous with Brand Luna and Kinetic Honda Two wheelers has proved its excellence, time and again, with countless engineering and design marvels. A name synonymous with trust and reliability, Kinetic has a rich legacy of four decades. Kinetic has sold over 75 lakh vehicles and established itself as an innovative and progressive company.
In the year 2007, due to the shift in consumer preferences, KEL decided to restructure KEL's operations from a moped manufacturing company to an auto systems company focusing on transmission components and assemblies ,
In continuation to our concept of leading the way with innovative and progressive company, Kinetic has entered the Battery operated vehicle domain, through Kinetic Green energy & power solutions ltd to give "A Better Tomorrow".
Many more new ventures have been launched to take the kinetic DNA forward like Kinetic Royale , Kinetic Taigene electrical co. , Kinetic Ducati Energia & Kinetic Hyundai elevators .