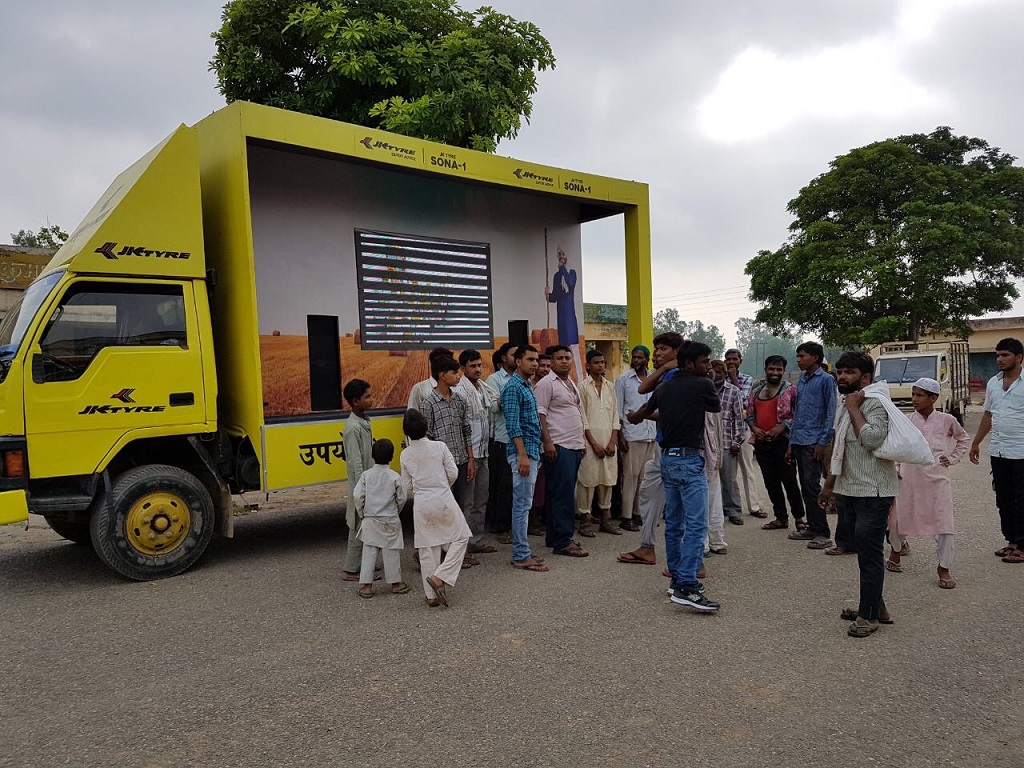 Virtual Reality and videoconferencing technology helped 40,000 farmers in 1000 villages with information about scientific methods and agricultural counselling
Delhi, August 10, 2017: JK Tyre & Industries Ltd launched Jagruti Se Pragati initiative aimed at connecting farmers to agricultural experts through advanced digital interventions. Under this initiative, mobile units equipped with virtual reality technology and webcast-based conferencing tools with touch screen technology toured remote villages in the north Indian states of Haryana and Uttar Pradesh for a month, touching about 50,000 farmers in 1,000 villages.
The main objectives of the initiative was to enable farmers to harness the latest technology towards a better yield and produce in their fields. The mobile units camped in villages where they demonstrated before a gathering new and scientific methods of farming, best practices to follow for maintenance of tractor tyres and provided counselling through teleconferencing. Using webcast technology, farmers consulted agronomists who educated them on the latest in farming techniques. Touch screens on the units provided tips about maintenance of tractor tyres.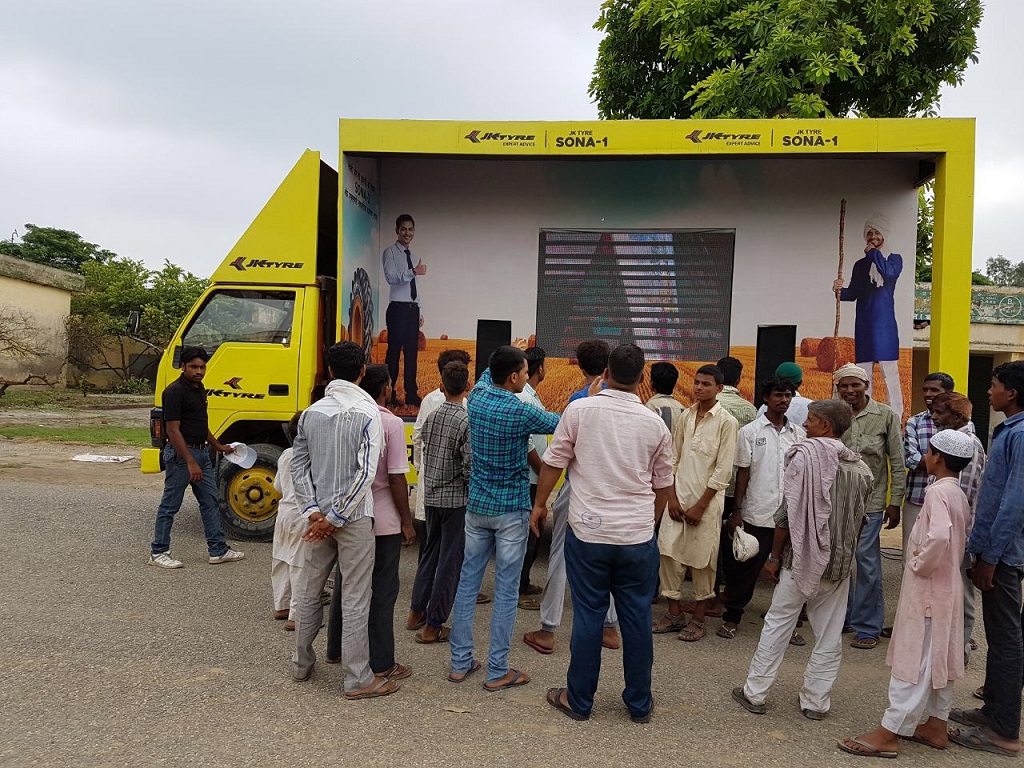 Calling it an exercise for empowerment of farmers, Mr. Vikram Malhotra, Marketing Director, JK Tyre, said, "The Jagruti Se Pragati initiative reaffirms our commitment to bring development to the farthest corners of the country, and sits with our multi-market penetration ethos that has allowed us to touch millions of lives. In these changing socio-economic times, when India is at the brink of attaining the status of an economic superpower, it is easy to forget the farmer who is the backbone of the country. Through this initiative, we have tried to connect farmers to agriculture experts so they can learn about the latest scientific and technological interventions that will help them in increasing their produce and apply smart farming methods. Being the country's leading tyre manufacturer, it is only natural that we also provide information and knowledge on how best to maintain tractor tyres. The response shown by farmers has been heartening. Most of them greeted the mobile vans with enthusiasm and attended the sessions conducted in their villages. Many used the VR lens out of curiosity and also took back important lessons on farming."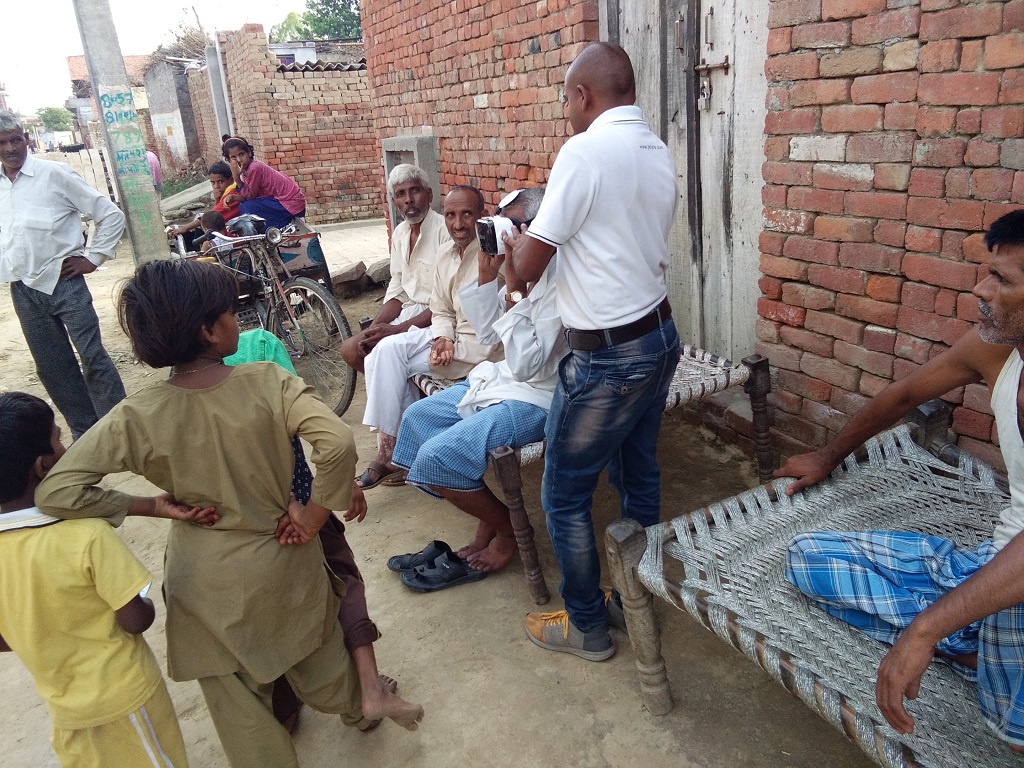 Once the mobile units became a familiar sight in some villages, word spread fast and farmers from other villages were also keen to see it. The virtual reality lens and the one-on-one videoconferences were particularly big draws. Sukh Ram from Samaypur village near Meerut, said, "This is my first time talking to someone through videoconferencing and I learnt a lot about modern farming techniques."
While a lot of the older farmers were interested to learn about newer agricultural from qualified specialists, younger people were drawn to the VR lens. "I had never seen a tyre manufacturing plant before," said Vikas Yadav from Sonepat. "With this technology, I was able to take a virtual factory visit of the JK Tyre plant." A visibly excited Vikas said he had invited many of his friends from the nearby village to see the JK Tyre mobile unit.
The 3D virtual factory tour took people through the entire tyre-making process, which gave them a complete understanding of the process step-by-step. While engaging with farmers, JK Tyre officials realised UP and Haryana farmers are already using JK Tractor Tyre SONA-1, and the virtual tour helped boost their confidence in the tyres.
JK Tyres offers a complete range of farm tyres that goes in all HP tractors, including 12.4-28, 13.6-28, 14.9-28, 16.9-28 & 18.4-30 sizes in tractor rear, 6.00-16, 6.50-20, 7.50-16 for tractor front, 9.00-16 for tractor trailer and 5.00-19, 6.00-19, 7.00-19 and 8.00-19 in animal driven vehicles.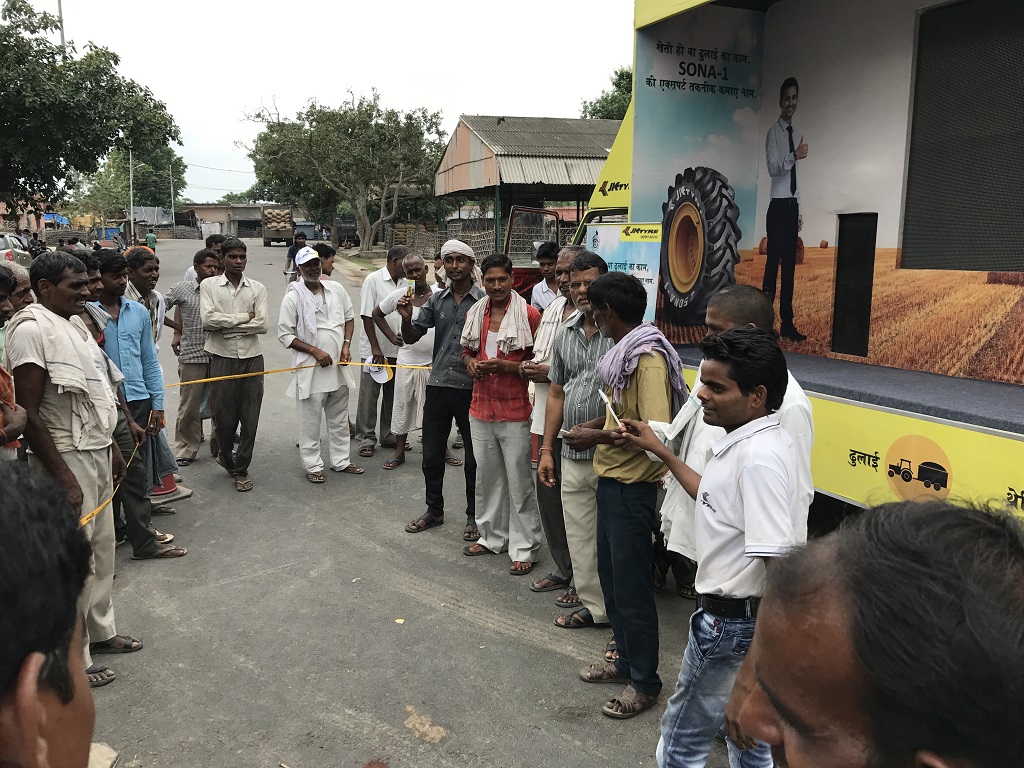 The units, which ran across the length and breadth of two important agricultural states, will hit the roads again. "In the next phase, we will take the latest technology to more villages and farmers," said Mr. Vikram Malhotra of JK Tyre
Places where the mobile unit went
| | |
| --- | --- |
| States | Districts |
| Uttar Pradesh | Sambhal, Sitapur, Shahjhanpur, Bijnor, Muzaffarpurnagar, Samli, Moradbad, Bareilly, Pillibhit, Amroha, Hathrus, Farukhabad, Barabanki, Basti, Agra, Aligarh, Kannuj, Mainpuri, Lakhimpur kheri, Badaun, Bahraich, Gonda, Hardoi, Bulandsehar |
| Haryana | Panipat, Karnal, Kaithal, Tohana, Narwana, Uklana, Jind, Barwala, Sirsa, Fatehabad, Rohtak, Bahadurgardh, Jhajjar, Dadri, Bhiwani, Hansi, Sonipat, Hisar |
About JK Tyre:
Part of the JK Organisation, JK Tyre & Industries Ltd is a leading tyre manufacturer in India and amongst the top 25 manufacturers in the world with a wide range of products catering to diverse business segments in the automobile industry. JK Tyre is the only tyre manufacturer in India to be included in the list of Superbrand in 2017, the sixth time the honour has been conferred upon the company.
JK Tyre has global presence in 100 countries across six continents, backed by production support from 12 plants – 9 in India and 3 in Mexico. Currently, the capacity across all its plants is about 35 million tyres per annum. In April 2016 JK Tyre acquired Cavendish India Limited from Birla Tyres. While acquisition added three modern plants to its portfolio taking the total count to 12, it helped the tyre major foray into the two/three wheeler segment as well.
Pioneers of radial technology, JK Tyre produced the first radial tyre in 1977 and is currently the market leader in Truck Bus Radial segment. With over three decades of technological innovation, JK Tyre offers tyre for entire range of passenger and commercial vehicles, starting from a 3 kg two-wheeler tyre to a 3.5 ton OTR tyre. JK Tyre & Industries Ltd has a strong network of 4000 dealers and over 230 dedicated outlets branded as Steel-Wheels & has over 25 Truck Wheels providing complete solutions to Truck Tyre customers.