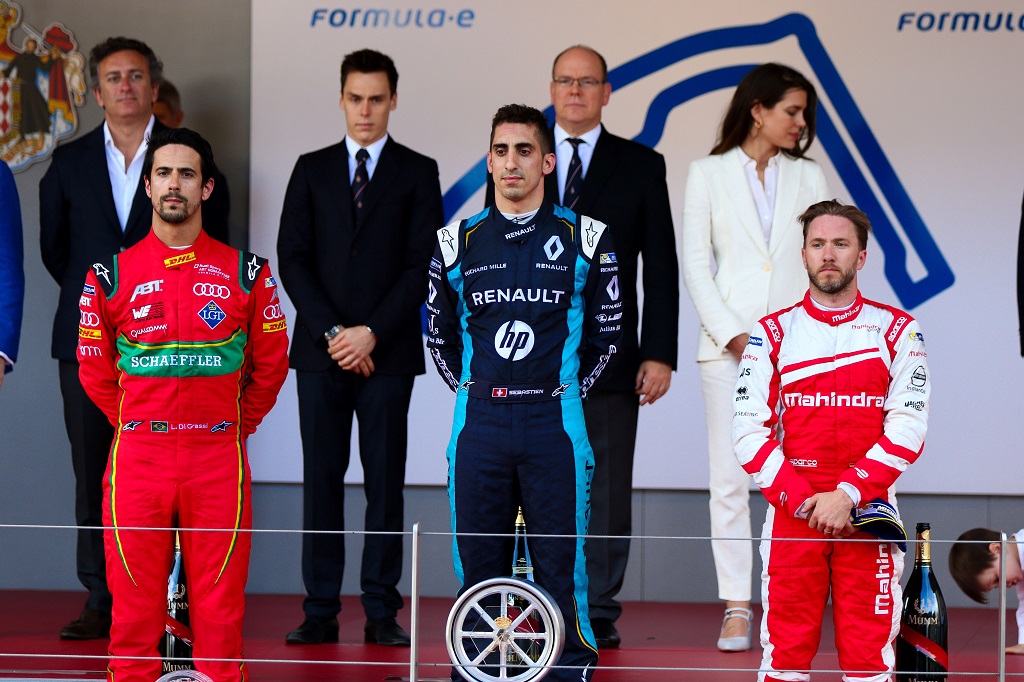 Mahindra Racing celebrates a superb third place and top six double-points finish.
Nick Heidfeld and Felix Rosenqvist take highest team points score for a race and restore Mahindra Racing to third place in the championship.
Heidfeld becomes first driver to finish on the podium in Formula E and Formula One in Monaco.
13 May 2017, Monaco: Mahindra Racing took a historical podium and double-points finish at the 2017 FIA Formula E Monaco ePrix today.
Nick Heidfeld steered his M3Electro to a superb third place, followed by his teammate Felix Rosenqvist in sixth after 51 laps in the Monagasque principality. The double-points finish is the best ever recorded by the team in the fully electric championship's three-year history.
Heidfeld started from eighth on the grid directly behind teammate Rosenqvist and, in what is becoming a signature move, overtook three cars under braking into the first corner.
A tussle between competitors Nelson Piquet Jr. and Jean-Éric Vergne later on lap 22 ended in tears when Vergne stopped on the harbourside barrier in the swimming pool complex section of the track. The altercation promoted a well-placed Heidfeld to third and forced a safety car during the optimum car swap period.
Rosenqvist was able to move back into sixth position and held onto the strong points-scoring place despite a onesided radio issue. The team reacted quickly to signal the Swede from pit wall to confirm his energy strategy mid-race.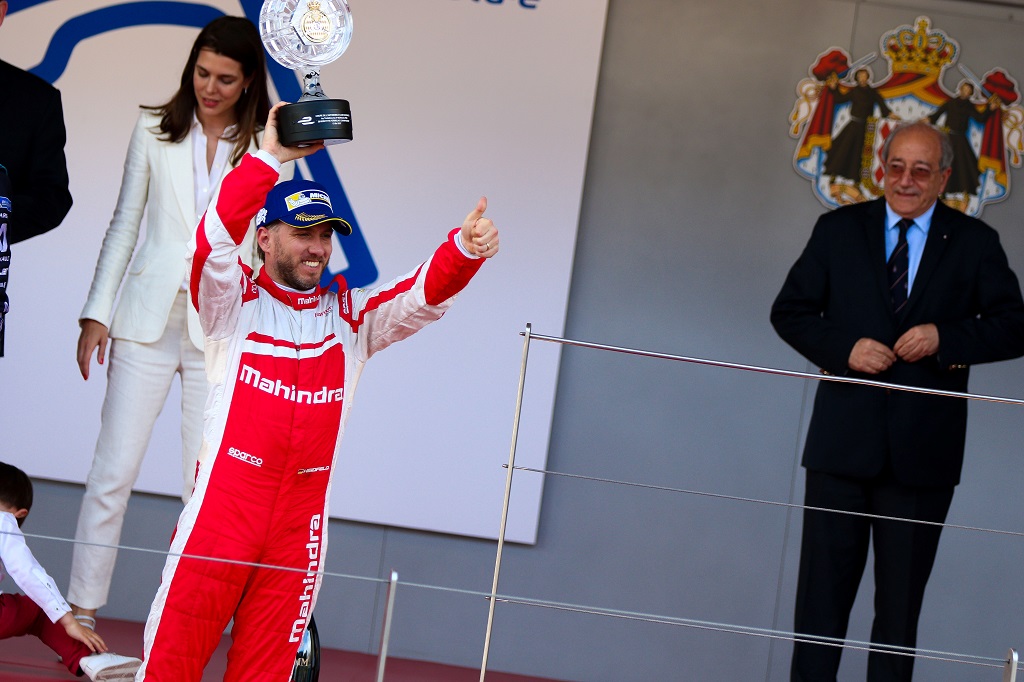 Heidfeld's podium, just three days after the German celebrated his 40th birthday, is his fourth in as many series on Monaco street circuits after Formula One in 2005, International Formula 3000 in 1998 and Formula Three in 1997.
Mahindra Racing heads straight to Paris for the next round of the FIA Formula E Championship where the team has just a few days to prepare for another tough challenge on the French cobbled streets around Les Invalides.
Dilbagh Gill, Team Principal, Mahindra Racing Formula E Team said, "It's great to finally be back where we belong in third place in the Teams' Standings after our best ever result in Formula E. A double-points finish is exactly how we wanted to start our comeback of consistently strong results, and we can't wait to use the momentum in Paris next week."
Nick Heidfeld said, "The day finished well for us eventually. After my qualifying lap I was second, but the next groups were quicker and I had to start from P8. It was awesome to go around on the outside at the start and gain three places from eighth place, but I had to make sure I wasn't in a dangerous position for turn two and slot back in! I was running quite safely in fifth place with not too big a gap to the guys in front, meaning I wasn't tailing them when they made contact and benefited nicely. This promoted me to third, and while I couldn't hold the pace of the leaders it ws nice to see the cars in my wing mirrors getting smaller. You can never relax around Monaco and there are always a few late incidents but it's great to finish on the podium."
Felix Rosenqvist said, "Looking back at the day I think we started off very good in FP1 and showed we are one of the quickest around here. I had a crash at the end of that session after a misunderstanding with the marshals and drivers, which put me on the back foot for the rest of the day. The race was good, but all the wrong things happened
which was out of our hands. At the start, my plan was to be on the inside then everyone went on the outside, which no one thought would work but it did! After my pit stop I lost my radio in the second stint and couldn't talk to the team, so we had to communicate through the pit board, which worked quite well in the end. Considering this, I'm quite happy finishing P6 and I'm really happy the team has scored a podium. It's where we want to be and Nick showed today it's where we should be and I'm not happy until I am on the podium."