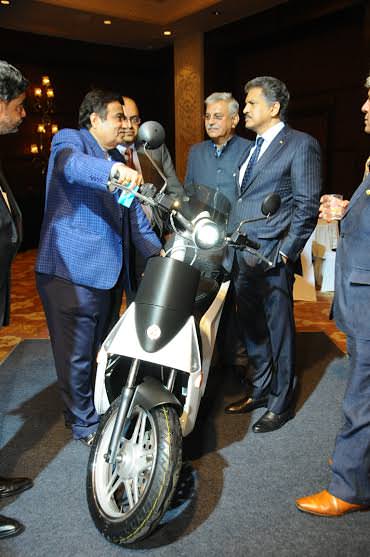 Highlights Mahindra's "Race to Road" strategy with the all new M2Electro Formula E racing car & the race ready MGP30 motorcycle in New Delhi
Mahindra showcased its "Future of Mobility" program to key decision makers at an event held at the Taj Palace in New Delhi last evening. The star attractions for the evening were Mahindra Racing's all new M2Electro Formula E electric racing car, the all new GenZe – Mahindra's first electric two wheeler and the new MGP30 racing motorcycle, together with the electric Verito and the Mahindra Reva E20. The showcase was a part of Mahindra's 'Race to Road' strategy where the learning's and technical progress made on the race-tracks all over the world are transferred into the development of a new generation of electric road cars. These road cars also demonstrate Mahindra's vision of the 'Future of Mobility' with vehicles that are Clean, Clever, Convenient, Cost Effective and Connected.
At the event hosted by Mr. Anand Mahindra, Chairman, Mahindra Group were India's key decision makers the caliber of Shri. Nitin Gadkari, Union Minister Roads & Highways, Shri Prakash Javadekar, Minister of State for Environment, Forests & Climate Change, Shri. Ravi Shankar Prasad, Honourable Minister of Communications and Information Technology, Shri. Suresh Prabhu, Minister of Railways, Shri. Ashok Gajapathi Raju, Union Minister for Civil Aviation and Shri. Rajiv Pratap Rudy, Minister of State (IC) Ministry of Skills and Development.
Mahindra's Racing program embodies Mahindra's growing technical expertise and increased commitment to racing which is helping to build recognition and admiration for the Mahindra brand globally. Both the M2Electro and MGP30 compete at the very highest level of international motorsport in the Formula E electric racing car championship, and MotoGP world motorcycle racing championship respectively.