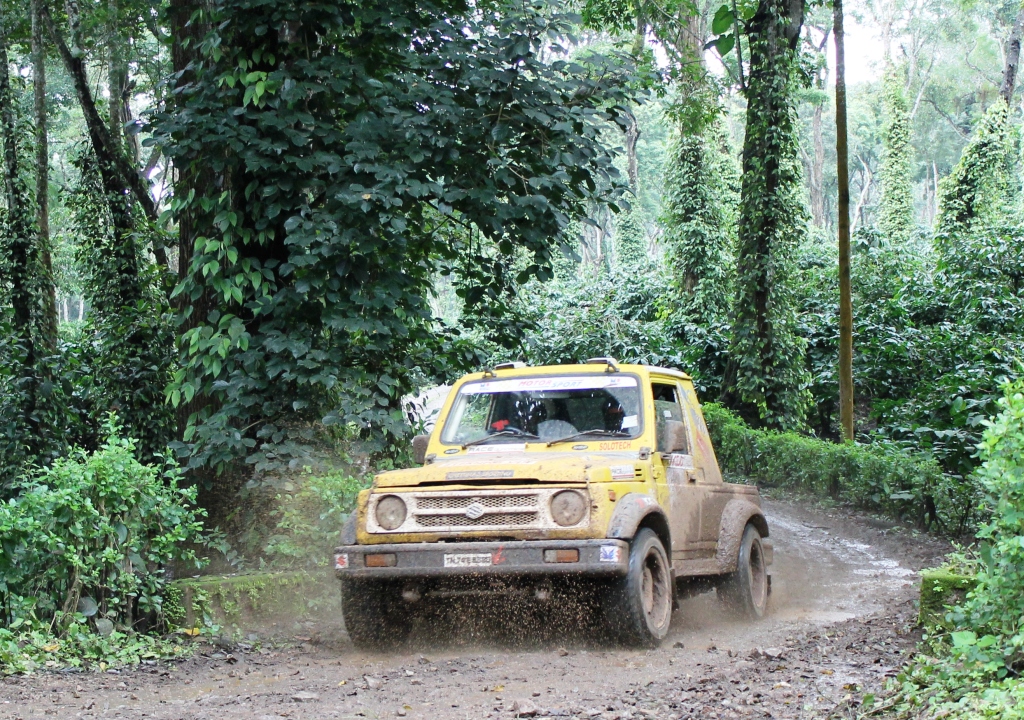 Suresh Rana drops to second place, Sanjay retains third spot
Kathik Maruti maintains lead in Endurance, Sudip overtakes Satish in Ranking
 Ooty, Aug 6, 2013: As the second day of Maruti Suzuki Dakshin Dare came to a draw, a very slushy and wet track full with mud and gravel, combined with intermittent drizzle, had taken its toll on many a man and machines. Overnight leader Suresh Rana/Parminder Thakur lost some valuable minutes when their Grand Vitara went off track during fourth of nine stages. Amanpreet Ahluwalia/Venuramesh grabbed the opportunity with both hands to score a lead over him during the 'Coorg Leg'.
While Amanpreet/Venueramesh in their Maruti Gypsy now lead with a cumulative two day timing of 01.59.58 Hrs, Suresh Rana/Thakur driving a Maruti Suzuki Grand Vitara still have a good chance being in second place and just one minute 37 seconds behind  having clocked 2.01.35 hrs till now. Bangalore boy Sanjay Agarwal/Shiva Prakash and their Maruti Suzuki Gypsy is another two minutes behind with a cumulative time of 02.04.22 Hrs.
The Coorg Leg began at 6 am from Mysore with the ultimate cars and bikes taking a 89 km transport stage to Pollibetta in Coorg region – or Malnad as the region around is called due to the extensive rainfall received here. Three tracks of 6.5 kms, 8 kms, and 9 kms were prepared amidst lush coffee plantations here in Woshully, Polibetta and Yemmegundi respectively.
The serpentine dirt track, with poodles of water and slush due to heavy rains due to monsoon, made it really tough for the drivers. Nine high speed super stages were planned but couple of them cancelled when two cars came stuck in the slush. Thereafter, the cars and bikes completed a transport stage of 187 kms via Waynad and Gudalur, stretching the total length of Leg 2 to 393 kms.
In Endurance category Kartik Maruti/Shankar Prasad maintains his lead. Bangalore couple Satish Gopalakrishnan/Savera who are driving a Grand Vitara slipped to third in ranking. Switching the place with them are Sudip Ghosh/Arindam Ghosh.
On day 3, the Valley Leg, the rally will take upon the challenging Nilgiris around popular hill station of Ooty. After a transport stage of 24kms, nine super  stages will take place over a distance of 61 kms amidst tea and coffee plantations, snaking roads and multiple hair-pin bends. The participants will then cover a transport stage of 101 kms to end the day at Coimbatore.
Cumulative Results After Day 2:
Extreme Cars: Amanpreet Ahluwalia/Venuramesh: 01.59.58 Hrs, Suresh Rana/Parminder Thakur: 2.01.35 Hrs, Sanjay Agarwal/ Shiva Prakash: 02.04.22 Hrs
Endurance Cars: Karthik Maruti/Shankar Anand, Sudip Ghosh/Amandeep Ghosh, Satish Gopalakrishnan/Savera  D'Souza