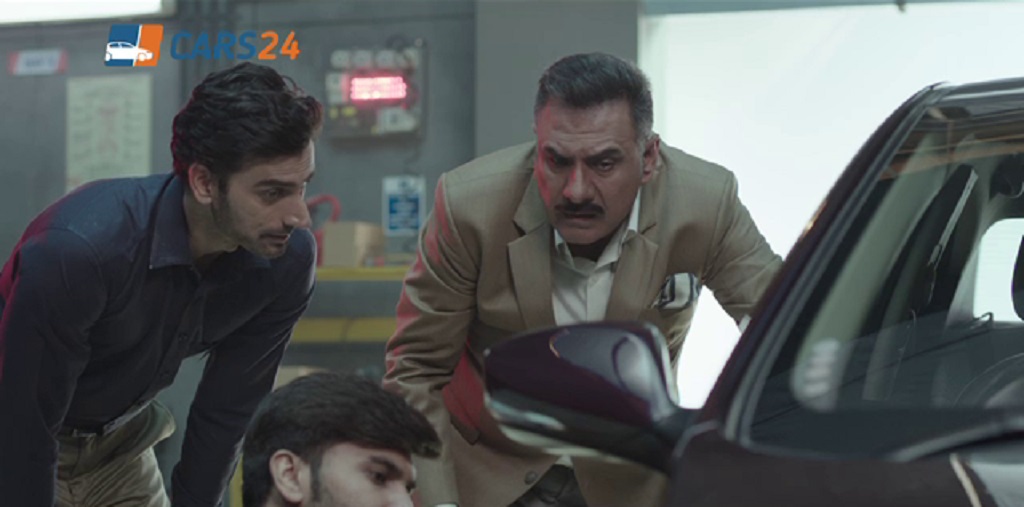 New Delhi, 10th July, 2017: CARS24 Services Pvt.  Ltd. has rolled out its very first television commercial (TVC) featuring Boman Irani as its brand endorser. Developed by Happy mcgarrybowen, the TVC, a 360 degree campaign will run across all national TV channels with a strong presence across mediums.
The TVC campaign based on our tagline, 'Car Becho, Best Price Mein', talks about an average male struggling to sell his car and how, CARS24, helps him save his day. The film features Boman Irani as the protagonist and it is divided in three parts – his struggle with online buyers and introduction to CARS24, establishing the best price via CARS24's scientific inspection and online auction, and finally, instant payment to his bank account.
Elaborating on CARS24's new TVC campaign, Mr. Vikram Chopra, CEO and Co-Founder, CARS24 , said, "Our research indicates that people are now selling their cars in 3- years, as against 5-6 years as was the case earlier. 'As we sit on the cusp of the next growth curve, the new TVC will help us support more customers get the best price for their cars. We are glad to have a brand endorser of Boman Irani's caliber to be the face of CARS24″.
The intent of the TVC was to create an-easy-to-comprehend campaign which introduces CARS24 as an efficient and reliable option for car owners to sell their car and while doing it, we explained the whole process to reiterate how CARS24 is able to live-up-to its best price promise.
Mr. Kartik Iyer, CEO and Co-founder of Happy mcgarrybowen, added, "The second-hand car sales market in India is pretty complicated. With many horizontal players promising all kind of prices, the customer is often left in a state of disillusionment making the process of selling one's car very painful. CARS24 is a focused and specialized player in this domain. They follow a scientific and unique process that allows the seller to get the right price for his car. We chose Boman as, he himself is a passionate car owner. Getting him to live out the doubts in the mind of the customer seemed like an authentic thing to do. This campaign is the first step for the brand. We look forward to aggressively growing their market share and creating value for the brand."
The prominent target audience of CARS24 are Car owners, between the age-group of 30-50, residing in metros and other major cities, who have a minimum experience of 3-4 years of owning a car. And the idea behind casting Boman Irani as our brand endorser is so that an average male could relate to him while seeing the TVC.
About Cars24
Founded by Mr Vikram Chopra and Mr Mehul Agrawal in 2015, today, CARS24 has 52 branches across 11 cities in India with bench strength of more than 600 employees. CARS24 has auctioned 1 lakh plus cars through its network, spanning across thousands of authorized buyers in India.