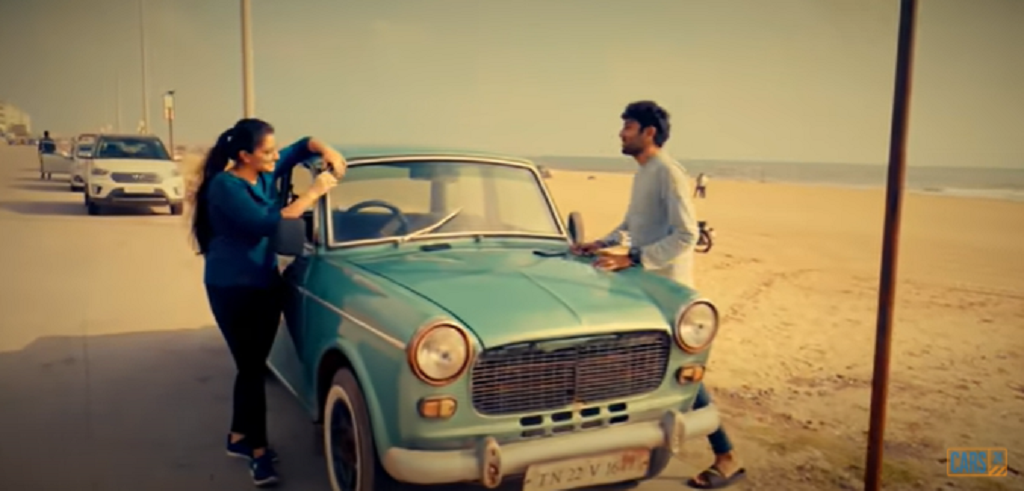 The brand encourages customers to imbibe the spirit of the festival by upgrading the old and concentrating on the new, allowing them to cherish CARS24's fulfilling transaction experience 
National, January 15, 2021: CARS24, India's leading online transaction platform for pre-owned vehicles, has rolled out a new digital film on its social media platforms, to celebrate the first day of the loved Pongal festival, Bhogi. In line with the brand story, the festival brings people together with their families as they discard unwanted household articles and goods to pave the way for a brighter future.
The evocative campaign film shows people happily tapping their hands on the tune of a catchy and relatable/upbeat jingle. The hands are seen drumming on different types of cars, building synonymity with the brand's feature of providing its customers with the option to sell a range of cars at CARS24.
The campaign takes viewers on a visual roller coaster ride of celebrating emotions and togetherness. Released with an aim to convey the change and transformation brought in through the festival, CARS24 supports and empowers its customers to sell their old cars at the tip of their fingers through the large-scale network the platform offers.
Nida Naushad, Head of Brand, CARS24, said, "CARS24's presence expands across the length and breadth of the country and to foster the culture of inclusivity and build a brand relevant to its audience, we believe that it is very important for us to celebrate such festivals and ride the emotion of joy as our customers and their families. The film beautifully crafts the narrative with keeping the theme of Bhogi festival encouraging people to replace/upgrade their old cars. The storytelling and the creative treatment has been kept high on auditory sensations to build a festive joy and emotion"
Commenting on the digital film, S.R. Aanand, Regional Head-South, CARS24, said, "Bhogi in Tamil Nadu and Andhra Pradesh is celebrated with great pride and enthusiasm and we at CARS24 are proud to be a part of the same celebration through our digital film. This film, on account of Bhogi, perfectly fits the narrative of our brand & is our way of asking our consumers to join in the celebration. The outcome is there for everybody to see, listen and enjoy. 
The film is being promoted on CARS24's social media platforms including Facebook, YouTube and Instagram.
Link to the film: https://youtu.be/sHbj8PCu8G8
Credits:
Mind Your Language Team: 
Designation
Name
Creative Team
Deepan Ramachandran
Pandiyaraj M
Account Management
Maria Xavier Vinod
Aarthi Bakthavathsalam
Stock Noise FilmsTeam
| | |
| --- | --- |
|  Director | Philip Gladstone |
| Cinematographer | Sakthivel |
| Music | LV Muthu Ganesh |
CARS24 Marketing Team:
| | |
| --- | --- |
| Designation | Name |
| Head of Brand  | Nida Naushad |
| Brand Manager | Abhishek Mudgal |
 About CARS24:
CARS24 is the largest online transaction platform for pre-owned vehicles in India. Founded in 2015 by Vikram Chopra, Mehul Agrawal, Ruchit Agarwal and Gajendra Jangid, it offers an efficient, reliable, and hassle-free transacting experience to customers to buy and sell pre-owned vehicles (cars and bikes) as well as financing options. CARS24 operates in over 130 cities in India.
Since its inception, CARS24 has built a strong technology backbone that features various first-of-its-kind offerings including an innovative auction format, a state-of-the-art proprietary inspection app, and a powerful algorithm that matches supply and demand across the country. In addition, CARS24 also features an innovative price discovery mechanism for used vehicles.
CARS24 is the first player in the pre-owned vehicle industry to procure a non-banking financial company (NBFC) license and launch consumer lending business with CARS24 Financial Services and two-wheeler segment CARS24 MOTO. It is backed by marquee investors like Sequoia India, Exor Seeds (venture arm of Exor, one of the world's leading holding companies controlled by the Agnelli Family), DST Global, Kingsway Capital (London based multi-billion US$ fund), Unbound (global investment firm headquartered in London), Moore Strategic Ventures and KCK (Silicon Valley & New York based investment firm).