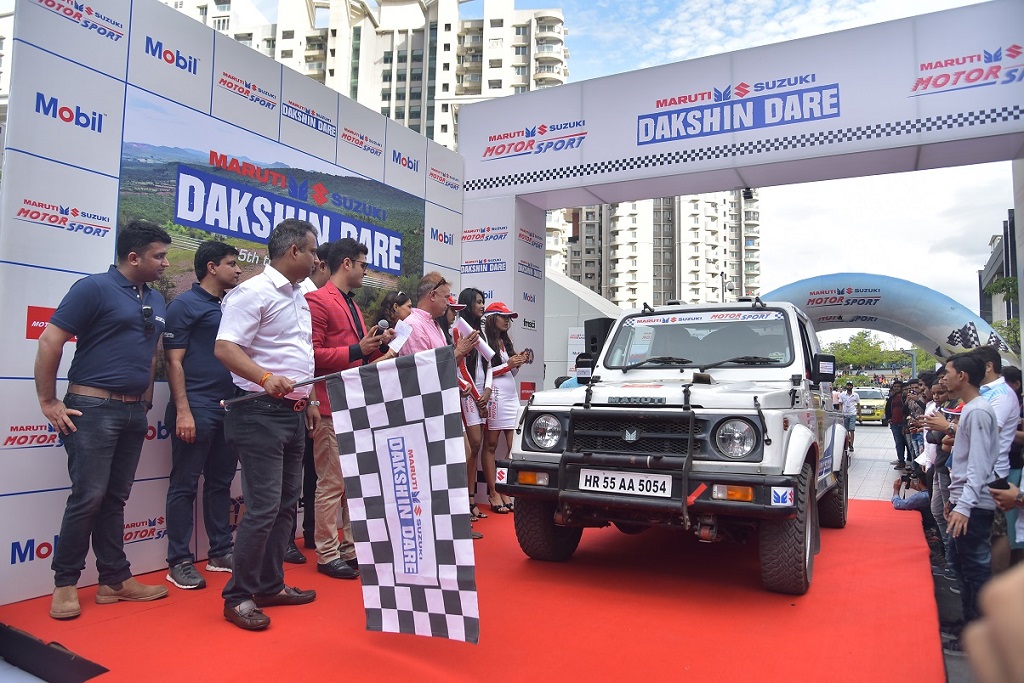 Excitement galore with the introduction of a new route for the 9th edition
Bengaluru, July 16, 2017: Maruti Suzuki India Limited, leader in passenger vehicles, today flagged off the 9th edition of their annual southern motorsport rally, Maruti Suzuki Dakshin Dare 2017 from Orion mall in Bengaluru.
With a strong participation of over 180 rallyists, the rally has been most anticipated for a special reason – introduction of a new route for the first time in its history. The rally is not restricted to the adventurous terrains of South India, but will also transition into the terrains of West, bringing in more excitement and challenges. The rallyists will traverse through the challenging yet breath-taking terrains of Chitradurga, Belgaum, Kolhapur to conclude in Pune on 22nd July, followed by a prize distribution ceremony.
Expressing his delight, Mr. Anand Prakash, Commercial Business Head – South, Maruti Suzuki India Ltd. said, "It's a great feeling to be welcomed each year with such an encouraging response. Moving on from introduction of new test tracks last year, we have introduced another new element by taking the rally beyond its boundaries. It would be a sight to watch the participants battle out in the exciting terrains of the West in addition to the challenges faced in South. This is our way of making the competition fierce and put their skills to test."
The rally is divided into three categories – Endurance, Ultimate Car and Ultimate Bike; and will witness participating teams covering approximately 2000 kms over a span of 6 days.
To ensure safety, all the participants undergo a strict scrutiny check one day prior to the flag-off.
2017 Maruti Suzuki Dakshin Dare will witness Team Maruti Suzuki's Suresh Rana and Aswin Naik driving the Grand Vitara, the winners of last edition, battling out with Sandeep Sharma and Karan Arya driving Maruti Suzuki Gypsy in the Ultimate cars category. In their Vitara Brezza, Jagmeet Gill and Chandan Sen will toughen the competition for the duo of Karthik Maruthi and Sankar Anand driving the S-Cross in the endurance car category.
About Maruti Suzuki and Motorsport:
Maruti Suzuki has been actively promoting motorsports in the country for over 15 years now. To popularize action sport, the Maruti Suzuki motorsport calendar is packed with exciting motoring events. Be it for a motorsport enthusiast, an amateur or a professional, there are events that offer the thrill and joy of motorsport to one and all. The annual calendar of events includes Autocross championship, cross country rallies including Maruti Suzuki Raid-De-Himalaya, Maruti Suzuki Desert Storm and Maruti Suzuki Dakshin Dare and Maruti Suzuki FMSCI National Super League TSD Rally Championship. These events provide rallying thrills as well as promote safe driving habits.