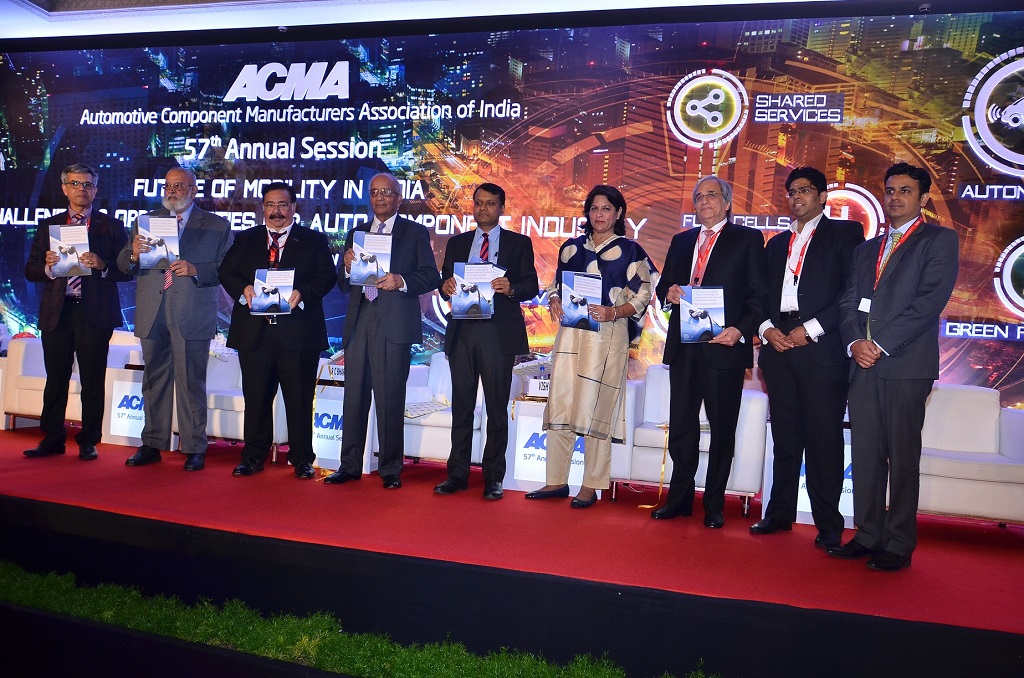 New Delhi, September 12, 2017: Automotive Component Manufacturers Association of India (ACMA), the apex body of the Auto Component Industry in India, hosted its 57thAnnual Session & National Conference on 8 September, 2017
ACMA's Annual Session was addressed by senior government officials and eminent leaders from the automotive industry which included Mr Vishvajit Sahay, Joint Secretary, Department of Heavy Industries, Government of India, Mr. R C Bhargava, Chairman, Maruti Suzuki India Ltd., Dr Abhay Firodia, President SIAM & Chairman, Force Motors, Ms. Shobhana Kamineni, President CII & Executive Vice Chairperson, Apollo Hospitals, Prof. Ashok Jhunjhunwala Principal Advisor, Ministry of Power & New and Renewable Energy, Government of India, Mr. Rattan Kapur, President, ACMA & Chairman & Managing Director, Mark Exhaust Systems Ltd. and Mr. Nirmal Minda, Vice President, ACMA & CMD, Minda Industries.
ACMA's study conducted by McKinsey & Co. themed "Future of E-mobilty" was released by the Chief Guest, Mr. Vishvajit Sahay, Joint Secretary, Department of Heavy Industries, Government of India along with other luminaries. The study reveals that globally, majority of experts believe that the auto industry will be disrupted with trends like shared mobility, autonomous driving, connectivity and electrification in our future vehicles. These trends will have a major impact on the value chain, resulting in market shift and revenue pools. The role of OEMs and suppliers will fade by 2030, leading to an emergence of new players, gaining a significant share of revenues and profits of the automotive industry. The driving force towards this change in mobility will be collaboration and innovation with auto suppliers.
On the occasion, Mr. Vishvajit Sahay, Joint Secretary, Department of Heavy Industries, Government of India, said,"The auto industry plays an important role in contributing to the country's GDP where it contributes 7.1% and out of this auto component contributes 2.1% upwards. The Indian automotive industry is poised to change now. We need to view this change as an opening of new opportunities. For this the industry needs to be not only technology-ready, but also capacity-ready. To be able to succeed in doing so we need to acquire & train the workforce while creating new avenues for skill development as well. The government expects the automobile industry to act as the prime contributor to the Make in India movement and is ready to support the industry in every possible manner."
On the front of E-mobility Mr. Rattan Kapur, President, ACMA expresses optimism, "We at ACMA believe that while the future is electric, however the logical progression would be to move from IC-engines to hybrids and then to fully-battery based vehicles. This will provide the local industry with the opportunity to develop and best acquire technologies for the future generation of vehicles. A long-term stable technology-agnostic roadmap for the automotive industry driven by a sound regulatory framework is therefore the need of the hour so that the industry can invest for sustainable growth and development, in line with the aspirations of all stakeholders."
"There is a fundamental need to preserve the environment for our future generations and are committed to it. For the auto component industry this may imply drastic changes for many individual players. Time has come for each of us in the industry to accept this new business environment and gear ourselves to cater to the new demands of the future,"Kapur added.
Commenting on the future of mobility, Dr. Abhay Firodia, President SIAM & Chairman Force Motors said, "Today, we stand facing a massive technological transformation, which is coming our way. This leap towards E-Mobility is bound to happen sooner or later, the correct way to do it would be a gradual transition. Policy Environment should lead to the betterment of the nation and its customers. These new technologies already exist and are reasonably mature and can be implemented in a matter of few years but the industry needs clarity so that both OEMs and Auto Component Manufacturers could plan for the change accordingly.
In her keynote address, Ms. Shobana Kamineni, President CII & Executive Vice Chairperson, Apollo Hospitals said "The automotive sector is being disrupted not only by technologies and platforms but also business models that are redefining mobility. The Indian automotive industry is at the crossroads, but the tectonic shifts that it witnesses pose huge opportunities for us to create a dominant position in the world in this sector. The 3Cs – collaboration, cooperation and creativity present many opportunities for ACMA and CII to work together to influence mobility as we know it. We would also like to partner with ACMA to help enhance competitiveness, build a smart manufacturing campaign and develop skilled workforce to address future challenges."
In his keynote address, Mr R.C. Bhargava, Chairman, Maruti Suzuki India Ltd, emphasised, "As the vehicle population is increasing, the need to import the crude oil is also increasing. Crude oil being a non-renewable resource is limited in nature, thereby, building a need to shift to a more sustainable and environment friendly alternative. It is in our government's long term interest to accept Electric Mobility as an alternate means of transport and we as an industry need to acknowledge the challenge to make it happen. However, there are a few challenges, which need to be addressed before we embark on the journey of electric mobility for India. Firstly, battery is the main element of electric vehicles and it is the low cost of battery that will determine the sales of the vehicle and secondly, the charging infrastructure should be available for the convenience of using the vehicle. The government of India is also strategizing on an innovative idea of battery swapping which needs to be looked upon. To make this shift, we need to work together with the government and see what impact does the EV policy has on its customers in the future."
Launched at the Annual Session, the McKinsey's revealed that 'E-Mobility' is already shaping the automotive industry around the world and in India. The transition will happen from ICE (Internal Combustion Engine) to Hybrid Vehicles to BEV (Battery Electric Vehicles). This trend is more visible in 2 wheelers, 3 wheelers and Passenger Vehicles, however Commercial vehicles, tractors and MHCVs will take longer for the transition. On the dimension of innovation, the best should be extracted out of internal and external partnership sources. Also, all stakeholders should work together to formulate policies that support indigenous development of technology over import dependence. The need of the hour is sustainability over speed.
In the case of India, four key forces could determine the future E-mobility landscape:
Regulations and incentives: Many countries have promoted e-mobility through a range of incentives, but these alone did not drive EV penetration. A supportive ecosystem that also establishes strict regulations on carbon emissions indirectly prompts the higher adoption of EVs.
Technology: Improved technology can reduce battery costs, increase efficiency and driving range, making EVs more accessible and attractive to potential customers.
Infrastructure: Easy and affordable access to charging infrastructure – both standard AC charging as well as rapid DC charging – is a key to meet customer needs.
Customer demand: Creating a pull among customers by creating an economical cost proposition will be crucial in encouraging customers to invest in EVs.
The 57thAnnual Session & National Conference concluded on a high note witnessing over 1300 participants. Eminent speakers from industry and government graced the event including Dr Pawan Goenka, MD, Mahindra & Mahindra, Mr Vikram Kasbekar, Executive Director, Hero Motocorp, Mr Thomas Flack, Chief Purchasing Officer, Tata Motors, Mr Jan O. Röhrl, Chief Technology Officer and Head of Mobility Solutions Business India and Additional Director, Bosch, Mr Jayant Davar, Past President ACMA, Co-Chairman & MD, Sandhar Technologies, Mr Ashok Taneja, MD & CEO, Shriram Pistons & Rings, Mr Arvind Balaji, Joint MD, Lucas TVS, Prof. Matthias Busse, Director, Fraunhofer Institute for Manufacturing Technology and Advanced Materials (IFAM) & Fraunhofer Systems Research Electromobility, Mr Shivanshu Gupta, Partner, McKinsey & Company (India) and Mr Russell Hensley, Partner, McKinsey & Company (USA),
About ACMA: The Automotive Component Manufacturers Association of India (ACMA) is the apex body representing the interest of the Indian Auto Component Industry. Its active involvement in trade promotion, technology up-gradation, quality enhancement and collection & dissemination of information has made it a vital catalyst for this industry's development. ACMA's charter is to develop a globally competitive Indian auto component Industry and strengthen its role in national economic development as also promote business through international alliances. ACMA is an ISO 9001:2008 certified Association.