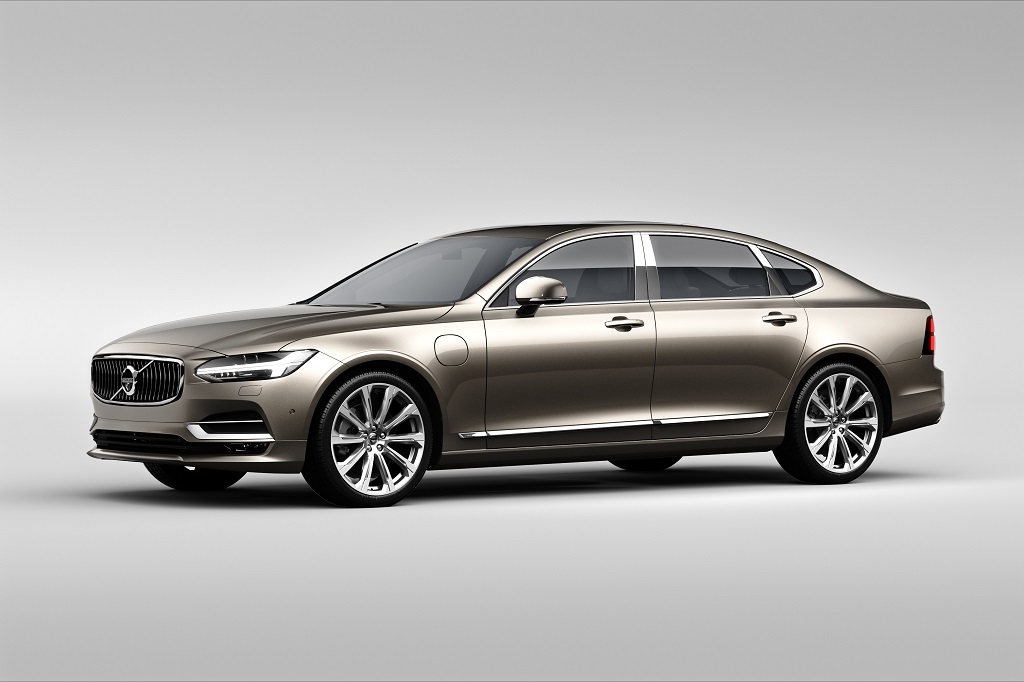 The S90 and V90 results surpass the best overall score of any model tested last year and now make Euro NCAP's top-3 best-ever performing cars all Volvos.
The result follows in the footsteps of the XC90, which was the first car from any manufacturer to score full points in the Euro NCAP Autonomous Emergency Braking Car to Car rear-end tests (AEB City and AEB Interurban). The S90 and V90 performed as expected in the 2017 testing cycle, achieving a full 5 stars, thanks in large part to the high level of standard safety equipment in the new cars.
"We work hard to ensure that our cars fulfil all safety requirements and pass all testing procedures that the ratings agencies develop. Our main focus is, and always has been, real-life safety. Autonomous Emergency Braking systems, such as our City Safety offer also represent a clear step forwards on our journey toward fully autonomous cars, which we see as a key element to reduce traffic fatalities and injuries," said Malin Ekholm, Director of the Volvo Car Safety Centre at Volvo Cars Group.
Volvo's success in the Autonomous Emergency Braking tests are a result of the advanced City Safety system which is standard in all new Volvo cars. City Safety works by identifying potential hazards on the road ahead, such as vehicles, pedestrians and cyclists in certain situations, day and night.
"Safety has always been our key priority at Volvo Cars. The S90 and V90 5 star ratings and maximum points in the AEB testing procedures underscores our ongoing commitment to delivering a safe, enjoyable and confident driving experience in our cars," added Malin Ekholm.
The AEB Pedestrian tests by Euro NCAP are designed to check performance of pedestrian detection systems using three road crossing scenarios, all of which would result in a fatal collision if the AEB system did not intervene. The tests represent common and critical situations that frequently result in pedestrian casualties in the real world:
An adult runs into the road from the driver side of the vehicle
An adult walks into the road from the passenger side of the vehicle (two tests are carried out for this scenario)
A child runs from between two parked cars into the road from the passenger side of the vehicle
Volvo Cars has a long held vision that no one should be killed or seriously injured in a new Volvo car by the year 2020.  The S90 and V90 are further proof of Volvo's continuing investment in and commitment to automotive safety leadership.
The Euro NCAP safety rating covers four different areas – Adult Occupant, Child Occupant, Pedestrian Protection and Safety Assist. Read more about Euro NCAP's safety ratings at www.euroncap.com
Volvo Auto India
Swedish luxury car company Volvo Auto India (VAI) established its presence in India in 2007 and has since then, worked intensively to market the Swedish brand in this country. Volvo Cars currently markets products through its dealerships in South Delhi, West Delhi, Gurgaon, Ahmedabad, Surat, Mumbai, Chandigarh, Coimbatore, Hyderabad, Chennai, Bangalore, Kochi, Vishakhapatnam, Kolkata and Vijayawada. Expanding soon to Lucknow, Pune and Jaipur.
The company sells eight luxury models.
Volvo S60 – A sporty sedan
Volvo S60 Cross Country – All road. All weather sedan
Volvo V40 – Luxury hatchback                                                                                                                                                             Volvo V40 Cross Country – The adventurous cross country
Volvo XC60 – A technologically advanced luxury SUV, apt for Indian roads
Volvo XC90 – The most awarded 7-Seater Luxury SUV
Volvo XC90 Excellence- India's first plug-in hybrid SUV
Volvo S90- The premium luxury sedan
Volvo's Brand Philosophy
'Designed Around You' is the brands translation of going an extra mile to understand customers better. This human-centric approach enables Volvo Cars to know the pulse of the customers and gauge what they desire in a product. With this thought, the brand places the customer at the heart of its design. Every Volvo car boasts of cutting-edge technology with engineering that is executed around human values.