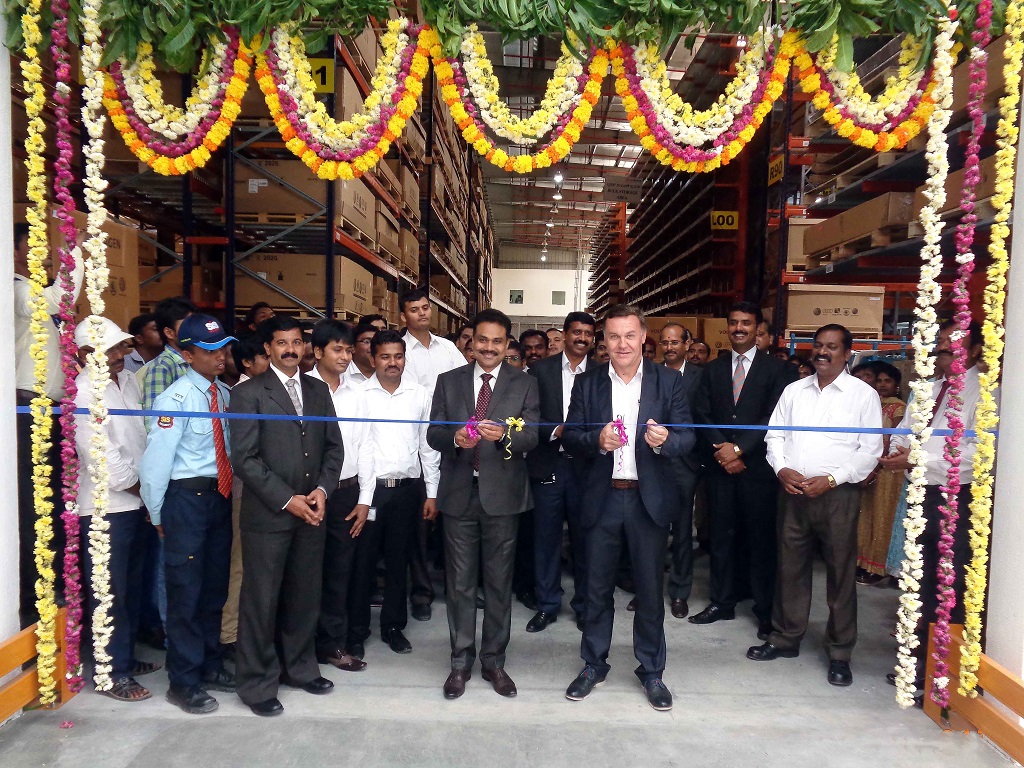 A total of INR 12 crores has been invested in the expansion of Bangalore Parts Distribution Center

The Center in Bangalore has been expanded to a total of 85,000sqft from 50,000sqft

The Center will support 111 Volkswagen Group India dealerships, ensuring higher customer satisfaction
A new Central Warehouse (Regional Distribution Centre) is also being planned for fourth quarter of 2018
Bangalore, September 19, 2017: Volkswagen Group Sales India expands its Regional Parts Distribution Center (PDC) in Bangalore. Present at the inauguration of the expansion ceremony were Mr. Berndt A Buchmann, Director of Volkswagen Group India After Sales & Vehicle Logistics and Mr. Vinod Prakash Shivhare, Head of Volkswagen Group India Parts Logistics. The PDC was first established in the year 2015 to strengthen the network of Volkswagen Group India in the southern part of the country and help improve timely delivery of genuine parts to authorized service stations of the Volkswagen Group in India.
This expansion is in line with the company's three depot network strategy under the 'Depot Network Development Project'. The state-of-the-art facility has been designed by Volkswagen Group Sales India in co-operation with Volkswagen AG worldwide and it fulfils the company' global standards. With its strategic location and extension, the PDC in Bangalore will continue to significantly contribute in reducing current lead-time in providing genuine parts to 111 dealers of the brands Audi, Volkswagen and Skoda across the states of Karnataka, Andhra Pradesh, Tamil Nadu, Telangana, Maharashtra, Goa and Kerala.
On this occasion, Mr. Buchmann said, "The expansion of the PDC in Bangalore is a strategically important move for the Volkswagen Group in India. The PDC will cater to the Southern region which contributes to close to half of parts sales in the country. He further stated, "Our target is to ensure quickest delivery of parts to dealers ultimately improving customer satisfaction."
In order to further strengthen the Volkswagen Group in India and taking a step towards continuous expansion of its After Sales and Spare parts infrastructure in the country, a further Regional Distribution Centre (RDC) of approx. 25,000 sqm at Chakan, Pune has been planned. This RDC is expected to be functional by the fourth quarter of 2018.
About Volkswagen Group India: The Volkswagen Group is represented by five passenger car brands in India: Audi, Lamborghini, Porsche, ŠKODA, and Volkswagen. The Volkswagen Group has been present in India for the last 15 years and began its India journey with the entry of the ŠKODA brand in 2001. The Audi brand and Volkswagen brand entered India in 2007, while Porsche brand and Lamborghini brand followed in 2012. Each brand has its own character and operates as an independent entity in the market. Volkswagen Group India has over 25 models in India, over 240 dealerships and is operating two plants – Pune and Aurangabad. The Pune Plant has a manufacturing capacity of 200,000 cars per year (maximum in three-shift system) and is currently manufacturing Volkswagen Polo, Ameo and Vento and ŠKODA Rapid. The Aurangabad Plant assembles various premium and luxury models of Audi, ŠKODA and Volkswagen sold in India and has an annual capacity of approximately 89,000. Volkswagen Group India is a part of Volkswagen AG, which is globally represented by 12 brands – Audi, Bentley, Bugatti, Ducati, Lamborghini, Porsche, Scania, SEAT, ŠKODA, Volkswagen Commercial Vehicles, MAN and Volkswagen Passenger Cars.