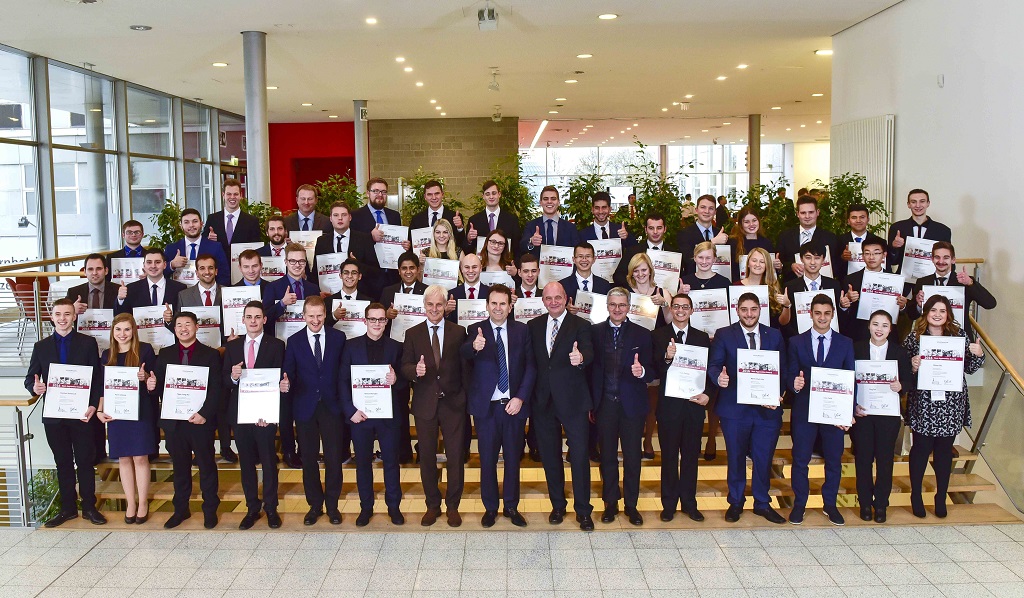 The Best Apprentice Awards 2016 recognize talents from 19 countries across 5 continents
Saurabh Sajji from Volkswagen Pune Plant Academy in India bags the 'Best Apprentice Award 2016' in the Mechatronics trade
Matthias Müller: "The automotive industry is more exciting for young people than ever before."
Volkswagen India started the Mechatronics Apprenticeship Programme at its Academy in the Pune Plant in 2011 as part of the Group's global effort to build industry ready talent to bridge growing skill shortage the world over. The last six years has seen the Mechatronics Apprenticeship Programme in India produce world class talent by providing hands on experience while also helping apprentices develop interpersonal skills. In an effort to recognize the outstanding performance and professional competence of key performers in the programme, the Volkswagen Group recently presented its 'Best Apprentice Awards 2016' to 45 young talents from all over the world. Here, Saurabh Sajji from India bagged the 'Best Apprentice Award' in the Mechatronics trade.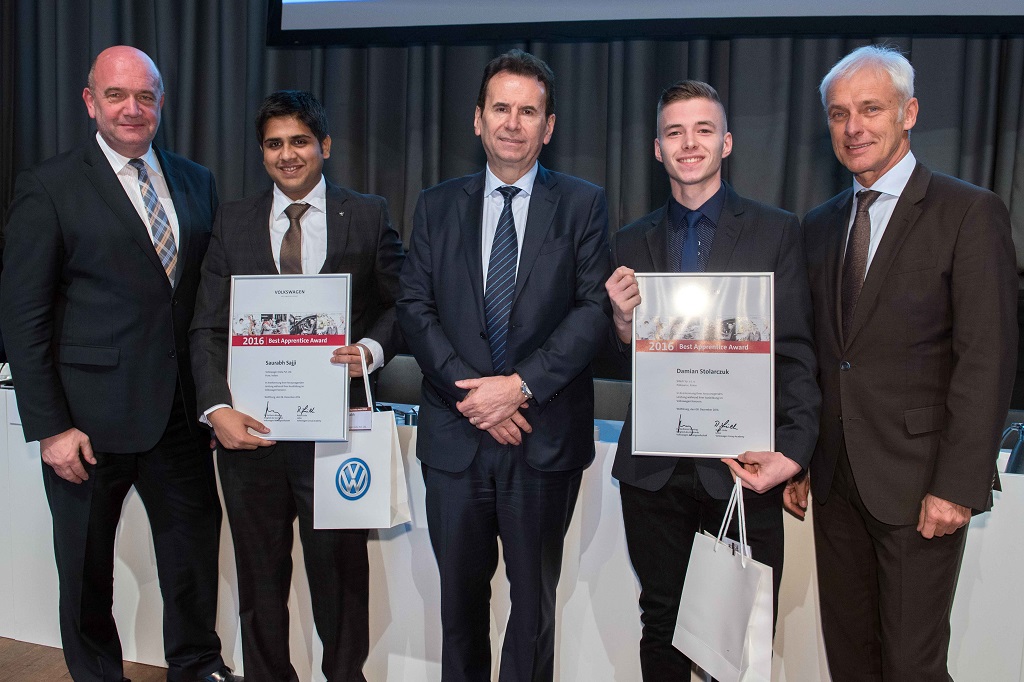 Hailing from Pune, Saurabh was among the nine young women and 36 young men at the ceremony held at the Congress Park in Wolfsburg. Saurabh comes from a modest background and his interest for the automobile industry is what led him to enrol into the programme. On receiving the top honour he said, "I am humbled at being recognised on this platform and can't help feeling a great sense of gratitude towards my trainers at the Volkswagen Academy. Each one of them has guided and helped me immensely to hone my interest and knowledge of the mechatronics trade and made me capable enough to achieve this honour."
The Mechatronics Apprenticeship Programme is based on German Dual System of Vocational Education and Training. The partnership of Volkswagen Group India with Indian vocational education and training authorities is a milestone on the path towards modernisation, practical relevance and flexibility of vocational education and training. This programme provides employability in the areas of Production, Maintenance, Planning, Quality Assurance and Research & Development. The Mechatronics Programme also helps the apprentices with key competencies which are necessary to adapt to the fast changing industrial requirements.
Matthias Müller congratulated the award winners and said: "I am proud of the awardees. The youth needs to remain inquisitive and open to new developments. They need to discover opportunities in the ever changing environment." He further added, "The automotive industry is more exciting for young people than ever before. Like the entire industry, our company faces major changes: autonomous driving, e-mobility, innovative mobility concepts, digitalization and connectivity, which means that we will need to update our knowledge and skills at an increasingly rapid pace."
Dr. Andreas Lauermann, President and Managing Director, Volkswagen India commended the honour bestowed on Saurabh saying, "The Mechatronics programme in India follows the guidelines from Germany to maintain global standards, and it is with great pride that I say that since inception we have always had award winners from India." He further adds, "I'm positive that this recognition received by Saurabh will help him scale new heights as he ventures into working with new technologies that can benefit the Volkswagen Group moving forward."
This year's Best Apprentice Award was the 16th of its kind presented by the Volkswagen Group and a total of 431 apprentices have been honoured since 2001. The group is currently training about 19,500 young women and men in about 60 vocations and 50 dual courses of study.
About Volkswagen Group India: The Volkswagen Group is represented by five passenger car brands in India: Audi, Lamborghini, Porsche, ŠKODA, and Volkswagen. The Volkswagen Group has been present in India for the last 15 years and began its India journey with the entry of the ŠKODA brand in 2001. The Audi brand and Volkswagen brand entered India in 2007, while Porsche brand and Lamborghini brand followed in 2012. Each brand has its own character and operates as an independent entity in the market. Volkswagen Group India has over 25 models in India, over 240 dealerships and is operating two plants – Pune and Aurangabad. The Pune Plant has a manufacturing capacity of 200,000 cars per year and is currently manufacturing Volkswagen Polo, Ameo and Vento and ŠKODA Rapid. The Aurangabad Plant assembles various premium and luxury models of Audi, ŠKODA and Volkswagen sold in India and has an annual capacity of approximately 89,000. Volkswagen Group India is a part of Volkswagen AG, which is globally represented by 12 brands – Audi, Bentley, Bugatti, Ducati, Lamborghini, Porsche, Scania, SEAT, ŠKODA, Volkswagen Commercial Vehicles, MAN and Volkswagen Passenger Cars.