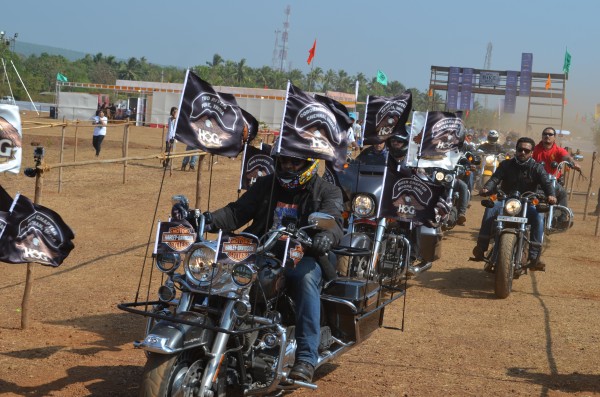 India's largest festival planners, the Seventy Event Media Group, together with leading Travel and Lifestyle channel FOX Life, in association with Shell Advance, have seen the first day of India Bike Week 2016, India's largest biking festival, off to a rocking start. Many thousands of hardcore and casual bikers have crossed national and international borders to gather at Arpora, Goa, for the 19th and 20th, to celebrate an event that has established itself as a cornerstone of India's biking culture.
The roar of over 12,000 bikers who have joined the Great Migration to the festival was the defining moment at India Bike Week 2016 today, setting the tone for the rest of the event. 700 riders registered on the Ride to IBW, supported by IBW, with medical support and marshalling from Nagpur, Mumbai & Bangalore. The festival was launched by Harley Davidson's parade of over 2,500 HOG riders down IBW's Main Street, followed by the DSK Benelli riders. Next was the turn of Triumph Motorcycles, with a parade consisting of the hundreds of bikers who make up the Riders Association of Triumph. The community witnessed several new bike unveilings from the manufacturers – DSK Benelli showed the TRK 502 & Benlli Tornado 302, Triumph the new Street Twin T120 and Thruxton R, Harley-Davidson the new 1200 Custom, and Ducati the Panigale 959, as contingents including hundreds of riders from each of the brand joined together in the ride towards the main stage. Manufacturers and sponsors amped up the motorcycling experience with a dedicated test ride track and activities like the Triumph Tiger Academy, Harley-Davidson Touring Bike demo, and Shell the Rev Up zone with their Dyno Wars and power bike displays.
The Howling Dog Bar served as the center of attention, hosting the Innovation Bike display, with models like the Monowheel, a single-wheel vehicle derived from the concept of planetary gear box, and the Skatocross showcased. Next up was the Moto Art Collective, a curated collection of motorcycle and moto-culture inspired art exhibited, with biking lifestyle elements such as Tattoo artworks by Body Canvas, Live Graffiti and Air brushing by Maria Jurkina, Sculptures and painting by brothers HAMMEred & IRONic projects from India's most creative bike builders, and moto-photography by RONNIE SEQUEIRA.
A press briefing brought together the heads of the brands powering the festival for a Q&A session of the media, with Martin da Costa of 70 EMG, Niranjana Basu of FOX Life, and Mansi Madan Tripathy from Shell Advance India, coming on board as principle sponsor for the second year in a row.
Speaking on the occasion, Martin da Costa, CEO of 70 EMG said, "It was astonishing to see so many thousands of bikers from across India, across motorcycle brands joining in the Great Migration to India Bike Week this year. I don't think I've ever seen so many bikes on the NH4, NH17 and the other roads into Goa. It's been a great day for all of us here at IBW, and it was amazing to see riders from over 400 Biking Clubs hanging out together on site. You can really see the coming together of one of India's most passionate communities this year at India Bike Week. It's just a fabulous energy here.
Swati Mohan, Business Head, Fox International Channels India said, ''Building on last year, this year too we witnessed an overwhelming response adding to a great first day experience. IBW has grown over the years and has become a celebration of not just biking, but also a mecca for experience seekers and travellers. We are thrilled to know that our partnership with Seventy EMG that gave birth to India Bike Week is today a platform that helps bring together the nation's biking community in all its grandeur. What was a closed circuit of automotive owners has today expanded into a vast thriving social circle of passionate explorers fueled by the growing trend of adventure travel. It is such events and experiences that embody the very philosophy of Fox Life and bring it up close for our viewers to touch, feel and enjoy.''
Ms. Mansi Madan Tripathy, Chief Marketing Officer, Shell Lubricants India said "This year our focus is to bring our patented Pureplus technology to the heavy biking segment. We are happy to announce the launch of Shell Advance Ultra 15W-50, our premium oil formulation designed especially for the heavier bikes. Shell Advance Ultra 15W-50 does not degrade between oil changes, thus not letting the engine efficiency plummet and preventing any power loss usually experienced. With Shell Advance Ultra 15W-50, one can now rev it up and stay powerful. IBW is an exciting platform for us to be present and foster knowledge sharing while showcasing our unique offerings to bike enthusiasts and we are happy to be a part of it."
Headlining this year's event was a MOTO TRIALS SHOW, which featured the international sensation and undisputed King of Trials, Dougie Lampkin. The trials biking legend, renowned throughout the world for his unparalleled skills in the discipline, took centre stage at IBW 2016, where fans and spectators alike bore witness to the skills that truly define him as a champion in the motorsport world.
It wasn't all about the adrenaline though; club and solo riders gathered as a community at the watering holes scattered around the grounds, with hundreds of national and international clubs mingling at the Howling Dog bar, the Beer Café, and the Knock Out Zones. Back for the second time, The Big Trip offered a chance to interact with legends of the road as they shared stories cumulatively gathered over the course of several decades. Some of the speakers this year were Bullet Yatra blogger Dhruv Dholakia; Youhan Mubaraki and Debaashish Ghosh from HOI, who outlined their 25,000 km ASEAN Corridor ride to Singapore and back on their Harleys; and Alankar Misra, who goes by the name of Sole Traveller and did a Trans-America ride in addition to several pan-India rides.
The day drew to a close with performances by Soulmate and The Other People, with the singer songwriters at the DSK Benelli stage leaving the crowd raring for day two.