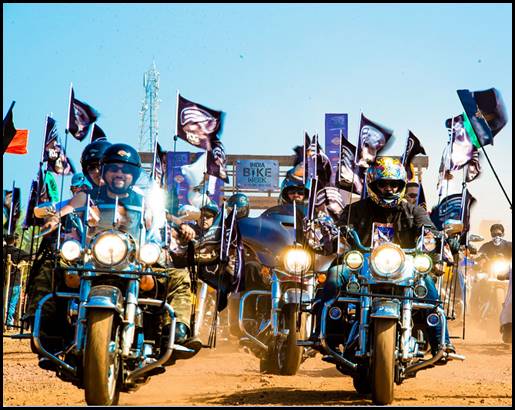 Award-winning event agency Seventy Event Media Group (70 EMG) and India's premiere travel and lifestyle channel FOX life have announced the second wave of events and personalities for Indian Bike Week (IBW) 2016, produced in association with Shell Lubricants. To be held on the 19th and 20th of February at Vagator in Goa, the new roster of events and activities sets the stage for what promises to be the biggest and best iteration of India Bike Week yet, with over 12,000 anticipated festival goers at Asia's largest biking festival.
The latest announcement adds to the roster of personalities in attendance, with award-winning directors, artists, and sport personalities flocking to the event, strengthening India's growing biking culture and establishing IBW as a festival about biking that welcomes anyone looking for a great time with good people.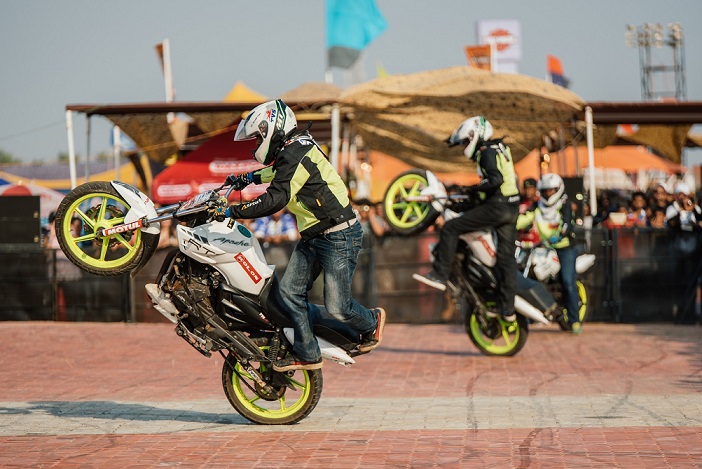 Stars on Two-Wheels
Headlining this year's Moto Trials Show is the international sensation and undisputed King of Trials, Dougie Lampkin. The trials biking legend heads to India following a record extending ninth victory at the Scottish Six Day Trial (SSDT) Winner, to add to twelve FIM Trial World Championships and a host of other awards won over a career stretching back to 1993, which include seven outdoor World titles, five indoor World championships, ninety-nine Grand Prix wins, four victories at the Trial des Nations as part of the Great Britain squad, and nine SSDT victories.
This all-star champion will take centrestage upon his exclusive debut at IBW 2016, giving fans and spectators the opportunity to bear witness to the skills that truly define him as a champion in the motorsport world.
India's biking champions aren't to be left out of the fun, withCEAT, the festival's official safety partner, bringing acclaimed local boy C. S. Santosh to the festival. Fresh off the 2016 Dakar Rally, after being the first Indian to compete in the legendarily grueling off-road endurance race in 2015, he brings with him a wealth of experience in supercross, motocross, and rally riding. The finest off-road racer in the country, he has the awards to back up the claim, having won three MRF National Supercross Championships, two Gulf National Dirt Track Championships, and two Maruti Suzuki Desert Storm rallies.
All this experience will be brought to bear at IBW, where Santosh will host a CEAT safety session for the crowd, offering key insights into the riding safety drawn from his rich history and experience at national and international rides. Santosh will also be a part of the Big Trip, where he'll discuss some of his most exciting rides and his passion for biking, offering a rich narrative on his trailblazing career.
A Cultural Landmark
The cultural aspect of the carnival won't be outshone by the stable of biking legends assembled, with giants in the music and film industries making their presence felt. IBW is set to see its first ever Film Festival, featuring profound travel films from all over the world that celebrate the two elements central to every rider: the bike and their journey. The movies showcased will be across three categories, and judged by a panel consisting of celebrated film directors and writers; also joining the judging panel isGaurav Jani, a biking aficionado and national award winning documentary and filmmaker, who channels his love for travel and the open road through a camera lens, with films like One Crazy Ride and Riding Solo to the Top of the World. Cash prizes will be awarded to the winners in the various categories, while a separate competition will encourage the submission of homemade riding movies, with the entries featured on the IBW website.
India Bike Week is also set to buff its musical credentials, with an eclectic lineup of acts from across the spectrum that'll please festival and music junkies of every stripe. The acts in attendance include the MIDIval Punditz, pioneers of the electronic scene in the country with over 18 years of experience, with their signature fusion style melding electronica and classical Indian melodies; The Other People, a fixture in the pubs of Bombay who perform everything from rock to pop and blues to reggae; Thaalavattam, a percussion-based project by Montry Manuel, which uses instruments created from waste plastic and metal with the aim to inspire people to think creatively about waste; and Soulmate, the darling of India's blues rock scene; among many others performing over the course of two days.
Back for the second time, The Big Trip is a chance to interact with legends of the road as they share stories cumulatively gathered over the course of several decades; with this setup, IBW intends to create an ecosystem comprised not only of legends but also budding riders and biking enthusiasts, coming together to network and share each other's experiences. Some of the speakers this year areBullet Yatra blogger DhruvDholakia;YouhanMubaraki and Debaashish Ghosh from HOI, who will outline their 25,000 km ASEAN Corridor ride to Singapore and back on their Harleys;and AlankarMisra, who goes by the name of Sole Traveller and did a Trans-America ride in addition to several pan-India rides.
This year's iteration is also set to host the Dirty20 Enduro Challenge. Open for general participation by amateur enduro and adventure riders, this high-octane biking challenge is set to test man and machine to their limits, with participants standing a chance to win total cash prize of Rs 75,000. The youngest rider here is expected to be 8 year-old veteran SarthakChavan, who has undergone professional training in amotocross riding school in the state ofGeorgia, in the USA.
The IBW Mechanic Honour Roll, in association with Shell, is a nationwide campaign that seeks to recognize talented mechanics, with the requisite criteria being innovation, customization, and a general contribution to the culture of biking in India. Shell will present a POWER ZONE, featuring the Dyno Wars, Power Bikes display, and a Wheelie Machine that allows anyone to experience a wheelie without the danger of toppling over.
Mountain Dew will present the IBW National Stunt Championship,with this edition bearing witness to India's finest stunt teams battling it out in elimination rounds. Over 40 entries have been received for this competition, and 8 shortlisted teams will perform in front of two judges – FMX champion Shyam Kothariand stunt expert Bhuvan Choudhary.
A potential glimpse into the future of biking is on offer with theInnovation Bikedisplay, with several models being showcased; including the Monowheel which, as the name suggests, is a single-wheel vehicle derived from the concept of planetary gear box, and the prototype Air-O-Bike, with an engine designed to run on compressed air.
These events will all be linked by the launch of theIBW Main Street. Serving as the pulsing centre of the festival, this path runs through the heart of IBW and acts as a conduit for all of its disparate parts to come together in a riot of colour, noise, and celebration. Strut your stuff down the pathway and dress up for the occasion, and you're sure to be joined by packs of riders in their club colours, solo riders keen to show off their crazy rides, and all the weird and wonderful individuals in outfits of their own that are sure to catch everyone's attention. Lined with bars and tents, this is the street that never sleeps, with bikes revving, cameras flashing, festival-goers carousing, and DJs adding to the din on bridges suspended overhead.
India Bike Week is also set to sweeten the deal for loyal fans flocking to the event with the introduction of the IBW Bike Raffle. A custom-made Royal Enfield by Mean Green Customs will be given out to one lucky IBW ticket holder! There will also be 5 exclusive British icon Vintage Bikes for display, especially for all IBW participants.
Taking The First Step
This year, the event organizers have devoted themselves to encouraging riders hesitant to take the plunge to set off on the trip, and done everything in their power to make it as convenient an experience as possible. Special initiatives have been undertaken to ensure that the 'Great Migration to Goa' won't be a lonely one, with over 300 biking clubs across the country networked with to help contact and manage riders interested in heading to Goa, allowing for new friendships to be forged over the course of the trip. Solo and club riders scattered across cities in India will be able to journey down through highlighted feeder roads and link up on highways as they ride to their ultimate destination.
As always, the safety of its riders is of paramount concern to the organizers, who have established the Ride to IBW: three main feeder routes to Goa (Delhi via Mumbai and Pune, Chennai via Bangalore, and from Hyderabad) to be listed on the IBW website with each city's start dates, marshaling by experienced Road Captains, andan ICU Ambulance support en route to the festival.
Being completely brand agnostic, India Bike Week is the first and only festival in India that's built exclusively around bikes across manufacturer lines. The potential of the biking community in the nation has been tapped into by the IBW team, expanding its reach across markets in India and cultivating associations with some of the biggest brands in the country, including principle sponsor Shell Lubricants, followed by manufacturer partners Harley-Davidson, DSKBenelli, Ducati, and Triumph, and sponsors Mountain Dew, CEAT,and Wrangler.
Additionally, Harley-Davidson and DSK Benelli have mystery bike unveilings planned for the event, while Triumph has announced the Indian premiere of the new Bonneville Street Twin.
Commenting on the announcement, Martin Da Costa, CEO & Founder, Seventy EMG said,''India Bike Week 2016 will be our biggest edition yet. We've got never before seen experiences like the Moto Trails show, and our first Endurance Challenge alongside all our classics like the national stunt championships, Bike Expos, Bike Build Off and the Bikini Bike Wash. I'm probably most excited about creating IBW's Main Street for the first time this year. We're working hard to develop it as a 'Sturgis Motorcycle Rally' meets the 'Rio Carnival' experience for the Biker Brotherhood and we know it's going to be high, wild and rock and roll amazing. We really felt that IBW had arrived in a big way in Feb 2015 and it was such a pleasure when EEMA voted it India's best Public Event. Now we're looking forward to really making it the biggest and best Bike Festival in Asia."
Adding on, Swati Mohan, Business Head, Fox International Channels India said,''What was a closed circuit of automotive owners has today expanded into a vast thriving social circle of passionate explorers fueled by the growing trend of adventure travel. Look back over the past decade and you'll clearly notice the rise in bikers in the country that signifies the steady growth of the biking culture in India. From the hardcore to the everyday biker, India Bike Week has matured into the ultimate destination that helps bring together the biking community in all its grandeur in the country''.
She added, "Fox life's association with India Bike Week reflects our positioning as not just a channel but a lifestyle brand. As a great addition to our network, the festival is a clear representation of a larger than life event and something that our viewers would definitely want to experience"