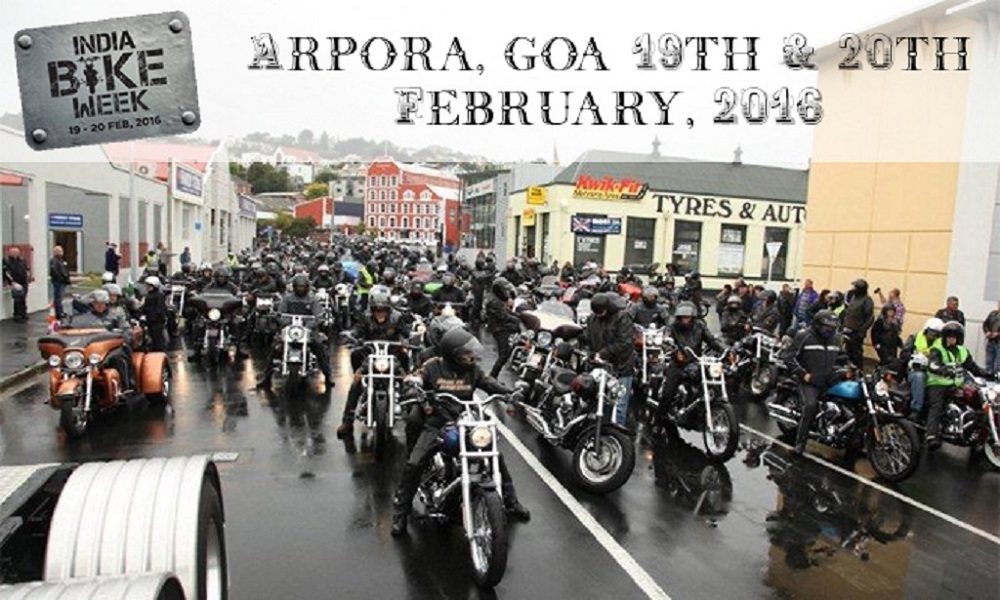 Biking and consumer brands head to Goa, targeting IBW's 12,500 premium biker audience
Award-winning event and festival design agency Seventy Event Media Group (70 EMG), alongside India's No.1 travel and lifestyle channel FOX life, will be taking INDIA BIKE WEEK 2016 to a whole new level. Slated for the 19th and 20th of February in Goa, IBW will host over 12,500 premium bikers and enthusiasts. The two-day festival has attracted a strong focus from consumer and lifestyle brands keen to engage with and activate this unique community. In a bid to further expand and build the biking cult in India, 70 EMG and FOX life have extended partnerships and associations with over 500 biking clubs across the country.
India Bike Week 2016 has seen Shell Advance reconfirm its position as the gold sponsor to the Festival, and has been working with 70 EMG and Fox Life to develop unique on ground and social media engagement points like IBW's 'Great Migration' – the Official Ride to Goa. Over 500 bike clubs from across India have been contacted by Shell and IBW as part of the Festival's club outreach programme. On site at IBW Shell Advance will be creating the Shell Powerzone to further cement is relationship with India's growing army of motorbike fans and adventurers.
CEAT, a first time sponsor at India Bike Week has ramped up the energy by supporting the 'Great Migration' Ride to Goa, as well as working with IBW to develop the Bike Care Zone, along with the Safety Sessions at 'The Big Trip Tent' lead by C.S Santosh.
On the pure biking front, and for the first time, India Bike Week has organized a Test Ride Zone for all its Bike Manufacturer partners.  It's an exciting move that will allow India's bike fans to try out some of the world's rarest and most expensive motorbikes.
In addition to using the IBW Test Ride Zone as a unique engagement point for new customers, Harley-Davidson, IBW's oldest Partner and Founding Sponsor, is using IBW as the focal point for its India Hog Rally for the 4th consecutive year, and IBW's thousands of bikers are looking forward to seeing five of the most unique Harley Davidson custom bikes at MAC and the amazing 12 Harley Davidson customs at IBW's Mod Bike Display.
India Bike Week's long standing relationship with Triumph Motorcycles has led to the development of the Triumph Tiger Training Academy activity at the Dirty 20 Enduro Challenge track onsite. Triumph will be hosting parties and exclusive Triumph Rides through Goa from IBW for its fast growing customer base.
DSK Benelli have gone full out to make their presence felt in Goa with the DSK Benelli Music Stage, the Benelli History Wall at IBW Vintage, Test Rides and the legendary Chai & Pakoda rides.
OYO Rooms have partnered with IBW this year and are supporting both 'The Great Migration' Ride to Goa and are working with the organisers to provide hundreds of rooms in Goa for the Festival's media and press guests, as well as the hundreds of competition winners and IBW Guests and partners coming to IBW this year.  25% discount is being offered to all IBW band holders.
In a first for the Festival, Mountain Dew has partnered with India Bike Week to support the IBW National Stunt Championship. This year the National Stunt Championship is powered by Mountain Dew, and the brand is developing an entire digital and social media content series to take advantage of the amazing bikers, energy and visually spectacular nature of the Festival and its fans.
On the party front, Pernod Ricard has extended its 4 year sponsorship of the Festival by supporting the legendary Howling Dog Bar, as well as working with IBW to design and build the Big Trip Bar, HOG Den Bar, Absolut Bar amongst many others.
Also for the first time, it's a great pleasure to welcome Beer Café as the official sponsor and 'Cheer Partner' of the brand new 'Beer Garden' which takes pride of place in the centre of India Bike Weeks' Bike Manufacturer Zone.
A strong music line-up seeing acts like Midival Punditz, and a "Biker Diaries" film festival has further been introduced for the very first time. It is no surprise then that the festival has also struck a chord and garnered new sponsorships from consumer brands like CEAT, Mountain Dew, Victorinox, and Jameson, amongst others.
Speaking about the festival, Mr. Martin da Costa, founder 70 EMG said, "It's just great to see the continued support of both our original partners, and new brands that see the value of what we have created with Indian Bike Week. I do think that it is a wholly unique audience at IBW, and when I look around at 7pm on the Saturday night of the Festival, it continues to amaze me that so many thousands of adventurous, fun seeking and interesting premium bike riders are in one place. They really are the opinion makers for a vitally important type of India, and I fully understand why so many brands have been in touch with us to engage with them at IBW."
According to Swati Mohan, Business Head, Fox Networks Group, "IBW has grown over the years and today has become a celebration of not just biking, but also a mecca for experience seekers and travellers. It is a meeting ground for passionate bikers, collectors, riders, tourists and their friends. It is such events and experiences that embody the very philosophy of Fox Life and bring it up close for our viewers to touch, feel and enjoy. The fact that the interest of sponsors to tell their brand story through IBW has only grown over the years, assures us that we are striking a pretty special chord with this event and the people, passion and fervour that comes with it."
With the event already establishing itself as India's largest biking festival, India Bike Week 2016 scheduled on the 19th and 20th of February will be a genuine brand agnostic gathering of the community – from travel and adventure bikers, collectors, sport bikers, mile-munching cruiser riders, trail and Moto Cross riders to witness some of the best attractions in biking culture spanning a free market for all bike accessory brands, live auction, competitions, Moto Art showcasing, performances by Moto Trials champion Dougie Lampkin and much more. The festival's yearly increase in participation and attendance is contributed to an exciting event lineup that remains loyal to its roots, while also including new attractions appealing to both the casual and hardcore fan.
Witnessing the sheer potential of growth of the community nationally, the IBW team this year is looking to further expand its reach amongst explorers, bikers and brands across markets in India.
To register, riders can log onto – http://indiabikeweek.in