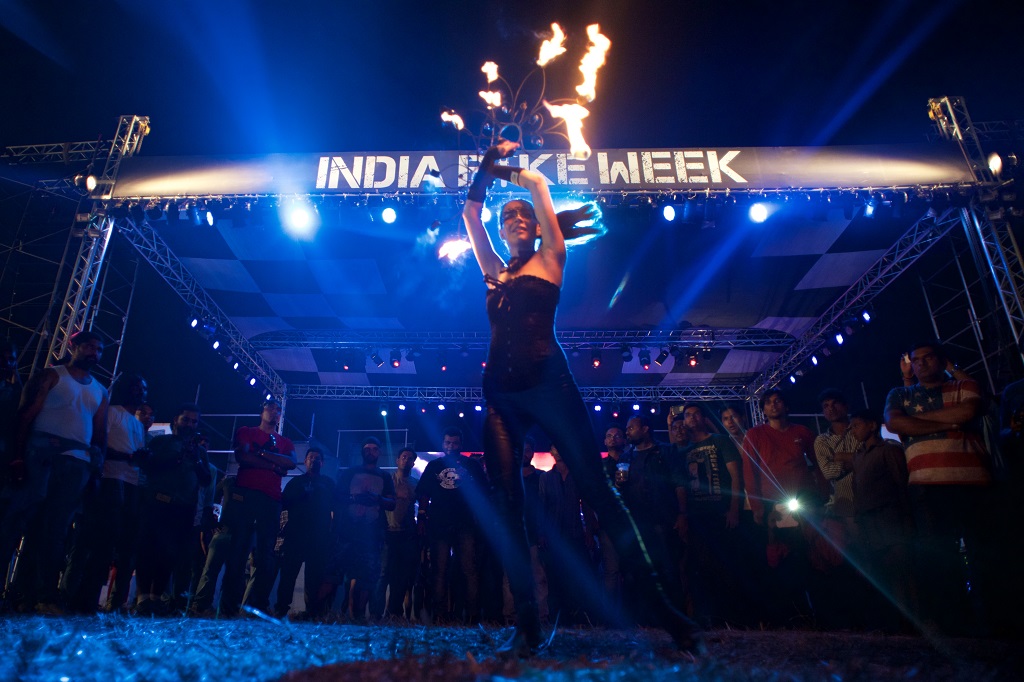 Entire Portfolio of UM Motorcycles  to be showcased at IBW
Collaborates with Leslie Porterfield, Fastest Woman in the World on a motorcycle
Celebration of ROAR's 1st club anniversary in Goa
New Delhi, October 30th, 2017: After the grand launch of the Renegade Commando Classic and Mojave, UM Motorcycles is all set to charm the streets of Goa as it participates at India's only motorcycling festival – India Bike Week.  The entire portfolio along with the new merchandise line will be showcased.
UM has also collaborated with Leslie Porterfield, the world's fastest woman to bring her to India Bike Week. Leslie will also be part of the celebrations for ROAR, UM's motorcycle club, as they celebrate their first anniversary in Goa.
Speaking on the occasion Mr. Rajeev Mishra, CEO, UM Lohia Two Wheelers Pvt Ltd said: "We're excited to be part of India Bike Week, India's only motorcycling festival.  We're participating for the second time, and it's special for us, as our motorcycling club turns one. We've been conducting a lot of rides from the company, as well as the dealer end, and are excited to have many of our customers ride down for the event. We're quite elated to have Leslie on board with us, as she will be sharing her motorcycling and racing experience with our customers. As ROAR turns one, we're hoping in the coming years, we increase its strength and chapters across India."
Leslie Porterfield holds three land speed records, and is titled the world's fastest woman by Guinness Book of World Records.  She will be giving away a Renegade Commando at India Bike Week as part of a contest.
ROAR (Rebels On A Renegade) was started last October, and in such a short span has 18 chapters across the country with 1000 members. The club also successfully completed the Hi-Land Quest, UM's first tour of Ladakh with 13 members undertaking the 15 day long journey.
About UM International, LLC
Known for crafting quality bikes that not only ride but conquer the road, UM Motorcycles International, LLC has established itself a leader in offering products that have changed the dynamics of transportation and riding. Since its inception, the brand has been constantly innovating and creating great concepts to provide exceptional transportation to its customers.
UM International's US based headquarters in Miami, FL lead the company's global strategy in sales, marketing, R&D, manufacturing, financial and after sales service efforts worldwide. Product design, innovation and engineering is born in the company's Miami based R&D and Design center and carries American DNA. With more than 1500 stores worldwide, the company
is present in more than 35 countries with manufacturing facilities through JV alliances in the Philippines and Bangladesh to attend to the domestic demand in these two markets and consolidate its expansion into more than 10 ASEAN (Association of Southeast Asian Nations) markets including Indonesia, Malaysia, Thailand and Vietnam.
About Lohia Auto:
Lohia Auto Industries is an automobile division of Lohia Global founded by visionary Late Mr. N.K. Lohia. Lohia has diversified operation in various sectors like Automobile, Handicraft Export, Retail Warehousing, Real Estate, Brass coil manufacturing etc.
Lohia Auto Industries is established in the year 2008 with an objective to provide clean, efficient, reliable and affordable inner-city & rural transportation. In the highly cluttered automobile market, company has carved a niche for itself with electric scooters. Keeping in mind the energy security of the country, Lohia Auto has launched five models till date which are OMA, OMA star, DX, FAME & GENIUS and e-Riskhaw 'HUMRAHI' & NARAIN(Passenger and loader both). Lohia Auto also launched with its brand of Diesel/CNG Three wheelers 'HUMSAFAR' in both segment i.e. Passenger and Cargo for Domestic and Exports market.
 The company has a manufacturing unit based out of Kashipur, Uttrakhand with capacity to produce 100000 units/Year of  2 Wheeler & 3 Wheeler. In addition it has in-house production of various key components and also houses ultra modern R&D department which provides and ensures innovative, Highly efficient & Durable electric vehicles to meet the ever growing demands of the domestic and international markets.
About UM Lohia Two Wheelers Pvt. Ltd (UML)
With similar ideologies to revolutionize the industry and change the dynamics of transportation, US-based UM International, LLC & Lohia Auto joined hands in September 2014 to form UM Lohia Two-Wheelers Pvt. Ltd. (UML). So far, an investment of INR 100 crores has gone into this JV for business expansion. Manufacturing has been already underway at the Lohia Auto's Kashipur facility in Uttarakhand which will also support the Government's 'Make in India' initiative.