DAPPER Gentlemen and women took on to the roads again with their classic motorcycles for a global celebration of motorcycling, style, friendship and banter all in aid of giving a two wheel salute to prostate cancer. Groups of Triumph riders, along with other makes and models dressed dapper and toured their respective cities in this stylish fundraising event The Distinguished Gentlemen's Ride, a global phenomenon founded by a bunch of Australian friends in 2012 and proudly supported by Triumph Motorcycles. The flurry of elegant riders on their Triumph's made for a pleasant sight on the Sunday morning, with an aim to create awareness on prostate cancer and raise money to support the research in the field of this fatal disease.
At least 50,000 dapper riders in over 500 cities across 90 countries have taken part and united for the world's largest motorcycling charity event upon their classic & vintage styled motorcycles. The numbers in India are also extremely encouraging with over 500 Triumph Motorcycles customers taking part in this unique celebration for a cause. This has been a popular event over the years with the Indian motorcyclist that has seen more than 1800 registered riders and raised over 5 lakh rupees from India.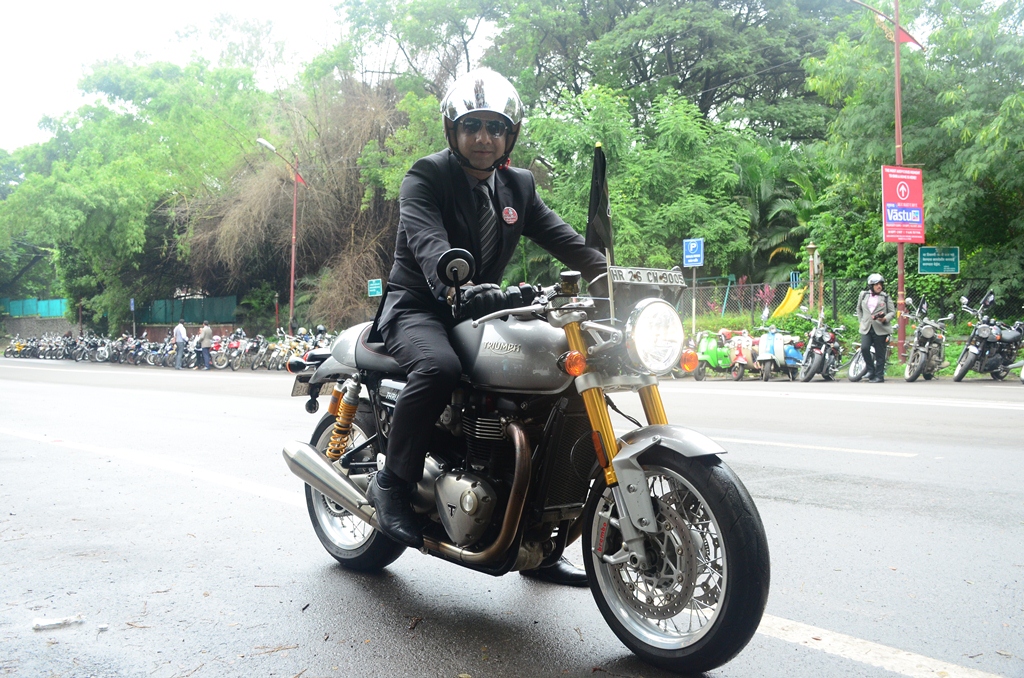 Triumph Motorcycles has supported the Distinguished Gentleman's Ride in 2014 & 2015 and is proud to have played its part in accelerating the global growth of such a fantastic initiative this year as well. Apart from the well-dressed folks it is also the vintage style of the motorcycles regardless of brand that brings the essence and flavor of the event.  Gentle folk and women will be riding on Cafe' Racer, Bobber, Classic, Tracker, Scrambler, Old School Chopper, Modern Classic, Sidecar, Classic Scooter, Brat Styled motorcycles.
The ride has a focus on raising awareness and as much money as possible to combat a disease that kills one gentlemen every hour somewhere in the world.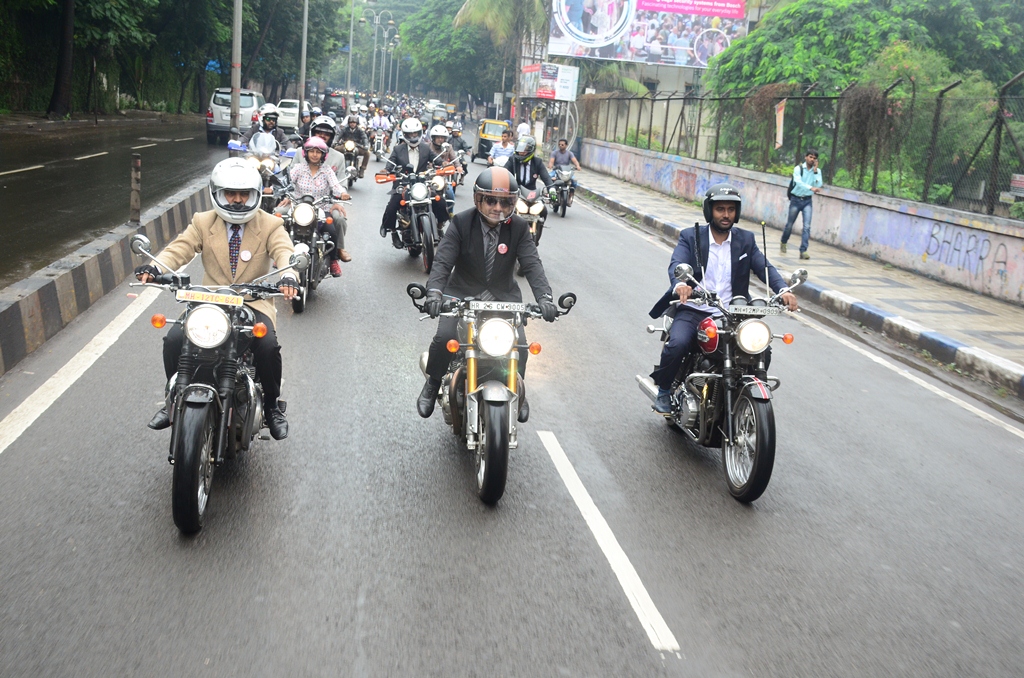 Distinguished Gentleman's Ride'16 took place on Sunday 25th September across the country and the last leg was held today in Mumbai and Pune. Close to 210 riders registered in both cities for the ride. Bikers in Mumbai started their ride at 8 am and made their first stop at the iconic Gateway of India and ended at Social in Lower Parel. The Pune ride was flagged of from the Triumph dealership in Pashan and ended at a popular café.  The event also recognized the efforts people put into dressing up so early in the morning by announcing titles like Most Distinguished Motorcycle, Most Distinguished Couple, Most Distinguished Gentleman, Most Distinguished Lady, Most Distinguished Support, Most Distinguished Moustache, Most Distinguished Beard and Most Distinguished JUNIOR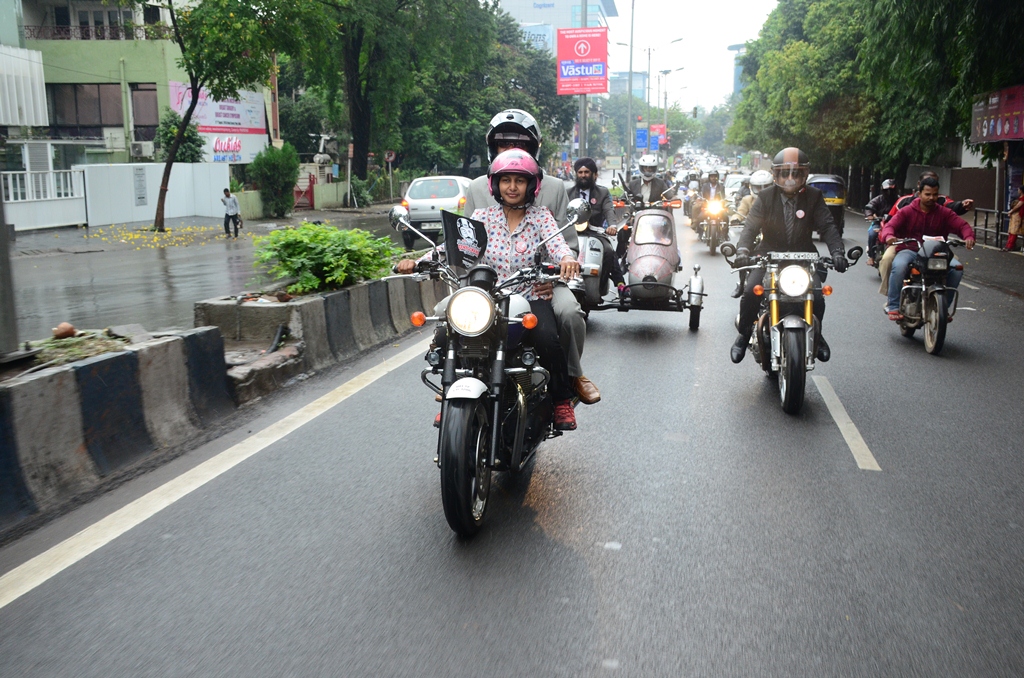 Mr. Vimal Sumbly, Managing Director, Triumph Motorcycles India Pvt. Ltd commented "The Distinguished Gentleman's Ride is a brilliant initiative which not only successfully establishes and strengthens the bond amongst fellow motorcyclists, but also is aimed at promoting a social cause.  We, at Triumph Motorcycles India, are very happy to have collaborated with the DGR for the third time in a row in India, which gives us just the right platform to provide our esteemed customers and brand patrons with a complete riding experience.
Mr. Sumbly further added "Last year bikers from 410 cities in 79 countries raised US$2,300,000 towards prostate cancer research. The 2016 fundraising goal is US$5,000,000 and we want to play an important role to achieve this goal. We have always seen passionate riders from across the country and it shows in the way they embrace  the entire process of following a dress code and riding in harmony with fellow bikers, it has also helped with breaking the stereotypes the society associates with men on bikes whilst raising funds for men's health issues."
The concept of the Distinguished Gentleman's Ride began with a picture of Don Draper from television's Mad Men.  This picture inspired the café racer aficionado Mark Hawwa to thinking about a Suit Ride in Perth. The idea quickly took off, starting in just a one city and then quickly growing into the global event we know today. A credible global partner who could provide the springboard and infrastructure to deliver the event on an ever growing worldwide basis was the need to hour and resulted in a partnership with Triumph Motorcycles.