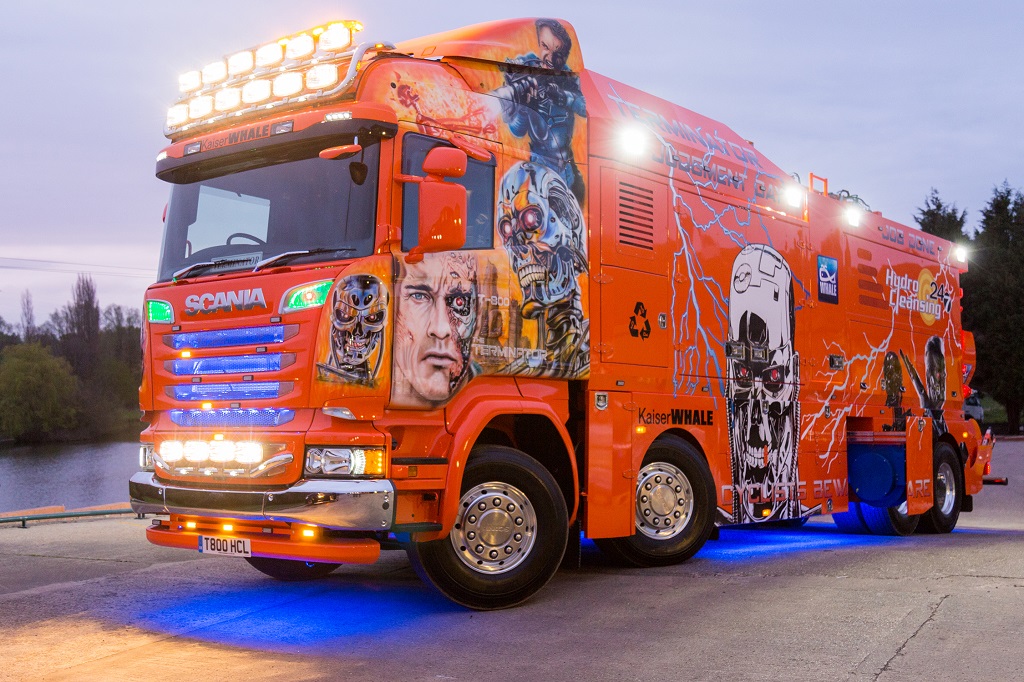 Cleaning and maintaining the super-sized sewers of London is an epic task that needs huge, specialised equipment. After all, the new 'super sewers' being built to replace the metropolis' existing Victorian-era waste management infrastructure can be as much as 100 metres deep in places, while the enormous Crossrail programme is just one of the city's ongoing major building projects that produce more than their fair share of silt and sludge. Maintaining these sewers is one of the largest wet waste disposal projects in Europe.
So make way for the 'Terminator' vacuum tanker, specially commissioned by UK company Hydro Cleansing Limited. Terminator, which cost its owners GBP 750,000 (EUR 985,000) was unveiled in April at the Commercial Vehicle show in Birmingham, England, and is expected to be in service by the early summer.
Specially-adapted Scania chassis
This massive machine took two years to build. It was designed by Hydro Cleansing's Managing Director Steve Hoad in collaboration with Whale Tankers, Kaiser, Tekelite and Scania. The truck is based on a four-axle Scania R 730 Highline chassis that has been further adapted to accommodate the incredibly powerful vacuum tanker that is needed.
Steve Hoad explains, "There's the main engine and main gearbox, and then the powertrain is split halfway along the truck, where there is a transfer box with a secondary gearbox that's an Italian-designed OMSI box. The hydraulic auxiliary allows the driver to have separate control of the jetting pumps suction pumps and air compressors that make up the tanker." He adds, "It's a machine that's heavy duty everywhere you look."
How a vacuum tanker works
Terminator joins another huge vacuum tanker, the 'Megatron', which sits on a Scania R 620 and which cost more than GBP 600,000 (EUR 770,000), in Hydro Cleansing's fleet. Terminator's vacuum tanker will work to the same principle that other such tankers do, albeit both Terminator and Megatron take only a day to do a job other machines would need four days for.
The vehicle extends long, flexible pipes down into sewer drains to draw up liquid waste by creating a vacuum within the tank. The tanker can recycle and clean sewage water – it has a filter with a capacity of 300 parts per million – which means the vehicle can sit over the sewer and clean the water before recycling much of it back to the system. The remaining waste slurry is transported into the tanker to Hydro's own treatment centre, thereby minimising as much as possible the final actual waste product.
Safety the priority
Safety was a priority for Hydro Cleansing in the design and building process, and Terminator has been designed to be one of the safest possible heavy good vehicles (HGVs), with a 360-degree camera visibility system supplied by Vision Track, extensive lighting, warning signs and extra training for the engineers and drivers.
This is not only because HGV standards in London have recently been tightened, but because eight years ago a Hydro Cleansing truck made by another manufacturer lost one of its wheels during a journey; tragically, a pedestrian was killed. The wheel loss happened just 12 hours after the truck had been inspected and signed off by a main dealer.
Now Steve Hoad has brought maintenance of his fleet of 32 vacuum tankers and road-sweepers in-house. All vehicles are inspected every four weeks and go through a Ministry of Transport test twice a year. Hoad and his team also work very closely with Scania's dealerships in Lingfield, Sussex and Purfleet, Essex, and he is more and more convinced that Scania is the choice for him.
Why Scania?
"To me, other manufacturers are just not as reliable as Scania. It's the attention to detail and the care Scania takes in manufacturing that's impressive." Hoad also praises Adrian Inscoe, Regional Director for Scania UK's South-east Region, for his support in the Terminator's development process, describing him as "a rock".
All of which is leading Hydro Cleansing to gradually phase out other vehicle makes from its fleet. "I expect the whole fleet to be Scania over the next 18 months or so," says Hoad. That's no small undertaking, when you consider the trucks cost an average of GBP  320,000 per unit (EUR 410,000), not forgetting the huge costs of Terminator and Megatron on top of that.
But having started the business with just GBP 800 (EUR 1,000), Steve Hoad now has a business with a GBP 12 million (EUR 15.5 million) a year turnover. Hydro Cleansing are cleaning up.