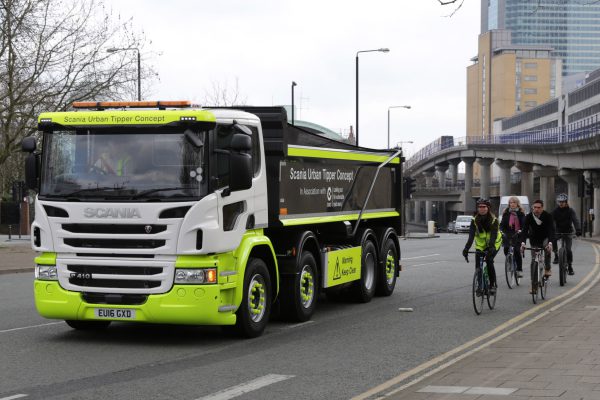 While some trucks have blind spots that pose a danger to pedestrians and cyclists, other trucks are designed with far better visibility, according to a recent study by the Loughborough Design School at Loughborough University.
The research – on behalf of Transport for London, the local government body responsible for the transport system in Greater London – has been prompted by concerns for the safety of cyclists and pedestrians. While road safety in the UK has improved over the past decade, the number of injured or killed cyclists has increased.
Loughborough University has compared the blind spot size in the 19 best-selling vehicle models in the UK. It found that low entry cabs generally offer better direct vision when compared to standard cabs. But it also found that the Scania P cab shared many of the good visibility characteristics of the low entry cabs. A cyclist is visible to the driver in immediate proximity to the Scania P cab while in some other brand cabs the cyclist is obscured for a distance of 1.5 metres. Pedestrians standing in front of the truck will, in some cases, not be visible unless nearly one metre from the cab, while the distance when they can be detected by the drivers in low entry cabs is nil and in Scania's P cab 20 centimetres.
Reduces blind spots
"With many of the characteristics of a low-entry cab, the Scania P cab has great direct vision, which drastically reduces fatal blind spots," writes the Brussels-based NGO Transport & Environment. The organisation has drawn this conclusion by combining the obscuration distances in Loughborough study – distance from the truck where cyclist or pedestrian cannot be fully seen – for cyclist to the left, cyclist to the right and pedestrian in front of the truck.
According to the Loughborough Design School study, vehicles with higher driver height above the ground generally have larger direct vision blind spots. "However, the further analysis of the situation for the passenger side rear cyclist and the central pedestrian in front of the vehicle illustrate that the specific design of features such as the driver seat location, and the design of the window and windscreen apertures can affect the size of the blind spots," the study summarises.