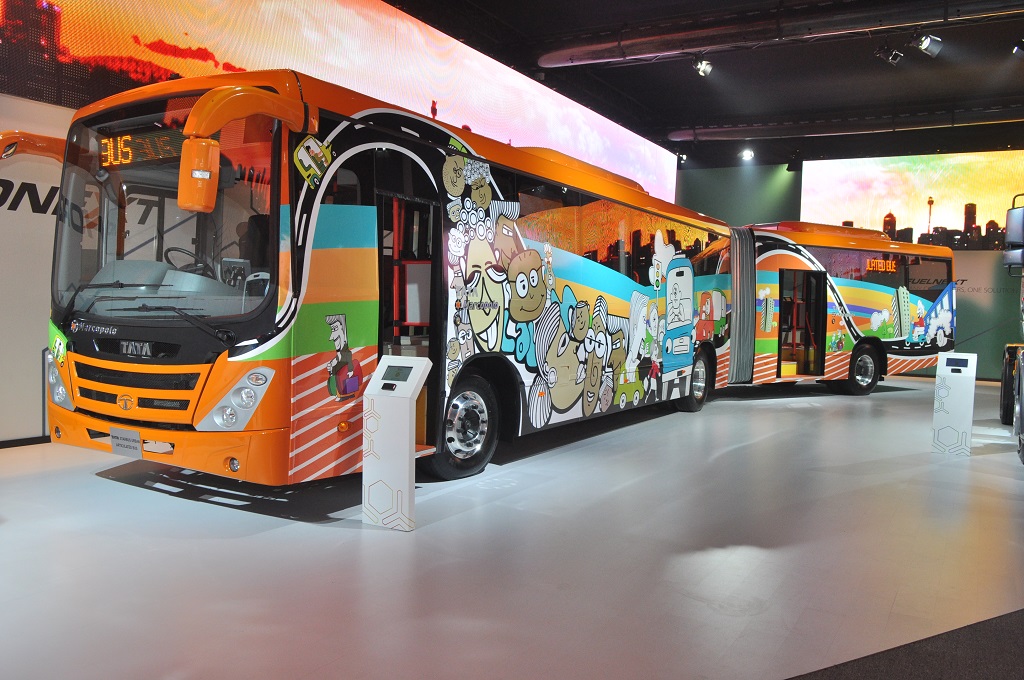 Also launches the new Tata Ultra new 'Ultra BS3 – Safe School Bus' at the SIAM Bus and Special Vehicle Show, 2015
Enables real-time tracking of Tata school buses, ensuring safety of children and convenience for parents and schools.
Will be a default feature in the Tata Ultra range of school buses.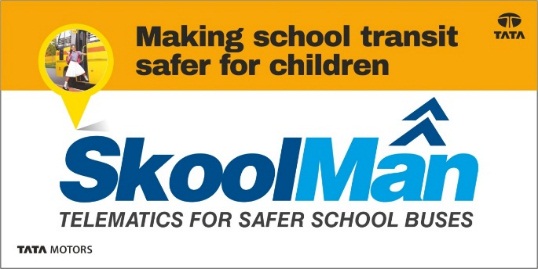 Tata Motors today launched 'Tata SKOOLMAN', a telematics based tracking solution, aimed at addressing pressing concerns over student safety during school bus travel. Tata SKOOLMAN will be a standard fitment on the Tata Ultra range of school buses and will also be available for fitment on other models of school buses in the after-market.
Taking the initiative of school bus safety forward, Tata Motors also launched the all new 'Ultra BS3 – Safe School Bus', today, equipped with Tata SKOOLMAN at the SIAM Bus & Special Vehicle Show 2015 (BSVS) hosted at India Expo Mart in Greater Noida.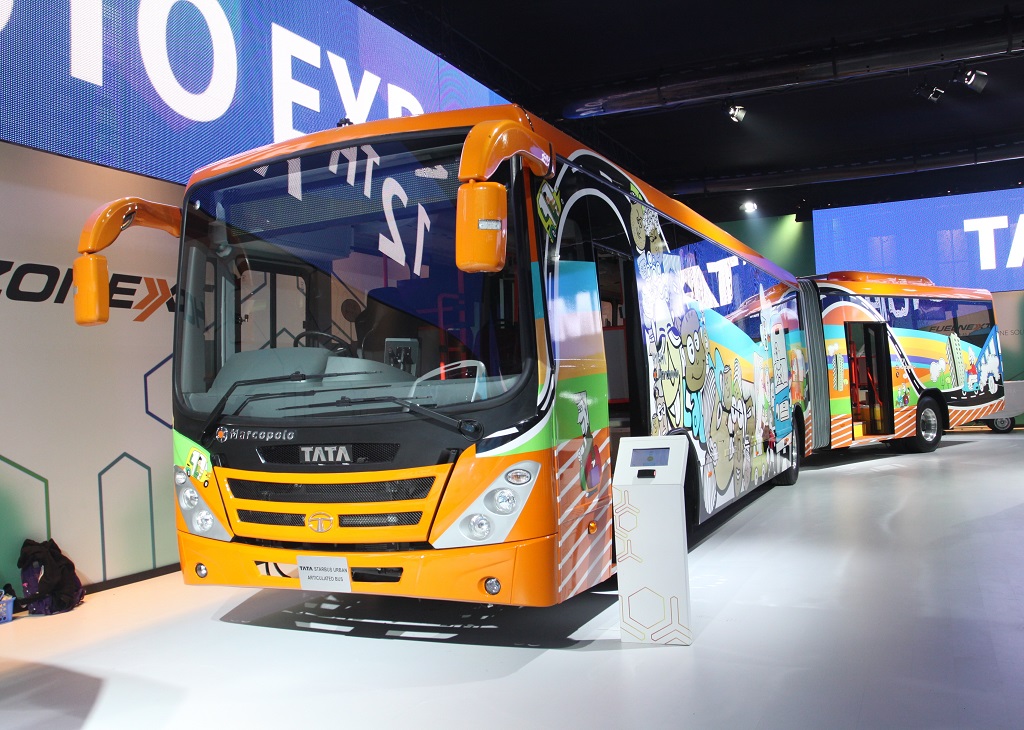 Besides providing a host of safety features, Tata SKOOLMAN also makes it convenient for parents to track the arrival and departure of their children in real time (through SMS alerts), live tracking on a map or via a mobile phone application. Tata SKOOLMAN also provides an effective fleet management tool for schools/bus fleet operators to plan bus routes better and manage their school bus fleet more effectively.
Commenting on the occasion, Mr. R Ramakrishnan, Senior Vice President, Commercial Vehicles Business Unit, Tata Motors said, "Safety of children is of paramount importance to Tata Motors as it is to parents who entrust them in the hands of schools every day. In our endeavour to make School transit safer, Tata Motors are proud to announce the launch of the Tata SKOOLMAN telematics system and the Tata Ultra  Safe School Bus here today. We are confident that these products will represent a giant step towards ensuring safe transit for school children.
Mr. Ramakrishnan further added "In addition to technological enablers, safety of school children is also dependent to a great extent on the people involved in school transit – drivers, school bus staff, parents and most importantly school children themselves. It is important to sensitise them as well as create awareness about all aspects of children's safety. In this direction Tata Motors has launched several special initiatives such as Hamare Bus Ki Baat Hai' and 'DREAM IT TO WIN IT'. The programs are meant to familiarise, train and sensitise all stakeholders, in various aspects of children's safety during school transit."
Features of Tata SKOOLMAN:
Convenience for Parents:
Triggers an automatic SMS alert to parents/guardians, on arrival of the bus, for just in time pick-up and drop
Empowers parents with a mobile application to track the school bus carrying their children, through a map on a real time basis
Notifies the parent on the location of the bus, through a SMS based query system
 Safety for Schools:
Tracking of school buses on real time basis to ensure safety of the children onboard – an update is generated every 10 seconds
Schools receive a notifications on instances of unsafe driving through a SMS or e-mail alert
Schools can stay assured of data security against any unauthorized access through 256 bit AES data encryption technique for data communication and dedicated server space for school data
Prevents entry of buses in zones that schools perceive unsafe for children by geo-fencing the restricted regions
Efficiency for Bus Fleet admins/owners:
Plan and deploy the fleet in the best possible way through route management facility – define bus stops, create and manage routes
Analyze and optimize the performance of every bus in the fleet, based on an extensive set of fleet usage reports and thereby increase the productivity of the entire fleet. The reports can be generated

Bus wise, route wise, bus-stop wise or driver wise
On Daily, weekly and monthly basis
For Single vehicles as well as fleets

Ensures optimum availability of the fleet by using fleet related reminders to avoid missing any of the bus related renewals
Minimizes fuel consumption and reduces the carbon footprint by tracking the duration for which the bus was idling through 'engine-Idling monitoring'
Apart from technology and safety related features, Tata Motors is also working with all stake holders involved in School Bus travel (students, parents, school bus attendants), to sensitize them towards accident prevention and tackling emergency situations through various School Bus Safety programs. Building on the activity, Tata Motors recently conducted the 'Dream it to win it' essay writing competition & 'Hamare Bus Ki Baat Hai' (also called Good Citizen campaign) at various schools across the country.
Hamare Bus Ki Baat Hai: Tata Motors recently trained 15,000 school bus staff on school bus safety across 41 cities, 295 schools, through 302 sessions, under the 'Hamare Bus Ki Baat Hai' school bus safety program. 'Hamare Bus Ki Baat Hai' began in 2013 with interactive sessions designed with the objective of sensitizing school bus staff, on the safety of children during school bus travel. Furthering this initiative, Tata Motors now aims at sensitizing parents about the 'Hamare Bus Ki Baat Hai' initiative to better understand actual safety concerns during school bus travel, in turn prompting parents to impart behavioral training during school bus travel and to take necessary measures in case of accidents, also giving caregivers time to react and helps keep children safe.
Dream it to win it: While the previous activities carried out under the School Bus Safety initiative have largely addressed drivers and school bus staff, Tata Motors recently concluded another school bus safety program titled 'Dream it to Win it', a unique drawing and collage making competition for school children, around school bus safety. Tata Motors organized the 'Dream it to win it' program across 21 cities with participation of over 3.9 lakh students from over 1900 schools across the country.
Tata Motors is the country's largest bus manufacturer with the most complete range of transit vehicles that meets every need, arising from day-to-day travel. The company has continued to be a leader in this segment not just by setting technological benchmarks, but by adapting innovations effectively to suit Indian travel conditions. Tata Motors has also developed a wide variety of buses and coaches that cater to the entire gamut of buses – from luxurious inter-city travel options, to safe transport choices for school going children.
Furthermore, Tata Motors has also developed Electric Hybrid buses and Articulated buses to meet the future transport needs for the 'Envisaged Smart Cities'.
ABOUT THE TATA MOTORS BUSES SHOWCASED AT SIAM BUS & SPECIAL VEHICLE EXPO 2015:
Tata Motors also showcased a range of buses across segments at the SIAM Bus and Special Vehicle Show, 2015.
Vehicles Showcased at BSVS 2015:
Tata Ultra – Safe School bus
Tata Ultra Midi 900 mm AC
Tata Ultra BS4 – 3 L Engine AC vehicle
Tata 1512 Luxury Bus
Tata Articulated Bus – Long City Bus
Tata Winger DICOR BS4
The Tata Ultra Safe School bus – To further reiterate dedication towards safety for school children, Tata Motors introduced the Ultra BS3 – Safe School bus. This concept incorporates some unique safety features in a Tata Motors 'SKOOL BUS' such as, two cameras fitted in the bus – one on the front windshield & one in the saloon area, a monitor to capture & display real time images, a DVR System with built-in GPS sensors, rear view cameras with display monitor mounted on the dashboard, door buzzer & indicator on dash board, electronic front destination board and a stop request switch on each seat location.
Ultra Midi 900 mm AC – The 'URBAN' buses from Tata Motors with a smart new front fascia, have been designed for safety, comfort and convenience for passengers and better operating efficiency for State Transport Authorities.
New generation ISBe Cummins fuel efficient engines in the Tata 'URBAN', with new 6-speed overdrive gear box and cable shift mechanism for effortless gear shifts, ensures adequate pick-up and power while ferrying
passengers. A large number of Tata 'URBAN' buses being fit with 'Automatic Transmission', ensures greater on-road performance for a smooth jerk-free ride.
Ultra BS4 – 3L Engine AC vehicle – The Tata Starbus ULTRA BS4 AC bus is an ideal solution for staff transportation, tours and travels, school application, stage application intercity without damaging the environment.
The Tata Ultra BS4's indigenously developed 3L CRDI BS 4 Engine is a unique offering from Tata Motors providing host of benefits for the customers.
Bed plate for improved NVH and low distortion – Less noise and vibration
DOHC, 4 valve, central injector
Gallery cooled pistons on high rated versions
1600/1800 bar Piezo Common Rail – Smoother torque curves leads to lesser gear shifts
Variable Geometry Turbocharger
Multilayered steel Cylinder head gasket
DC motor linear Electrical EGR with EGR cooling
G rotor oil pump
Longer service intervals & oil drain intervals – Lowest Total cost of ownership
Given its advantage of being environmentally friendly and economically beneficial, the Tata Starbus ULTRA BS4 AC bus, provides for an apt transport solution for BS4 cities. While it provides fuel efficiency and cost savings to operators; it also addresses the growing needs of a flourishing city.
1512 Luxury Bus – Tata Luxury Bus is based on an ACGL Body and is designed with a new Jupiter Face. This bus is designed with the focus on high-end staff, contract segment and tour & travel segments. In a country like India where design meets stability & robustness, this bus has an all Metal Face, offering not only a new look design but also strength.
Designed on the Proven LPO 1512/55 chassis this vehicle offers the reliability & robustness of application.
This Bus has Pushback seats designed to offer maximum comfort and provision of AC & other infotainment features based on individual requirements.
Articulated Bus – Long City Bus – The Articulated Bus upholds one of Tata Motors core values of developing environment-friendly and efficient products for public & private transportation. These Articulated Buses are the future of rapid urban mass transportation system, with a signature single-deck design comprising two rigid sections linked by a pivoting joint. The vehicle has a longer overall length of 17.95 meters as compared to other single-decker rigid-bodied buses and hence greater passenger capacity. The Long City – Articulated buses lead to fewer vehicles on roads, thereby reducing the overall traffic congestion.
This in turn leads to overall lesser fuel consumption and reduced carbon emissions. Articulated Bus is designed to carry more passengers (seating capacity – 43, standing capacity up to 48) owing to its body design, this can scale up pphpd (passengers per hour per direction) without much of investment on infrastructure.
This bus has an AC with pneumatic door operation to provide a comfortable ride to passengers in the urban transport environment. The wider doors provide ease of access for differently-abled passengers and the elderly. Its wider doors ensure swift and simultaneous boarding and disembarking of passengers.
Winger DICOR BS4 – Reiterating its commitment towards the environment and reducing carbon emissions, Winger India's first MAXI Van is now available in BS4. Winger will be available in Tours &
travel, staff transportation, school bus application and ambulance. It is powered by proven 2.2 L DICOR Diesel engine with hydraulic clutch.
Proven 2.2 L DICOR Diesel Engine
Flat Torque curves for smoother gear shifting apt for driver driving long routes
Hydraulic Clutch for smoother rides
Mc Pherson Strut Independent Suspension Better comfort and
Lowest Total Cost of Operations in its class
3 Years/3 Lac Kms warranty
Higher oil drain interval ensures better economics for operators
Best in class mileage
While it provides fuel efficiency and cost savings to operators, it also addresses the growing needs of a flourishing city without damaging the environment.