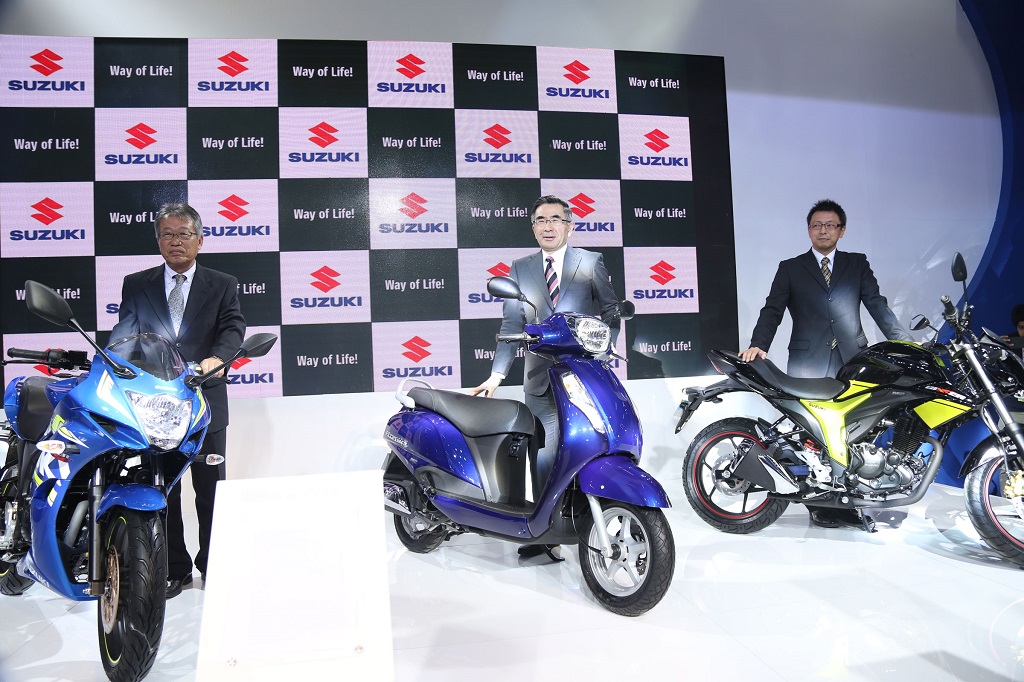 Suzuki Motorcycle India Private Limited (SMIPL), a subsidiary of one of the world's leading two-wheeler manufacturers, Suzuki Motor Corporation, Japan today unveiled the All New Access 125 scooter and the revamped Gixxer motorcycles at the 13th Auto Expo in Greater Noida. The All New Access 125 will be available in the country from April 2016 onwards.
The Access 125 has long been one of India's favourite scooters and Suzuki has taken the Access 125 to the next level with a full model change of their flagship scooter. The All New Access 125 is powered by the cutting edge                technology, developed by Suzuki from its MotoGP racing experience, resulting in top class fuel efficiency and powerful acceleration.
The new Access 125 is designed to be well accepted by a wide range of customers, both young and old alike. It boasts features like the longest seat, largest under-seat storage in the segment, larger floorboard, front pocket, optional DC socket, first of its kind Suzuki Easy Start System, multi function instrument cluster with digital display and steel front fender and leg shields for added protection and durability.
In terms of design, the new Access 125 has a modern and sophisticated look with a chrome finish, 3D emblem logo and rich bodywork with stylish, edgy lines. The scooter will also be available with an optional Front Disc Brake and alloy wheels. The new Access 125 will be available in 5 colours – Pearl Suzuki Deep Blue No.2, Candy Sonoma Red, Pearl Mirage White, Metallic Matt Fibroin Gray andGlass Sparkle Black.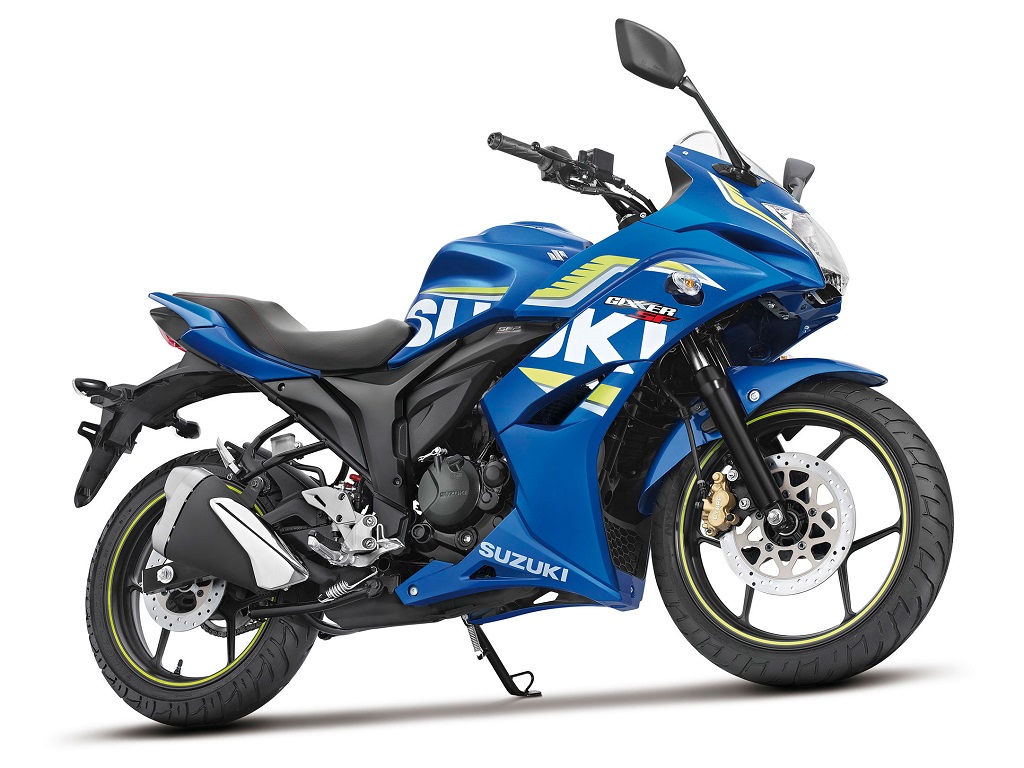 The Gixxer has received praise from Indian critics and users for its exceptional riding performance and best fuel economy in its class. Suzuki engineers have succeeded in making the Gixxer even more desirable than before, with the provision of a new rear disc brake variant. The rear disc brake will provide better stability and control while braking on all kinds of terrain. The rear disc brake will be available in all variants of the Gixxer and Gixxer SF.
Suzuki is also proud to present a new Gixxer SF – Fi variant which is powered by cutting edge fuel injection technology. The fuel injection engine intelligently monitors and adjusts the air to fuel ratio to maintain optimal combustion conditions leading to efficient fuel usage and enhanced throttle feeling. The fuel injection variant is available in the Gixxer SF MotoGP Edition.
In addition to the existing colours, the Gixxer will now be available in Metallic Lush Green / Glass Sparkle Black Dual Tone and the Gixxer SF will be available in Candy Antares Red / Glass Sparkle Black Dual Tone.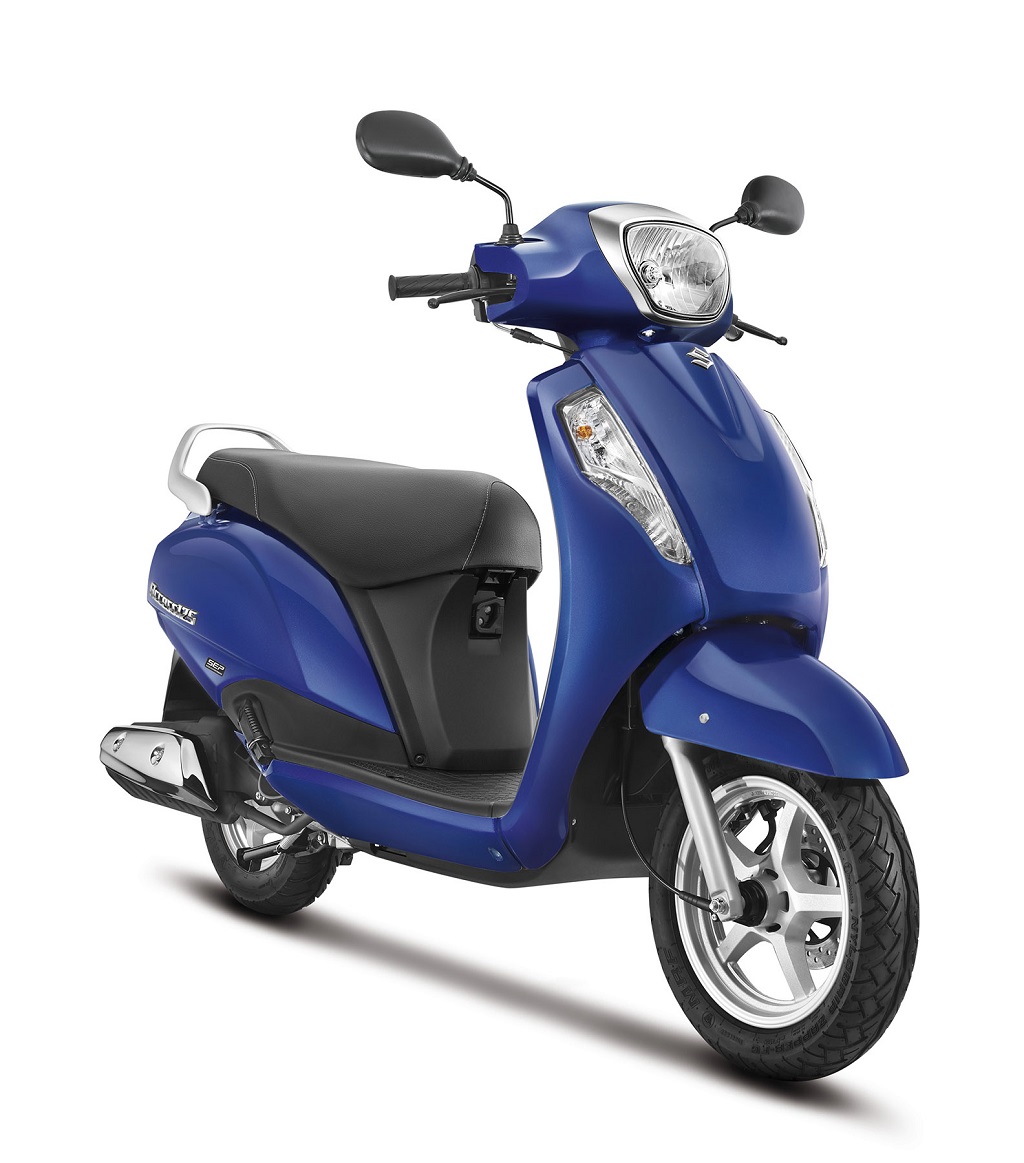 Mr. Masayoshi Ito, Managing Director, SMIPL said "Suzuki is proud to present two of our most successful models in the scooter and the motorcycle segments, at the 13th Auto Expo. We have given our best selling scooter a complete model change to meet the evolving needs and requirements of our Indian customers. We have also made noteworthy additions to our popular Gixxer and Gixxer SF motorcycles. Our engineers have worked very hard to further enhance these exceptional products and we are sure that end-users will be amazed to see the difference. This is a clear reflection of Suzuki's approach towards India as a key market and how we strive to provide our latest and best products."
NEW ACCESS 125
Suzuki's flagship scooter has had a complete model change, powered by the state of the art  technology. It boasts of a new rigid yet lightweight frame which improves mileage, straight line stability and cornering performance. This is further enhanced by a larger, 12 inch front tire and fine tuning of the suspension to improve road holding performance over rough and uneven roads. Loaded with features, the new Suzuki Access 125 will appeal to discerning riders of all age groups. The All New Access 125 has many advanced features like Suzuki Easy Start System with one-push starter, Push Type Shuttered Key, Service Indicator and more.
GIXXER
The Gixxer is Suzuki's flagship model for the Indian market, boasting of pioneering style & sophisticated appearance and is one of the most awarded bikes in the country. Like its predecessor, the new Suzuki Gixxer also carries the racing DNA of the legendary GSX-R series, providing unmatched riding performance. The addition of the new rear disc brake caters to the rider's safety and comfort, providing a stable and enjoyable ride for the urban rider.
GIXXER SF – Fi
Taking the level of its naked sibling a step further, the Gixxer SF – Fi is an exciting machine that has captured the hearts and imaginations of riders across the country. The new fuel injection technology gives excellent fuel consumption along with improvedthrottle feeling, thereby enhancing the overall ride experience. The new features, coupled with the proven performance of the Gixxer SF, are an invitation for riders to simply start up and zoom into the horizon.