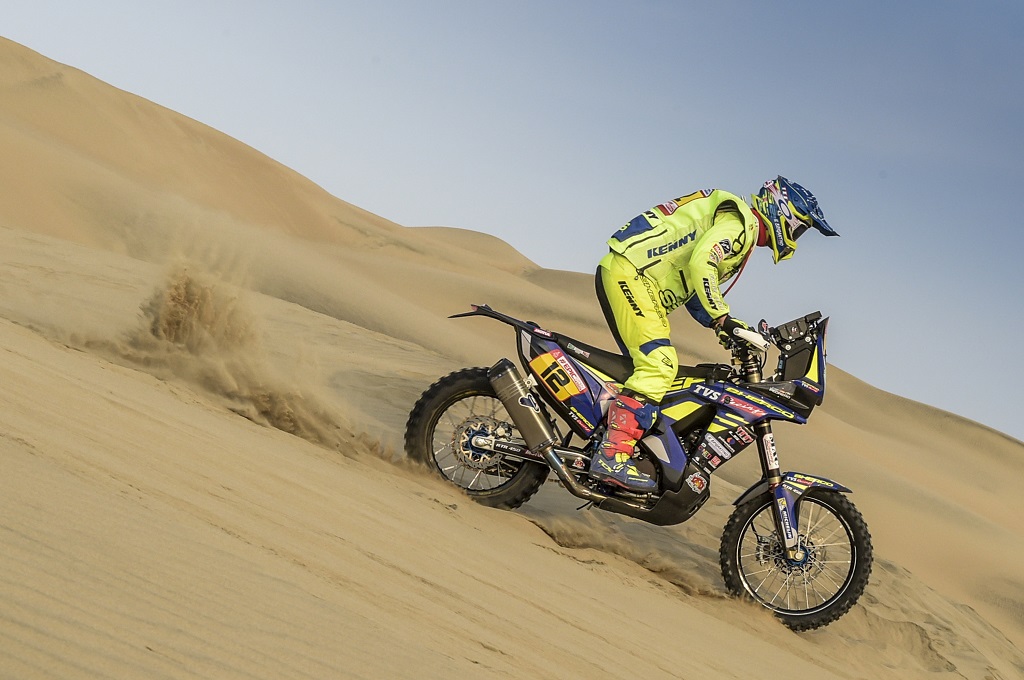 Uyuni, January 14, 2018:  The seventh stage of the Dakar 2018 saw the Sherco TVS Factory Rally Team speed through a stretch of 727 kilometers from La Paz to Uyuni with a 'special' of 425 kilometers.  Prior to this stage, the riders enjoyed a well-deserved rest day, in order to acclimatize, in Boliva's capital La Paz.
Tackling mud, puddles and slush, Joan Pedrero finished the seventh stage at 21st position.  The seventh stage was a challenge for riders, as it featured both, the longest 'special' yet, and a marathon stage – which meant that riders had no assistance in the bivouac and had to carry out necessary repairs (if any) themselves.  With this steady performance, Pedrero stands at 16th position in the overall rankings.
Commenting on his performance Joan Pedrero said, "I started today's stage at a good pace, but unfortunately got stuck in the mud and lost a lot of time.  Also, the high altitude in Bolivia was quite challenging for all riders.  But I'm happy to have completed the stage with a bike that is still in good condition and that is performing great."
Rankings for Stage 7: Joan Pedrero – 21st
Overall rankings: 16th
The eighth stage from Uyuni to Tupiza is touted as the second part of the marathon stage which will host the longest 'special' of the Rally amounting to almost 500 kilometers.  Preempted as the most crucial stage of Dakar 2018, the riders will have to navigate through sand dunes, which are over 3,500 kilometers, above sea-level, to finish it.
Sherco TVS Factory Rally Team racers, Aravind KP and Adrien Metge, who had to bow out the Dakar 2018 due to injuries, are undergoing medical treatment and are on a steady path to recovery.