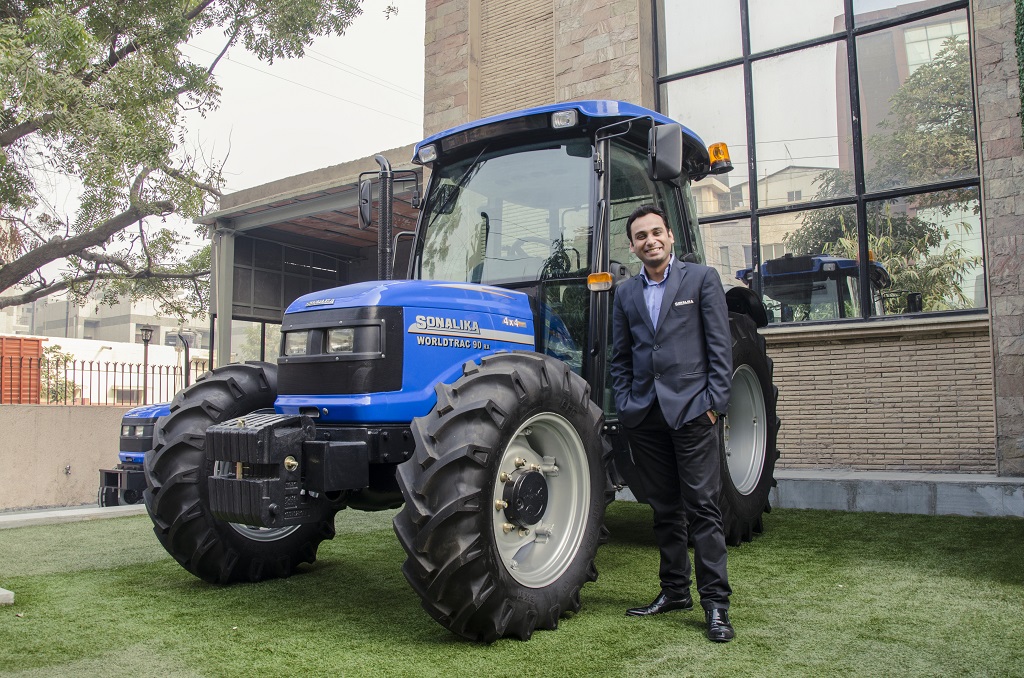 ~Cumulatively (April – Jan'17) Sonalika ITL increases its lead over other competitors in domestic markets~ ​
 ~Sonalika ITL Export crossed 10000 Tractors in FY'16-17~
15 February 2017, New Delhi: India's youngest and third largest tractor brand, Sonalika International Tractors Ltd, continues with its growth story in the new year achieving 8% sales growth in January' 17 over same period last year. The company has successfully amplified its lead over its competitors in the domestic market cumulatively in FY17. It has registered a whopping 5074-units sale over last year's 4699-units in both domestic and international markets in the month of January.
The commitment of the company to provide ergonomically advanced products to farmers has helped them maintain their momentum in growth. The tractor major has sold 4172 units in the domestic market and 902 units in the international markets during January 2017 as compared to 3864 & 826 units in January 2016. The company has strengthened its domestic presence by growing more than 17% and has also grown by 21% by shipping 10,084 tractors from April'16 to January'17.
Delighted by the company's successful growth, Mr. Raman Mittal, Executive Director – Sonalika ITL said, "The brand initiatives, strategies and after sale services have helped Sonalika ITL earn a well-deserved success in this month's sales. Our month on month growth is a testimony to our continued efforts to provide the best available experience to our customers through products and services with a holistic approach. Our commitment to providing products that are specific to the farmer's needs has allowed us to gain a lead over our competitors."
He also added; "We are proud of our achievements throughout this year, this also strengthens the bond among our stakeholders. The Union Budget'17 this time is a pro-farmer one, focused on the overall development of the agriculture industry, brightened our hopes of maintaining a steady growth."
Placing India on the world map to success, Sonalika ITL is marketing its products in over 80 countries, including 24 European countries, its products range from 20HP to 120HP, which are manufactured in India. Sonalika ITL has established one of the world's largest integrated tractor manufacturing plants equipped with world-class technologies in Hoshiarpur, Punjab. The new plant will provide a complete agricultural solution to cater to the need of the global and domestic markets, matching international standards in quality.
About Sonalika International Tractors Ltd:
Sonalika International tractors Ltd. is the country's heavy duty tractor range which produces technologically superior tractors in a range from 20HP to 120HP. Today, Sonalika ITL stands as 3rd largest tractor maker in India and is recognized in both domestic as well as international market as a formidable player. The company has earned the trust of over 7 lakhs customers in more than 80 countries in just 2 decades which is a remarkable growth.
With the increasing demands of tractors globally and to fulfill this demand, Sonalika ITL boasts of Sonalika World Plant a state-of-the-art integrated tractor manufacturing plant, strategically located in Hoshiarpur. This plant will have a capacity to manufacture approximately 2 lakhs tractors annually with a roll out time of around 2 minutes. The company is in a growing state and has strategic business partnership with Yanmar, Japan.