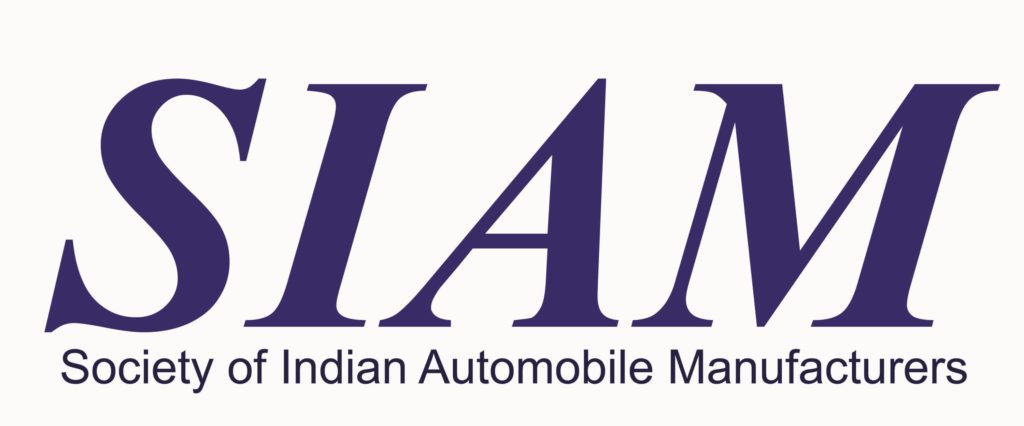 Quote:
Commenting on the August 2020 data, Mr Rajesh Menon, Director General, SIAM said "After a period of lull owing to the COVID 19 imposed lockdowns, the month of August 2020 has witnessed improvement in the sales figures of Two-Wheelers and Passenger vehicles. However, Three-Wheeler segment continues to post a de-growth of more than (-) 75% compared to August 2019. Industry is positive that the coming festive season will pave the way for a faster revival of the industry."
Mr Kenichi Ayukawa, President, SIAM stated "We are beginning to observe growth which is instilling confidence back into the industry, especially in the Two-wheeler and the Passenger Vehicle segments. Even though the industry witnessed year-on-year growth in August 2020, it is to be recognized that the base figures in August 2019 itself was very low, as Industry had shown a de-growth of about (-) 32% for Passenger Vehicles and (-) 22% for 2 Wheelers in 2019, over 2018, then. Still, 14% growth of Passenger Vehicles and 3% growth in Two Wheelers in August 2020 indicates trends of recovery for the Industry, though it is on the backdrop of pent-up demand and beginning of a Festive Season this month."
Industry Sales Performance of August & April-August 2020
Monthly Performance: August 2020
Production: The total production of Passenger Vehicles*, Three Wheelers, Two Wheelers and Quadricycle in the month of August 2020 was 21,62,367 units, as against 22,31,355 units in August 2019 with a de-growth of (-) 3.09%.
Domestic Sales:
• Passenger Vehicles* sales was 2,15,916 units in August 2020, compared to 1,89,129 units in August 2019, marking a growth of 14.16%.
• Three-wheeler sales was 14,534 units in August 2020 compared to 58,818 units in August 2019 marking a decrease by (-) 75.29%.
• Two-wheeler sales was 15,59,665 units in August 2020, compared to 15,14,196 units in August 2019, with a growth of 3%.
Performance: April – August 2020
Production : Total production of Passenger Vehicles**, Three Wheelers, Two Wheelers and Quadricycle in April-August 2020 was 53,35,683 units as against 1,16,39,355 units in April-August 2019 with a decline of (-) 54.16%.
Domestic Sales :
• Passenger Vehicles** sales was 5,52,429 units in April-August 2020, compared to 10,91,928 units in April-August 2019, down by (-) 49.41%.
• Three-wheeler sales was 40,022 units in April-August 2020 compared to 2,64,334 units in April- August 2019, down by (-) 84.86%.
• Two-wheeler sales was 41,34,132 units in April-August 2020, compared to 80,38,980 units in April-August 2019, down by (-) 48.57%
Commenting on the August 2020 data, Mr Rajesh Menon, Director General, SIAM said "After a period of lull owing to the COVID 19 imposed lockdowns, the month of August 2020 has witnessed improvement in the sales figures of Two-Wheelers and Passenger vehicles. However, Three-Wheeler segment continues to post a de-growth of more than (-) 75% compared to August 2019. Industry is positive that the coming festive season will pave the way for a faster revival of the industry."
Mr Kenichi Ayukawa, President, SIAM stated "We are beginning to observe growth which is instilling confidence back into the industry, especially in the Two-wheeler and the Passenger Vehicle segments. Even though the industry witnessed year-on-year growth in August 2020, it is to be recognized that the base figures in August 2019 itself was very low, as Industry had shown a de-growth of about (-) 32% for Passenger Vehicles and (-) 22% for 2 Wheelers in 2019, over 2018, then. Still, 14% growth of Passenger Vehicles and 3% growth in Two Wheelers in August 2020 indicates trends of recovery for the Industry, though it is on the backdrop of pent-up demand and beginning of a Festive Season this month."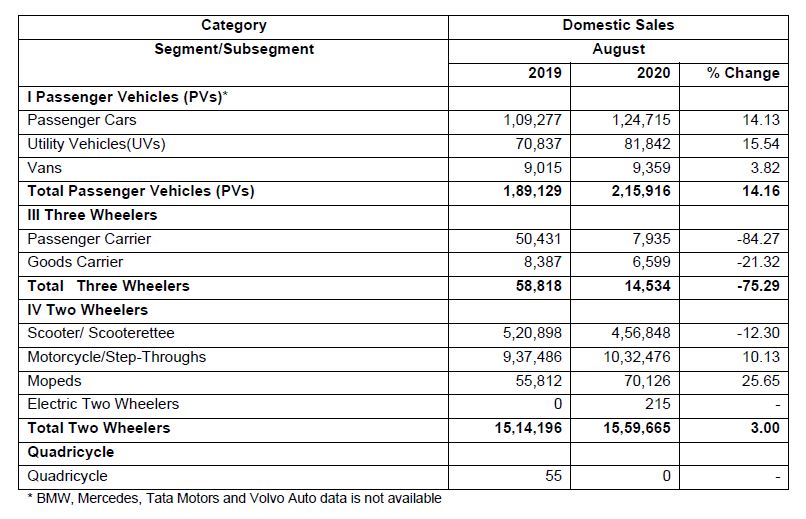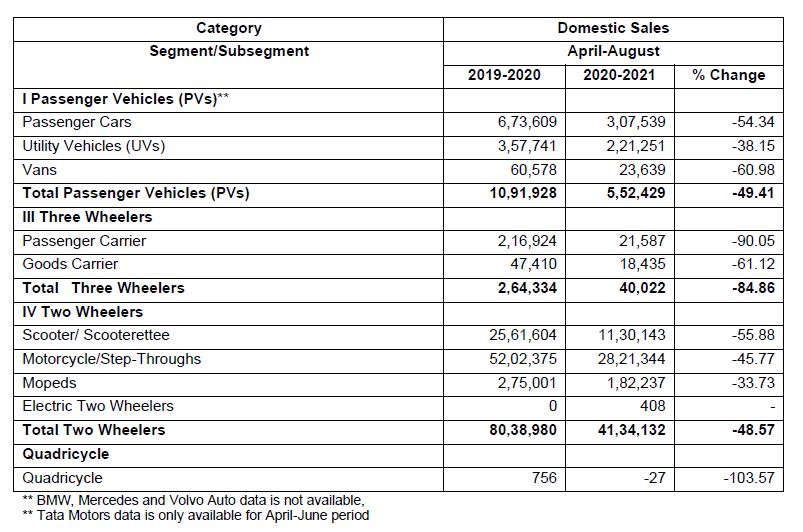 The following reports are enclosed –
Production & Sales – August-2020 – PVs, 2 & 3W-Monthly
Fl -August -2020 – PVs, 2 & 3W-Rpt – I – Cumulative
Fl – August-2020 – PVs – 2 & 3Ws – Rpt – II – Monthly & Cumulative
Fl – August-2020 – PVs – 2 & 3Ws – Rpt – III – Monthly & Cumulative
Fl – August-2020 – PVs – 2 & 3Ws – Rpt – IV – Monthly & Cumulative