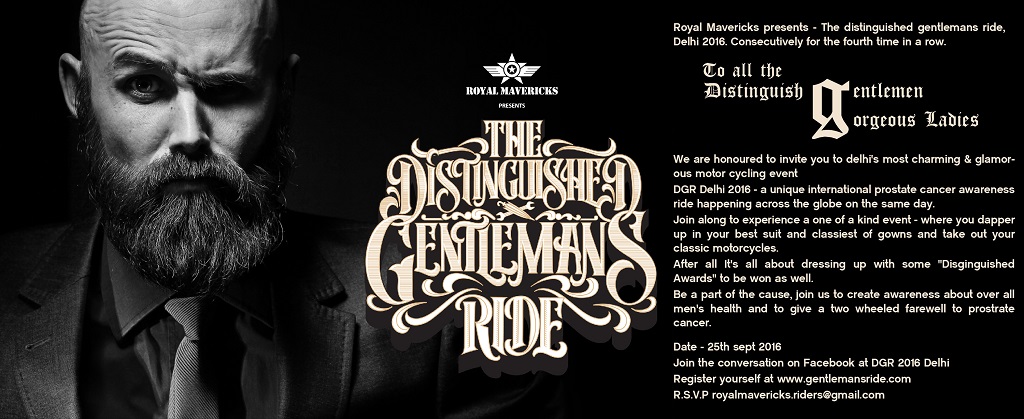 Royal Mavericks, New Delhi's largest Royal Enfield community is proud to host for the 4th time, the Delhi chapter of the worldwide event, The Distinguished Gentleman's Ride, 2016.
On Sunday September 25th 2016, New Delhi's streets will be abuzz with finely dressed gentlefolk on their classic and vintage style motorcycles, to support men's health.
'The Distinguished Gentleman's Ride', popularly known as DGR happens to be the world's greatest motorcycling charity event, shines a light upon the bikes, fashion and ideals of a bygone era, all for a good cause – raising awareness and funds for the fight against prostate cancer and men's health.
DGR was founded in 2012 in Sydney, Australia when it was decided a themed ride would be a great way to combat the often-negative stereotype of men on motorcycles, whilst connecting niche motorcycle communities together.
Being an International Ride Event, this year 50,000 riders in over 500 cities across 90 countries will take part in their local events. The fundraising goal is $5M (USD), which will be invested in both local and global prostate cancer researches and suicide prevention programs by the official charity partner, the Movember Foundation – Australia.
DGR was first brought to India in 2013, when it was organized in the Capital by Royal Mavericks and brought together over 200 riders. Success of this event encouraged the Team Mavericks to continue hosting this event year by year with increasing numbers of participants. The rest, as they say, is eloquently attired history:This year the ride will start from 4 POINTS BY SHERATON HOTEL ON NH 8 and the riders will drive through Delhi roads to end at the GRANDE CROWNE PLAZA GREATER NOIDA with a lavish unlimited breakfast spread.
The Royal Mavericks – Delhi Royal Enfield Riders Group was founded by Tarique Afaque in 2012, and is an exclusively Royal Enfield-only group of passionate bikers with a strict emphasis on safety and civic sense. Over past years, they have been the fastest-growing motorcycle community in India, and boast a widely diverse membership of different individuals from around the world, and proud to count among its ranks an unusually large active membership of female riders. Royal Mavericks as a group are passionate about social causes, social responsibility, charity and fundraising, equality and justice, and road safety. They are closely associated with Delhi Police, Delhi Traffic Police, Election Commission Of India and Ministry Of Culture etc. This and the group's love for the iconic Royal Enfield meant that they were a natural fit to host the Distinguished Gentleman's Ride in the past years, and are excited to outdo themselves this year.