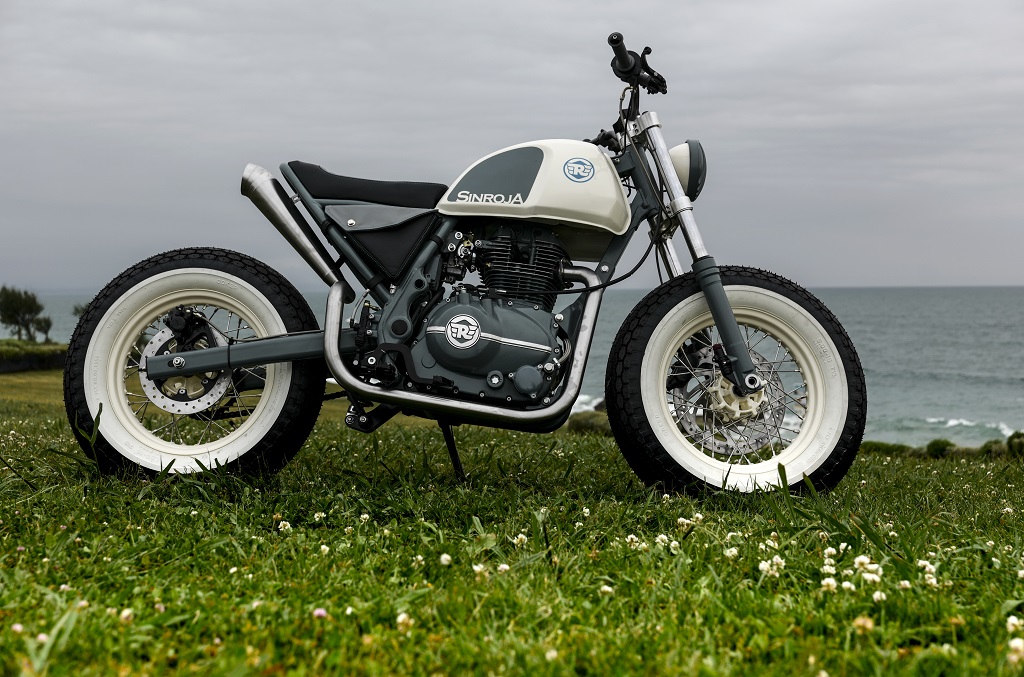 ~ Royal Enfield adds to its legacy of customization and expression through a collaborative build with Sinroja Motorcycles, coming up with the Gentleman Brat & Surf-racer, based on the Royal Enfield Continental GT and Himalayan ~
June 16, Biarritz, France: Royal Enfield, the world's oldest motorcycle brand in continuous production,  unveiled two new custom builds at the fifth edition of the  Wheels and Waves festival; Europe's landmark surfing and motorcycling event, between 14th – 18th of June, 2017 in Biarritz, France. Royal Enfield participated in this event for the third time, displaying two exclusive renditions – 'Surf Racer' and 'Gentleman Brat', along with its range of motorcycles and gear. The Wheels and Waves festival is a melting pot for all things around motorcycles, hipsters, customs, community, surf and sand, with a gathering of over 15000 visitors and participants over five days and four locations. Over the years the festival has become a bridge that connects the multifaceted world of motorcycles with skate and surf culture, through philosophy, music and style.
At Wheels and Waves 2017, Royal Enfield unveiled its latest custom builds developed in collaboration with Sinroja Motorcycles, based in Leicester, UK. Royal Enfield motorcycles have long been a preferred canvas for customization and self-expression. For many decades now their simple and non-fussy design language has inspired motorcycle sculptors worldwide to explore new frontiers of customization. This remains true to the brand's long-standing philosophy of building motorcycles that becomes the very extension of the rider, allowing each rider to express himself uniquely.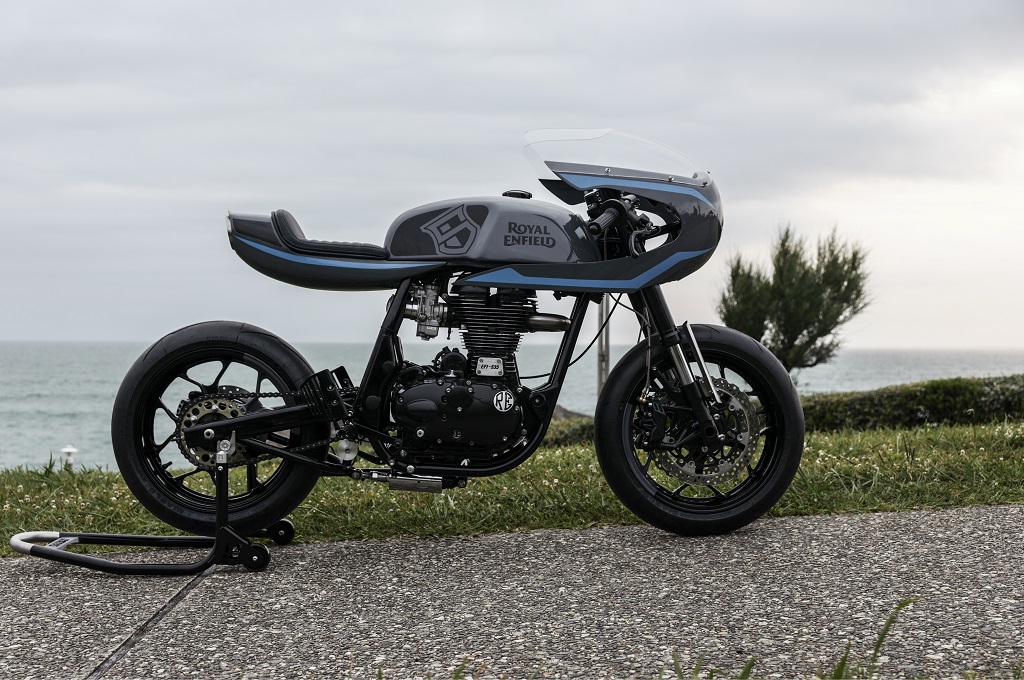 About 'Surf Racers' and 'Gentleman Brat'
Surf Racer
Surf Racer is Royal Enfield's rendition of the Continental GT cafe racer inspired by the Sun and sand lifestyle.  The Surf Racer is based on Royal Enfield Continental GT, and strips it down to the essence of a
cafe racer – the ultimate super light retro racing experience.  At its core is a tuned motor, taking the original 535cc single motor and adding a higher lift cam, machined piston barrels for higher compression and a new inlet manifold.  Air gets sucked in through a Dellorto carb conversion, and spent gasses are fired out the under seat "jet" style tail exhaust.  The Surf Racer has a half fairing floating above 17" performance rims, with upside down forks and an under engine rear shock, turning the rider into a speeding bullet. Simple design coupled with bold graphics express a stylish and artistic approach to racing heritage, emphasized by premium material and high level of quality details, a Sinroja hallmark, that adds more than just a touch of class.  Surf Racer is the perfect machine to race the sunset.
Gentleman Brat
Gentleman Brat is a custom based motorcycle on Royal Enfield's latest non-extreme adventure tourer,
the Himalayan, which further brings out its idea –  it's not about performance, it's about fun. A custom motorcycle equally at home, romping along the surf line and parked up in front of a classy beach side restaurant. The Himalayan is an adventure tool, and the Gentleman's Brat keeps that spirit of going anywhere – stripping away all the extras to reveal a tight, compact and irreverent machine.  It has a 16" rims with fat white wall tires that add a bit of muscular appeal, while a cream over grey paint scheme blends the durable with the refined. An upgraded suspension adds capability, while its impeccable detailing, premium leather, and machined aluminum finishes that marks it as a luxury vehicle…with a sense of humor.
About Royal Enfield:
The oldest motorcycle brand in continuous production, Royal Enfield made its first motorcycle in 1901. A division of Eicher Motors Limited, Royal Enfield has created the mid-sized motorcycle segment in India with its unique and distinctive modern classic bikes. With its new manufacturing base in Chennai, India, Royal Enfield is able to grow its production rapidly against a surge in demand for its motorcycles. With more than 50% growth every year for the last 5 years, Royal Enfield is fast becoming a very important player in the global mid-size motorcycle market and is working towards re-inventing this space with motorcycles that are evocative and engaging and great fun to ride.
Royal Enfield's product line‐up in India includes the Bullet, Classic and Thunderbird models in 350 and 500cc displacement along with Continental GT 535cc café racer and the purpose built Himalayan powered by the new LS410 engine. Royal Enfield operates through 17 company-operated stores and 675 dealers in all major cities and towns in India, and exports to over 50 countries across the world including the USA, UK, several European and Latin American countries, as well as the Middle East and South East Asia.
Royal Enfield also organizes and supports many motorcycling events and rides globally, more prominently the Rider Mania – an annual gathering of Royal Enfield riders from all over the world to the lovely beaches of Goa, and the Himalayan Odyssey, the most arduous motorcycle ride over some of the toughest roads and highest mountain passes in the Himalayas. Royal Enfield also conducts the popular 'One Ride' where people around the world ride out on their motorcycles on the first Sunday of April.