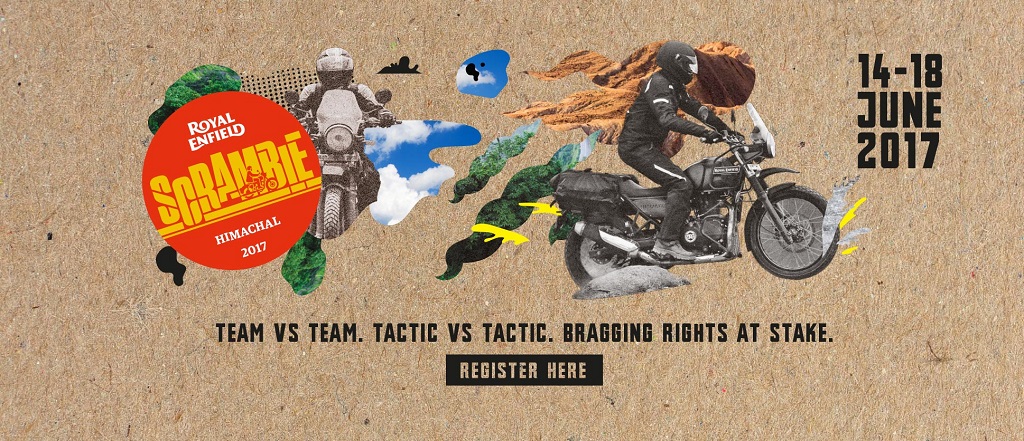 ~ A first of its kind competitive ride organised by Royal Enfield in Shimla, Himachal Pradesh ~
~ Registrations now open at www.royalenfield.com/scramble ~
May 28, 2017: Royal Enfield, the world's fastest growing motorcycle brand and pioneers of leisure motorcycling in India has announced 'Scramble' a new non-extreme ride format for adventure enthusiasts. The first edition of this competitive team event is being held next month from June 14 – 18 in Shimla, Himachal Pradesh. With the aim of combining the spirit of motorcycling with exploration, adventure and camaraderie, 'Scramble' has been curated to appeal to the seasoned riders who have tackled fast changing conditions and terrains. The four day event will test the character and expertise that a rider possesses, however imbibing the spirit of community riding, which is a hallmark of Royal Enfield rides. Registrations are now open on www.royalenfield.com/scramble
Mr. Rudratej Singh, President – Royal Enfield Royal Enfield said, "Through our several rides and community initiatives at Royal Enfield, we are constantly nudging our customers to increase their participation in the active pursuit of exploration. With this purpose in our minds, we have introduced Scramble. It is our first non-extreme competitive ride format for our ever growing adventure loving motorcycle community. Strengthening our association with adventure motorcycling, Scramble promises to be a lot of fun especially for participants riding the Himalayan."
Royal Enfield Scramble will comprise of separate categories for both men and women with two participants in each team. On each of the three days, the teams will be given new challenges to complete along that will have obstacles and choices based on the game theory. Each challenge will have separate points in a TSD (Time-Speed-Distance) format basis which the winners will be decided.
Schedule of the ride:
14 June
Day 0 – Arrival at

Motoworld, Navbahar,

Shimla 171002, Himachal Pradesh

Riders Briefing: 1700 hrs at Koti Resorts, Mashobra, Shimla

15 June
Day 1 – Leg 1 – Race Day
16 June
Day 2 – Leg 2 – Race Day
17 June
Day 3 – Leg 3 – Race Day

1900 Hours Prize Distribution

18 June
Day 4 – Check OUT

About Royal Enfield:
The oldest motorcycle brand in continuous production, Royal Enfield made its first motorcycle in 1901. A division of Eicher Motors Limited, Royal Enfield has created the mid-sized motorcycle segment in India with its unique and distinctive modern classic bikes. With its new manufacturing base in Chennai, India, Royal Enfield is able to grow its production rapidly against a surge in demand for its motorcycles. With more than 50% growth every year for the last 5 years, Royal Enfield is fast becoming a very important player in the global mid-size motorcycle market and is working towards re-inventing this space with motorcycles that are evocative and engaging and great fun to ride.
Royal Enfield's product line‐up in India includes the Bullet, Classic and Thunderbird models in 350 and 500cc displacement along with Continental GT 535cc café racer and the newly launched purpose built Himalayan powered by the new LS410 engine. Royal Enfield operates through 17 company-operated stores and 605 dealers in all major cities and towns in India, and exports to over 50 countries across the world including the USA, UK, several European and Latin American countries, as well as the Middle East and South East Asia.
Royal Enfield also organizes and supports many motorcycling events and rides globally, more prominently the Rider Mania – an annual gathering of Royal Enfield riders from all over the world to the lovely beaches of Goa, and the Himalayan Odyssey, the most arduous motorcycle ride over some of the toughest roads and highest mountain passes in the Himalayas. Royal Enfield also conducts the popular 'One Ride' where people around the world ride out on their motorcycles on the first Sunday of April