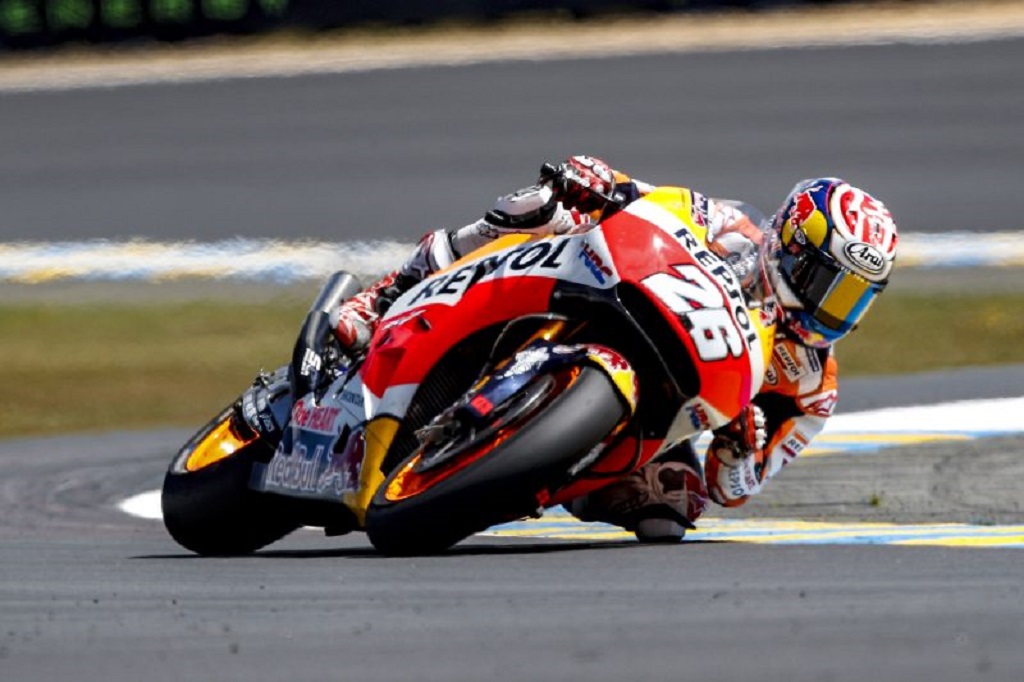 Le Mans, May 22, 2017: Dani Pedrosa scored his third consecutive podium finish after starting the French GP from the 13th spot on the grid and making a great comeback to finish third in front of over 104,000 spectators, a new record for the Le Mans event.
The last time Dani was in the top three for three consecutive races was in 2014 (Catalunya, Assen, Sachsenring). He is now third on the list of most career podium finishes with 147, behind Agostini (159) and Rossi (224).
Dani got away well and completed the first lap in seventh place. He pushed his way past Dovizioso on lap 10 and passed Crutchlow on the next lap. He soon began closing in on his teammate before Marc Marquez slid out from fourth place. Rossi's last-lap crash allowed Dani to gain 16 important points and move up to second in the World Championship standings, 17 points off the lead.
Marc is fourth in the Championship, 27 points down on Viñales. The Repsol Honda Team will take part in a test in Catalunya this week.
Dani Pedrosa (3rd) said, "I'm super happy about this podium because I knew it would be quite tough to manage the race well starting from the fifth row on the grid. The thought of getting through that first chicane at the back of the pack meant a lot of pressure. It was a demanding mental exercise to try and be fast but not crash, being aggressive but calm! But in the end I got a good start, entered the first corner quite well, and quickly settled into a good rhythm. I recovered some positions and also touched with Cal along the way. I'm sorry for that but really it wasn't intentional. I had just moved past Dovi and wasn't going to pass Cal in that corner, but he made a little mistake that opened the line slightly, so I got through on the inside and we touched. I'm happy nothing really happened there. I was starting to feel some chattering, and I decided to stay calm as I didn't want to make a mistake. I think we had a good race and a very good result for the Championship. We're working with the team very well and the feeling with the bike is improving little by little. We just have to continue on this path for the next races."
RACE RESULTS:
| | | | | | | | |
| --- | --- | --- | --- | --- | --- | --- | --- |
| Pos. | Rider | Num | Nation | Points | Team | Constructor | Time/Gap |
| 1 | VINALES Maverick | 25 | SPA | 25 | Movistar Yamaha MotoGP | Yamaha | 43'29.793 |
| 2 | ZARCO Johann | 5 | FRA | 20 | Monster Yamaha Tech 3 | Yamaha | 3.134 |
| 3 | PEDROSA Dani | 26 | SPA | 16 | Repsol Honda Team | Honda | 7.717 |
| 4 | DOVIZIOSO Andrea | 4 | ITA | 13 | Ducati Team | Ducati | 11.223 |
| 5 | CRUTCHLOW Cal | 35 | GBR | 11 | LCR Honda | Honda | 13.519 |
| 6 | LORENZO Jorge | 99 | SPA | 10 | Ducati Team | Ducati | 24.002 |
| 7 | FOLGER Jonas | 94 | GER | 9 | Monster Yamaha Tech 3 | Yamaha | 25.733 |
| 8 | MILLER Jack | 43 | AUS | 8 | Team EG 0,0 Marc VDS | Honda | 32.603 |
| 9 | BAZ Loris | 76 | FRA | 7 | Reale Avintia Racing | Ducati | 45.784 |
| 10 | IANNONE Andrea | 29 | ITA | 6 | Team Suzuki Ecstar | Suzuki | 48.332 |
| 11 | RABAT Tito | 53 | SPA | 5 | Team EG 0,0 Marc VDS | Honda | 50.036 |
| 12 | ESPARGARO Pol | 44 | SPA | 4 | Red Bull KTM Factory Racing | KTM | 52.661 |
| 13 | SMITH Bradley | 38 | GBR | 3 | Red Bull KTM Factory Racing | KTM | 53.179 |
| 14 | LOWES Sam | 22 | GBR | 2 | Aprilia Racing Team Gresini | Aprilia | 55.432 |
| 15 | GUINTOLI Sylvain | 50 | FRA | 1 | Team Suzuki Ecstar | Suzuki | 1'06.878 |
| 16 | ROSSI Valentino | 46 | ITA | 0 | Movistar Yamaha MotoGP | Yamaha | 1 lap |
| 17 | ESPARGARO Aleix | 41 | SPA | 0 | Aprilia Racing Team Gresini | Aprilia | 5 laps |
| 18 | MARQUEZ Marc | 93 | SPA | 0 | Repsol Honda Team | Honda | 11 laps |
| 19 | PETRUCCI Danilo | 9 | ITA | 0 | Octo Pramac Racing | Ducati | 11 laps |
| 20 | REDDING Scott | 45 | GBR | 0 | Octo Pramac Racing | Ducati | 21 laps |

Rider standings:
| | | | | | |
| --- | --- | --- | --- | --- | --- |
| Pos. | Rider | Num | Nation | Points | Team |
| 1 | VINALES Maverick | 25 | SPA | 85 | Movistar Yamaha MotoGP |
| 2 | PEDROSA Dani | 26 | SPA | 68 | Repsol Honda Team |
| 3 | ROSSI Valentino | 46 | ITA | 62 | Movistar Yamaha MotoGP |
| 4 | MARQUEZ Marc | 93 | SPA | 58 | Repsol Honda Team |
| 5 | ZARCO Johann | 5 | FRA | 55 | Monster Yamaha Tech 3 |
| 6 | DOVIZIOSO Andrea | 4 | ITA | 54 | Ducati Team |
| 7 | CRUTCHLOW Cal | 35 | GBR | 40 | LCR Honda |
| 8 | LORENZO Jorge | 99 | SPA | 38 | Ducati Team |
| 9 | FOLGER Jonas | 94 | GER | 9 | Monster Yamaha Tech 3 |
| 10 | MILLER Jack | 43 | AUS | 29 | Team EG 0,0 Marc VDS |

Team Standings:                                                                 
| | | |
| --- | --- | --- |
| Pos | Team | Points |
| | Movistar Yamaha MotoGP | 147 |
| 2 | Repsol Honda Team | 126 |
| 3 | Monster Yamaha Tech 3 | 93 |
| 4 | Ducati Team | 92 |
| 5 | Octo Pramac Racing | 52 |
| 6 | Team EG 0,0 Marc VDS | 42 |
| 7 | LCR Honda | 40 |
| | Reale Avintia Racing | 31 |
| 9 | Pull&Bear Aspar Team | 23 |
| 10 | Team Suzuki Ecstar | 23 |
| 11 | Aprilia Racing team Gresini | 19 |
| 12 | Red Bull KTM Factory Racing | 12 |

Constructor Standings:
Pos
Team
Points
1
Yamaha
108
2
Honda
95
3
Ducati
72
4
Suzuki
22
5
Aprilia
19