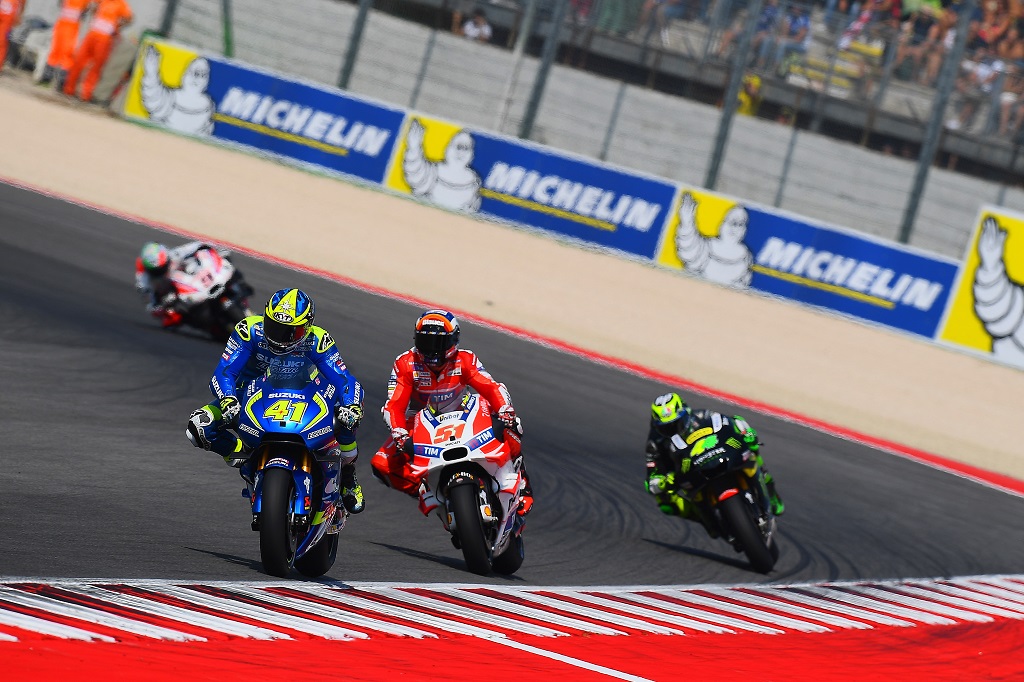 Michelin saw its new front MotoGP™ tyres put to good use this afternoon as Dani Pedrosa (Repsol Honda) scorched to a stunning victory at Misano in Italy today in the  Gran Premio TIM di San Marino e della Riviera di Rimini and set a new lap and race record in the process.
Pedrosa started from eighth on the grid and made his way through the field as he posted fastest-lap after fastest-lap. Using the new MICHELIN Power Slick soft compound tyre – one of only two riders to choose this version – on the front of his bike and paired with a rear medium compound, the Spaniard looked unstoppable as he caught and passed race-leader Valentino Rossi (Movistar Yamaha MotoGP) with seven laps to go. As Pedrosa crossed the line for victory not only had he posted the fastest race-lap record with the first circulation of the circuit in 1'32"s, but he also took almost 22 seconds off the previous race-time record and became the eighth different rider in succession to win a MotoGP race, the first time in the history of premier class racing this has ever happened.
Rossi followed Pedrosa across the line at his home Grand Prix and closed the gap in the championship on current leader Marc Marquez (Repsol Honda) who finished fourth. Rossi used the new medium front tyre along with a medium rear, whilst Marquez choose to go for hard on the front and medium on the rear, again highlighting the variety of Michelin rubber that can be used by the different riders. The final rostrum place went to Jorge Lorenzo (Movistar Yamaha MotoGP), who set the fastest ever two-wheel lap around the 4,226m Misano circuit on Saturday to take pole position, when he recorded the first ever time in the 1'31"s. Fifth went to last week's winner Maverick Viñales (Team SUZUKI ECSTAR), with Andrea Dovizioso (Ducati Team) and Michele Pirro (Ducati Team) – the only other rider with a soft compound front – taking sixth and seventh respectively. Cal Crutchlow (LCR Honda) took eighth and the position of First Independent Team Rider, while Pol Espargaro (Monster Yamaha Tech 3) crossed the line in ninth. Alvaro Bautista (Aprilia Racing Team Gresini) rounded out the top-ten.
A record race-day crowd of 100,496 baked in the Italian sun as air temperatures reached 28°C with track surfaces going up to 43°C, despite the high heat the Michelin tyres coped very well with the severe stresses that they were placed under throughout the 28-lap race and gave optimum performance for the entire event.
Michelin and the MotoGP paddock now head to Spain as the championship travels to Aragon for round 14 to be staged on Sunday 25th September.
Dani Pedrosa – Repsol Honda:
"I am very excited to get this result this weekend. The rhythm has been very good all the time and basically it is a great feeling to do this in the race. I have had a great feeling with the Michelin tyres today and this allowed me to cover the gap and fight with the guys at the front. I would like give this win to my team and I am very happy with the whole performance. I hope we can stay in the same place for the next race."
Nicolas Goubert – Deputy Director, Technical Director and Supervisor of the MotoGP Programme:
"Today has seen the eighth different winner in eight races and this is something we never imagined at the start of the season. Our aim has always been to supply the best tyres for all types of riders, on all bikes and in every condition and when you get so many winners it seems like we are achieving that. Dani had been strong all weekend and his qualifying yesterday didn't show his true potential, but in the race today he performed very well and used the soft compound front tyre to its full capacity to record his first win of the season. We have been very pleased with the performance of our tyres here, between them the riders all used the three different front tyre choices in today's race. To get the fastest lap and break the race record is very positive, but the durability and consistency in such demanding conditions is a greater reward. Today the track was 43 degrees and with the abrasiveness of the surface it was always going to place extra demands on the rubber, but we are pleased with the results and will use this as a stepping stone as we progress through the season. We now head to Aragon, which can have quite conflicting weather conditions, but we had a test there with the MotoGP riders last season so we have some good data as a start point."