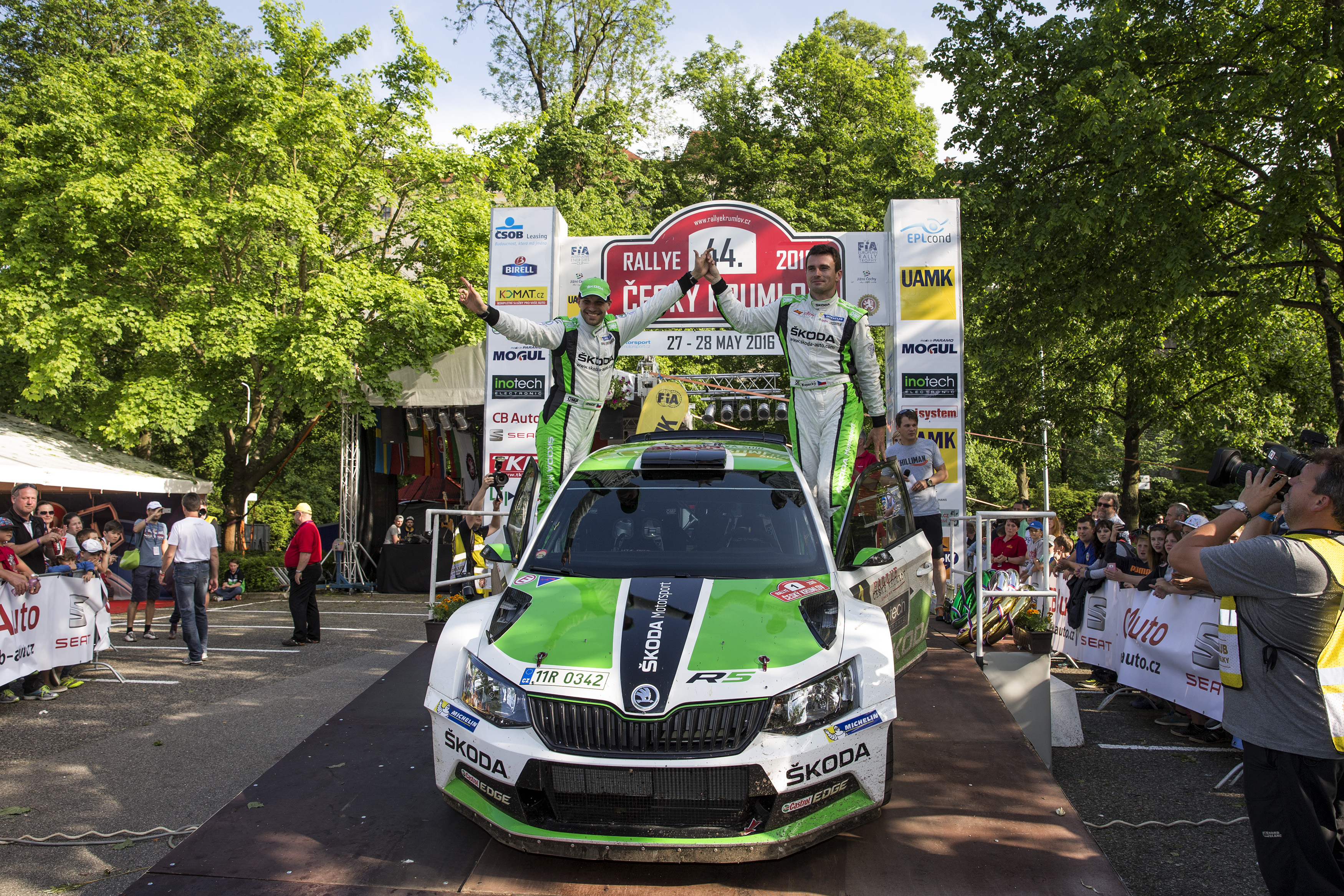 › After two one-two results, ŠKODA Motorsport is favourite to win the third race in the Czech Rally Championship (MČR)
› ŠKODA works duo Jan Kopecký/Pavel Dresler have already won the Rally Hustopeče four times
› Michal Hrabánek: "The whole team must stay as focussed as before"
Mladá Boleslav, 13 June 2016 – All good things come in threes: ŠKODA Motorsport is aiming to complete a hat-trick of wins in this year's Czech Rally Championship (MČR) at the Rally Hustopeče. Works duo Jan Kopecký/Pavel Dresler (CZ/CZ) are in fine form ahead of the third round of the national championship, having won both the Rally Šumava Klatovy and the Rally Český Krumlov. The Rally Hustopeče takes place in the wine-producing South Moravia region and there are ten special stages to be completed on Friday and Saturday, with a total length of around 150 kilometres. Kopecký/Dresler scored an excellent second place at Rally Italy in the FIA World Rally Championship (WRC2) last weekend.
"At the Rally Hustopeče, we want to continue where we left off at Český Krumlov," says ŠKODA Motorsport Director Michal Hrabánek. "The whole team must stay as focussed as before – this is the only way for us to have a chance of winning the third race in the national championship, and of defending our title." The first two rounds of the MČR season saw Pontus Tidemand /Jonas Andersson (S/S) finish second twice to seal one- twos for ŠKODA Motorsport, but this time just Kopecký/Dresler representing ŠKODA as a works duo.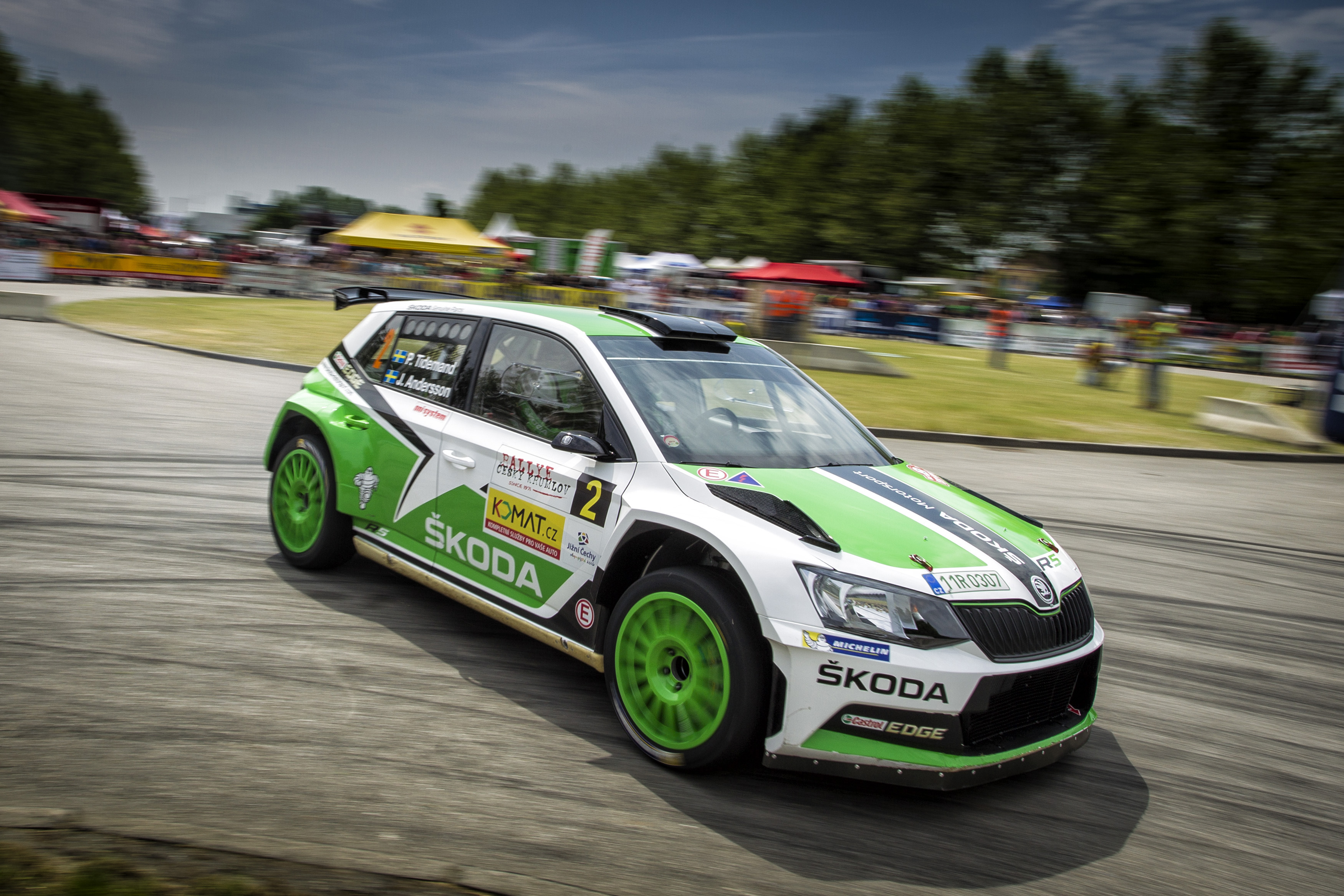 In 2015 and 2016, the national champions have won all seven of the races in the Czech national championship, in which they have competed in the ŠKODA FABIA R5. The Rally Hustopeče has also been a happy hunting ground for the experienced Czech pair: after a hat-trick of victories between 2011 and 2013, the duo also recorded a fine win last year. These four wins for the ŠKODA drivers are a record at the Rally Hustopeče, and they intend to add another chapter to this success story at the weekend.
"We love the stages in South Moravia and we are looking forward to seeing loads of fans there too," says Kopecký. "Of course we want to put on a good show for them in our ŠKODA FABIA R5, and be up there challenging for the win. That will be easier said than done, as the other drivers will not make it easy for us to win again," explains Kopecký. Arch rival Václav Pech (CZ) will also be competing in his Porsche, as will Vojtěch Štajf (CZ). The ŠKODA customer from the Klokočka ŠKODA Czech National Team recently produced an impressive performance to claim fifth place at the Rally Český Krumlov.
The drivers will have to hold their nerve on the fast and challenging stages in South Moravia. The ten special stages take place within just 19 hours, and two of them must be completed after dark on Friday evening. The winning driver will celebrate victory early on Saturday afternoon in Hustopeče, which is also the location of the service area.
In addition to the entertainment provided by the rally, the fans will also have plenty to look forward to in the ŠKODA Park. As is usual for the Czech Rally Championship (MČR), there will be a competition to win a ŠKODA OCTAVIA RS 230 for a year. "We have prepared another exciting programme of events to delight the fans in the ŠKODA Park, situated next to the start/finish line," says Michal Pres, Marketing Manager of ŠKODA AUTO Czech Republic. "And, of course, we are hopeful that ŠKODA can extend its winning sequence at the Rally Hustopeče, in the home of our brand."
Czech Rally Championship (MČR) Event Date
| | |
| --- | --- |
| Rally Šumava Klatovy | 29.04.–30.04.2016 |
| Rally Český Krumlov | 27.05.–28.05.2016 |
| Rally Hustopeče | 17.06.–18.06.2016 |
| Rally Bohemia | 02.07.–03.07.2016 |
| Barum Czech Rally Zlín | 26.08.–28.08.2016 |
| Rally Příbram | 30.09.–01.10.2016 |