The end of the 2016 season marks Audi's withdrawal from endurance racing after 18 years and 13 entries in 24 Hours of Le Mans. Fellow Volkswagen Group brand and main rival Porsche decided to give Audi its own special sendoff!
When Porsche returned to the 24 Hours of Le Mans in 2014, Audi produced a video showing its R18 e-tron quattro race car doing donuts in front of Porsche's headquarters, leaving the message "Welcome Back" etched in burned rubber on the pavement. Just over two years later, Porsche created a sequel to that video to say goodbye to Audi.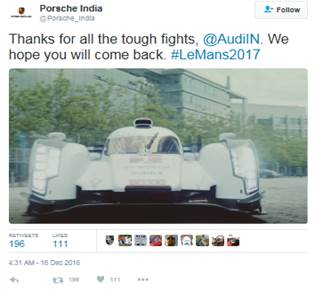 The conversation received numerous retweets and favourites. The video has received over 22 lac views so far.