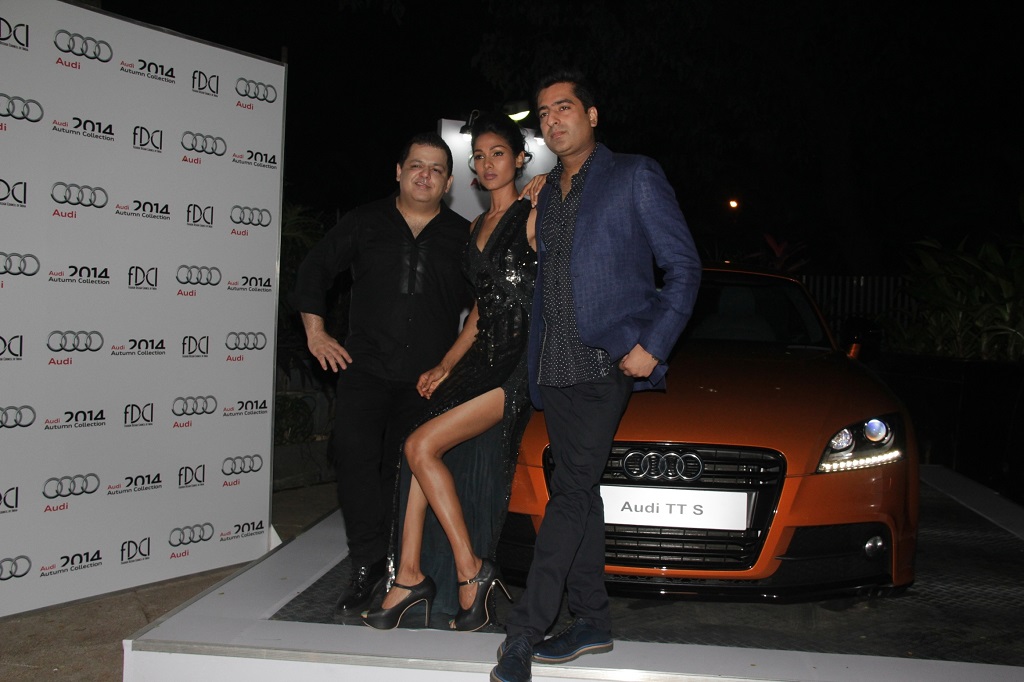 8 state-of-the-art cars and 14 highway trends come together in 1 stunning collection
Special guest: Audi owner and Bollywood style icon, Abhishek Bachchan
Guests enthralled by collection of remarkable designer line-up of Varun Bahl, designer duo Rohit Gandhi + Rahul Khanna, Nandita Mahtani and Arjun Khanna
Showcases state-of-the-art cars: Audi RS 5, Audi S6, Audi TT, Audi A4, Audi A6, Audi Q3 S Edition, Audi Q5 and Audi Q7 
Mumbai, August 30, 2013: Audi, the German luxury car manufacturer, today mesmerized fashion lovers by showcasing it's all-new sporty, sophisticated and progressive line-up as part of Audi Autumn Collection 2014.
In partnership with The Fashion Design Council of India, Audi Autumn Collection 2014 fashion show presented Audi-inspired collection of renowned designers Varun Bahl, designer duo Rohit Gandhi and Rahul Khanna, Nandita Mahtani and Arjun Khanna. Audi owner and Bollywood style icon, Abhishek Bachchan attended the show as a special guest of the brand. 
"Audi has been at the forefront of automotive style and design worldwide and this is reflected in customers' love for the brand. Audi Autumn Collection 2014 has brought together our state-of-the-art cars and 14 highway trends in 1 stunning collection. We are very happy to partner with FDCI to bring the country's top fashion designers who will showcase their collection based on Audi brand pillars of Sporty, Progressive and Sophistication. The extensive Audi model line-up showcases our tremendous presence across the product categories that Audi enthusiasts expect from our brand." said, Mr. Joe King, Head, Audi India.
Speaking about the event, Sunil Sethi, President, Fashion Design Council of India said, "FDCI's association with Audi, one of the most coveted car brands in the world has been an exhilarating experience, and we look forward to continuing this amiable association. We are extremely proud to be a part of their newest Autumn launch, which would not have been possible without the enthusiastic participation of our Celebrated Designers. The show was enlivened by the inventiveness of the style gurus, who presented delightful collections. I would like to thank everyone for making this pioneering concept a success."
Audi's sophisticated collection included the limousine Audi A8 W12, Audi A6 and Audi A4. Defining fashions and trends, the sophisticated Audi line is perfected to the last detail thanks to Audi brand core: Vorsprung durch Technik.
For Audi, progressive is the most important brand value that is most closely aligned to Vorsprung durch Technik. The emphasis on being progressive represents a higher-level function of its value. This is because Audi always represents a progressive type of sophistication and a progressive type of sportiness. Keeping it ahead-of-the-curve, Audi showcased the new Audi line of SUVs – New Audi Q3 S Edition, Audi Q5 and Audi Q7 at the show.
The uber sporty Audi models Audi RS 5, Audi S6 and Audi TT caught the fancy of the audience showcased as part of the sporty line. For Audi, sportiness means focus on agility rather than power. The Audi sporty collection defined understatement in exterior design while maintaining the image of success. 
Quotes from designers: 
"Known for its unique quality, superb manufacturing, and cutting-edge design, Audi defines the best in modern luxury coupled with a classic elegance," said designer Varun Bahl, who showed the Audi's Sporty pillar through his collection.
"My new collection is for the fashion conscious woman with a diverse lifestyle. It's contemporary and progressive at the same time very feminine with emphasis on elegance and comfort. I am delighted to be associated with Audi & FDCI!" said Nandita Mahtani, who showed the Audi's Progressive pillar through her collection.
"We are happy to be chosen for this launch of the new Audi. Audi brings in the ground breaking technology, which brings in the new car. We are honored to be associated with a brand like Audi. Our AW13 couture line matches their range of sophisticated cars, said the designer duo, Rohit Gandhi + Rahul Khanna." who showed Audi's Sophisticated pillar through their collection.
"The collection redefines delicate hand-sewn craftsmanship that holds the entire ensemble of very unique sporty jackets, trousers and waistcoats. It's an impeccable balance between lightweight wool, linen, cotton leather and silk all held together with fine tailoring with another AK TWIST! Unconventional avant-garde with a new look and feel of the sleeve collar and the way the jacket or bundgala sits to fit the human form! It's tailoring redefined", feels Arjun Khanna, talking about his collection for the Audi Autumn 2014 showcase in association with FDCI.