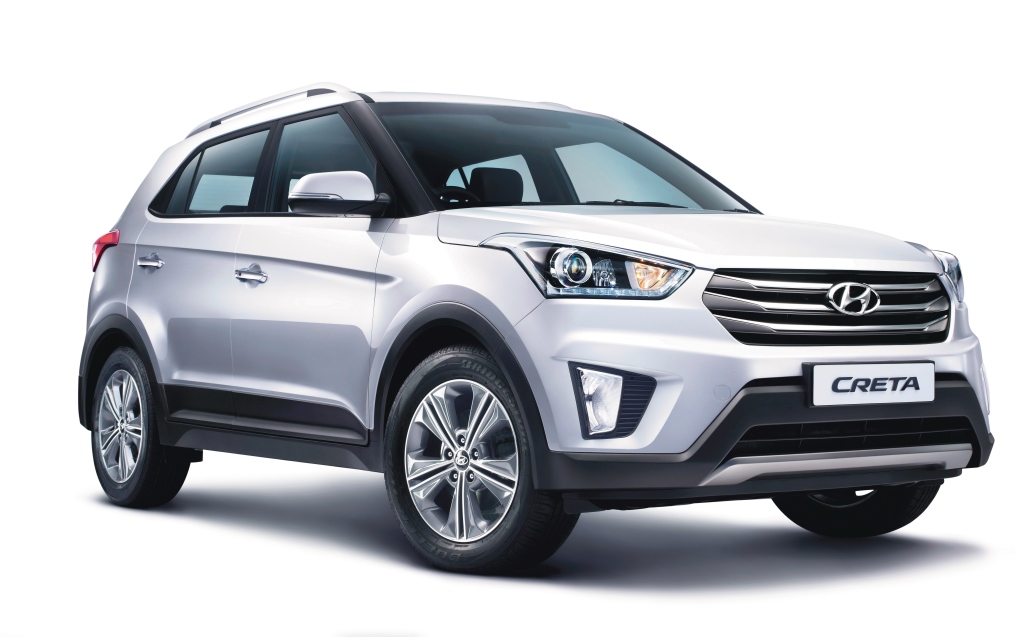 Hyundai Motor India, the country's largest auto exporter and the second largest car manufacturer, has achieved yet another milestone with over 1 lakh bookings, 5 lakh enquiries and 56,000 units delivered of the Perfect SUV- Hyundai CRETA.
Marking the World Premiere of the CRETA in India on July 23, 2015, this landmark was achieved within 8 months of launch. Winning 26 awards in the year 2015-16 including the prestigious Indian Car of the Year (ICOTY) 2016, the Perfect SUV, CRETA has been the most recognized and awarded car of the year.
Commenting on the milestone, Mr. YK Koo, Managing Director & CEO, HMIL said, "We thank our customers for the tremendous response with the record fastest 1 lakh bookings in 8 months. Like in the domestic market, CRETA has generated great response in Global markets with more than 28,000 orders. To reduce the waiting period, we are increasing CRETA production by 30% to total production of 13,000 units of which 10,000 units will be allocated for the domestic market."
Hyundai is a new age brand and under the modern premium brand direction has set benchmarks in the SUV segment. With CRETA, HMIL has strengthened its position in the SUV segment in India and has demonstrated excellence of 'Made in India' products as per global standards.
The CRETA has received an overwhelming response in the Indian market and also in global markets such as Latin America (Colombia, Costa Rica, Peru & Panama), Middle East (Oman, UAE, Saudi) and Africa (Egypt, Morocco & Nigeria). Hyundai will continue to maintain its leadership position in the export market with the strong sales of CRETA.
CRETA is one of the toughest and strongest SUVs in its segment. CRETA is designed with strong 'Hive Structure' body shell that denotes high structural strength stability and sturdiness.
Hyundai offers Best-in-class warranty with 3 Years Unlimited Kilometers and First- in-class to offer 6 speed Automatic Transmission in Diesel variant to all CRETA customers.
The CRETA is available in three engine options – 1.6 Gamma Dual VTVT, 1.6 U2 CRDi VGT, 1.4 U2 CRDi –tuned for best performance and fuel efficiency. Based on Hyundai Motor's evolved Fluidic Sculpture 2.0 Design philosophy, CRETA demonstrates all the essential attributes of dynamism, comfort, safety and style making it a revolutionary product in the Indian car market.
AWARDS WON BY HYUNDAI CRETA
Publication
Awards
ICOTY
Indian Car of the year (ICOTY)
Overdrive
Car of the Year
SUV of the Year
Car India
Car of the Year
Compact SUV of the Year
Motoring World
Car of the Year
SUV of the Year
Zigwheels
Car of the Year
SUV of the Year
Motoroids
Car of the Year
Crossover of the Year
Automotive India
Car of the Year
TopGear
SUV of the Year
Reader's Choice Car of the Year
AutoCar
SUV of the year
Premium SUV of the year
Readers choice of the year
Auto X
Best of 2015-CRETA
Evo
Compact SUV of the Year
NDTV
Compact SUV of the Year
Zeegnition
SUV of the Year
Motorbeam
SUV of the Year
Fly Wheel
Premium Compact SUV of the year
Motor Vikatan
SUV of the Year
Car Dekho
Compact SUV of the Year
Gaadiwadi.com
SUV of the year – Reader's Choice