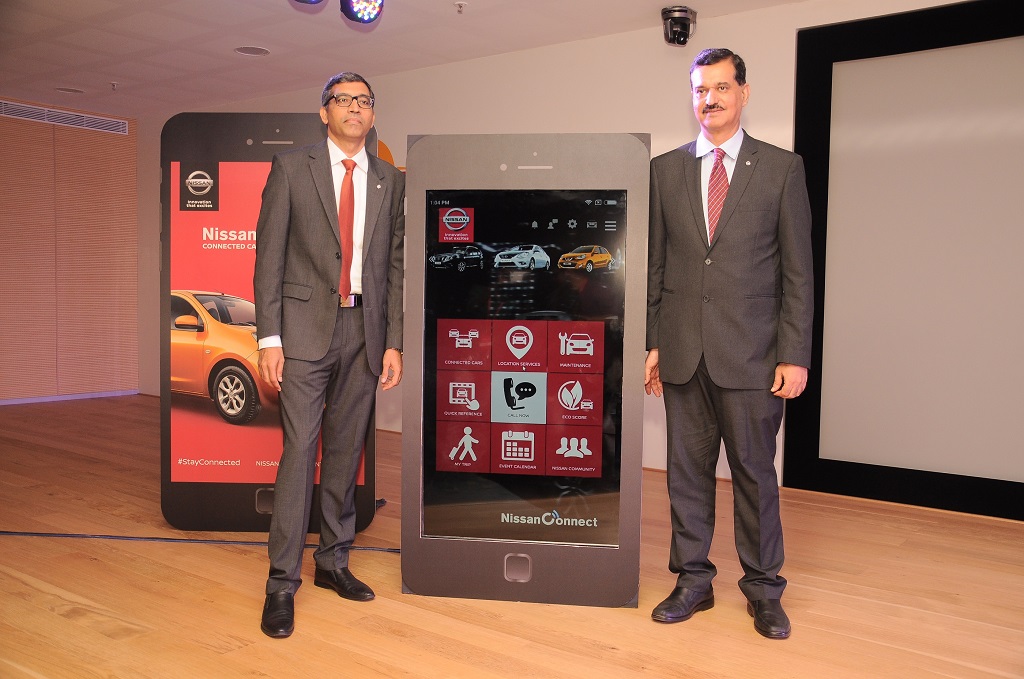 Marks the beginning of Nissan's vision of Intelligent Mobility in India
The NissanConnect platform will give customers important information about their car and family members for an enhanced connected car, connected family experience
Comes with 50+ Connected Car features and three years of free subscription
Platform agnostic: available on Android, iOS and Windows platforms for Nissan's existing and new customers
Mumbai, India (August 10, 2017)— Nissan India today launched NissanConnect, an integrated information and communication platform that connects with the customer's smartphone to provide enhanced driving experience. Inspired by Nissan's Intelligent Mobility vision of making driving more confident, efficient yet exciting, Nissan Connect transforms the car into a more responsive partner, providing security and convenience. NissanConnect, developed specifically for the Indian market, also enables the customer to be connected to his or her family through the car.
Available across the Nissan range of cars – Micra, Sunny and Terrano –  NissanConnect is platform agnostic and offers 50+ Connected Car features which come with three years of free subscription and one year of Nissan warranty program calculated from the start of the activation. NissanConnect has beendeveloped by Renault Nissan Technology Business Centre India (RNTBCI); it is a factory fitted Connected Car Technology solution with an embedded Telematics Control Unit paired with an inbuilt SIM for every car and a dedicated server.
Arun Malhotra, managing director of Nissan Motor India Pvt. Ltd. said, "NissanConnect embodies the best of Nissan's innovative spirit and is designed to enhance the overall driving experience for everyone. It enables better comfort, convenience, control and safety through technologies that bring people closer together. Inspired by the future, NissanConnect will benefit our customers today".
Krishnan Sundararajan, managing director, Renault Nissan Technology Business Centre India added, "The emergence of Internet of Things (IoT) is shifting gears in the automotive industry, leading it to its most significant innovation phase and ushering in new opportunities. We are privileged to be a part of this unprecedented journey. With NissanConnect, we aim to provide an effortless driving experience integrated with our customers' connected lifestyle while maintaining data security".
Introducing NissanConnect features
 

 

 

 

Convenience

Pit Stops
Find nearby fuel stations, Nissan dealerships, service stations etc.
Service Booking
Book your car service in advance on the tap of a button
Nissan Event Notify
Stay updated on exciting events and offers from Nissan
Additional Features: My Car Information, Document Wallet, Fuel Log, Service History, Past Invoice Check, All Car Information, Create Enquiry, Nearby Location, Self Learning, Registration/ Login and Car Calendar
 

 

 

Control

Locate my Car
Locate your car even when you are not with your car
Trip Plan
Plan trips better with weather information, fastest route guidance and past history
Voice Assist Alerts
Enjoy better control of your car with voice alerts
Additional Features: Trip Plan with Weather Info., Self-Maintenance Checks & Tips, Fastest Route Guidance, Voice of Customer (VOC) and Eco Score
 

 

 

Safety & Security

Speed Alert
NissanConnect alerts you when the car is exceeding the set speed limit
Geo Fencing
NissanConnect alerts you when your vehicle moves out of a set boundary area
Curfew Alert

(Time Fencing)

NissanConnect alerts you when your car moves outside a set time
Additional Features: Call Now, Mobile Usage in Driving, Roadside Assistance and  E-Call (Panic Button)

 

 

Social

Sharing

Share my Car Location
Share your car location whenever you want and with whomever you want
Eco Score Grand Prix
Be the most fuel-efficient driver on the leader board and share it with the social world
Nissan Community
Interact and share your experiences with NissanConnect Community Members
Additional Features: Refer Friend, Trip Tagging, Eco Score Social Sharing and Rewards
Customers can download the NissanConnect App from the app store of their respective mobile platforms across Android, iOS and Windows. Then they simply have to contact their nearest Nissan dealer to activate the NissanConnect app on the purchase of their new Nissan car. NissanConnect is available on select variants. NissanConnect users can monitor and customize their app settings from www.nissanconnect.in.